History Department reveals roots of African-American basketball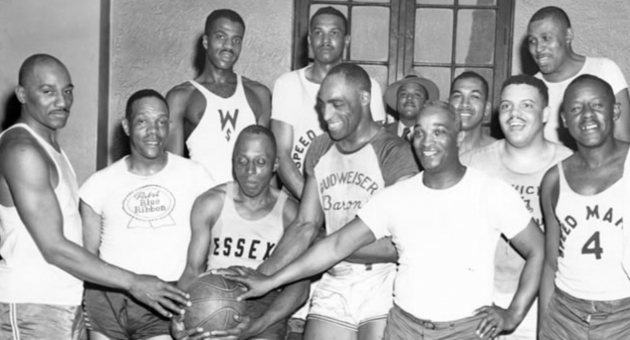 Photo by John W. Mosley, circa 1940s. Courtesy of the Charles L. Blockson Afro-American Collection, Temple University Libraries
If you have never heard of the the Philadelphia Panthers or the Atlantic City Buccaneers, you are not alone. Claude Johnson wants to change that.
On Tuesday, April 7, Johnson, founder and executive director of the Black Fives Foundation, will visit Temple to discuss the history of the Black Fives, an all-African-American league of semiprofessional athletes who toured the country playing basketball nearly 50 years prior to the formation of the National Basketball Association.
Based in Connecticut, the Black Fives Foundation is a nonprofit organization that works to preserve and promote the pre-NBA history of African Americans in basketball.
"When you think about Philadelphia's history, most people think of battles and presidents, but sports is an important aspect of our city's history," said Jay Lockenour, associate professor and chair of Temple's Department of History and the Latin American Studies Program. "These were real people who dealt with the issues of their day through sports."
According to Lockenour, this event isn't just about athletics.
"We'll be discussing race, ethnicity, sports, history," he said. "This discussion touches on several disciplines across the university."
Before the NBA, players from major cities formed teams and traveled around the country to compete against each other. During the pre–civil rights era, African-American teams played in one league and whites played in another.
During the 1910s and 1920s, the Panthers served as Philadelphia's best all-black basketball team. The biggest stars on the semipro Panthers were homegrown center Charles "Tarzan" Cooper, Jackie Bethards and Billy Yancey. All three men later played for the New York Renaissance, and Cooper was inducted into the Basketball Hall of Fame in 1970.
"There are a few surviving members of the Philadelphia Panthers," said Lockenour. "We hope this event will help with the push to keep their names alive and give a new generation of fans a more nuanced appreciation of the game."