IDEAL fosters diversity and inclusion among students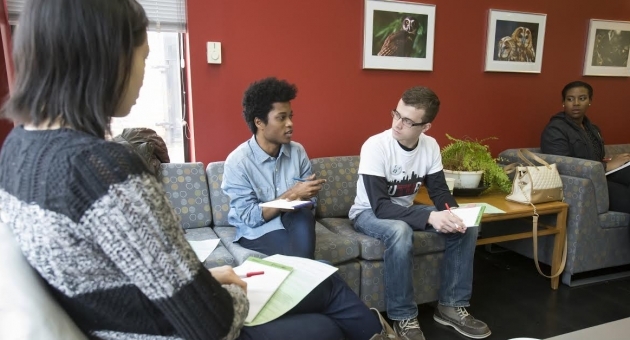 On a Saturday afternoon in March, Carmen Phelps met with several students in the new home of Temple's Office of Institutional Diversity, Equity, Advocacy and Leadership (IDEAL) on North Broad Street to discuss the future of diversity and social justice programing at Temple.
After an intense day of brainstorming, discussions and debates, the group emerged with suggestions on how to build a more culturally aware campus community.
Putting those suggestions into action is just one of Phelps' responsibilities as IDEAL's new director of student engagement. In this role, Phelps will serve as an advocate and advisor for students who identify as a minority and work to form a more cohesive community of students interested in fostering diversity at Temple.
Although conversations about race and identity may be tense and uncomfortable at times, Phelps wants all students to feel welcome and safe to express their ideas and concerns. She hopes the Burrow, a new space within IDEAL's offices that includes couches, tables and a flat-screen television, will be conducive to such conversations. The Burrow also serves as an event and study space for students.
Prior to coming to Temple, Phelps, who was raised in Ferguson, Missouri,  was a tenured faculty member at Longwood University in Virginia and the University of Toledo, where she taught classes in ethnic literature, Africana studies, and women's and gender studies.
"I would always start class discussions by explaining that both sides of the table should have a voice," she said. "In terms of identity, whiteness informs blackness; and in discussions about gender, what it means to be a woman informs what it means to be a man. I really want students to learn to start discussions from this place so that we can begin to build a better Temple."
Phelps hopes to use her background in social justice and ethnic studies to help create IDEAL programing that fosters cultural awareness and inclusivity.
"I don't ever want students to feel excluded from these conversations," Phelps said. "My goal is to help identify the issues and develop the kind of programs that encourage us to think about our connectivity, our shared experiences, and inspire us to work toward social justice and community building. Advocacy is who I am, not what I do."
Carmen Phelps is looking for students who are willing to lead the charge to create a more culturally inclusive campus community. For more information on how to nominate a student for IDEAL's student advisory committee, contact Phelps via email at carmen.phelps@temple.edu.