Next stop: Flying Tigers, Minor League affiliate of MLB's Detroit Tigers
Kenny Yansen: BS, sport and recreation management, School of Tourism and Hospitality Management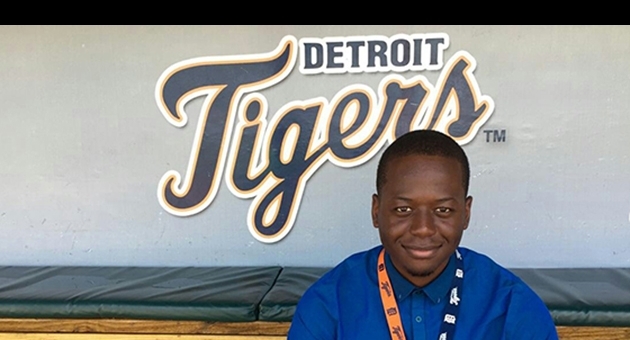 Courtesy of Detroit Tigers
When Kenny Yansen transferred to Temple University in January 2012, he admittedly shied away from public speaking. For Yansen, the thought of stepping in front of a classroom filled with his peers was nerve-wracking.
Three years later, Yansen is in Florida making daily cold calls as part of his internship in sales with a Minor League baseball team.
"Hard to believe, right?" said Yansen, a senior sport and recreation management major at Temple University's School of Tourism and Hospitality Management (STHM).
"You can't be shy in STHM," he explained. "You have so many group projects. You have so many opportunities that force you to speak in large settings. Public speaking was something I hated, and now it's nothing for me. That's because of STHM and career development. They helped me break out of my shell."
Born in Queens, New York, and raised in Easton, Pennsylvania, Yansen will graduate in May with Temple's Class of 2015. He spent the spring semester of his senior year working for the Lakeland (Florida) Flying Tigers, a Minor League affiliate of Major League Baseball's Detroit Tigers. In his role as a corporate sales intern, he sold sponsorships to local-business prospects looking to place their brand on suite signs, outfield walls or on the team's video board.
On game days, Yansen's job description would change.
"I'm the audio guy, working all of the sound effects in the stadium," he said.
A co-founder and an active member of the Sport and Governance Association, a student professional organization at STHM, Yansen represented the school at the 2014 MLB Diversity Business Summit in New York City, where he networked with personnel from the Tigers' organization who later hired him as an intern.
Quite a departure from the shy young man who enrolled at Temple three years ago.
Yansen "was my budget and finance chair in my Senior Professional Development course, controlling approximately $50,000 that ran through the class," said STHM Associate Vice Dean Jeffrey Montague. "That class, and his take-charge financial role in a class of 55 students, helped Kenny become more expressive in his leadership communication."
Yansen's internship has been extended through September, after which he will begin his job search. He said he envisions working for a sports team, sports marketing agency or even a television network. One detail of Yansen's life, he said, isn't as open-ended.
"I love that school so much," he said. "I can't wait to graduate, make some money and give back. I wouldn't be where I am if not for STHM and Temple."
-Christopher A. Vito