Bike sharing arrives in Philly and at Temple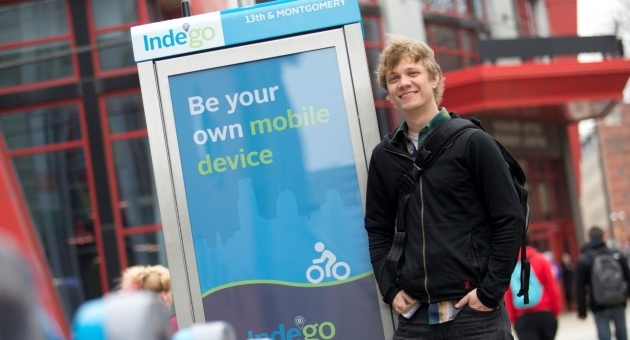 It is about to get easier—and healthier—for Temple students, faculty and staff to get around campus and the city.
Temple's Main Campus now hosts two stations as part of Philadelphia's city-owned bicycle-sharing program, Indego, which opens for business Thursday, April 23.
The program offers 400-plus bikes at more than 60 locations around Philadelphia, from Kensington to Point Breeze to University City. Temple's Main Campus stations can be found at Tuttleman Center on Montgomery Avenue at 13th Street and at the Temple Regional Rail Station on Berks Avenue at 10th Street. Two more stations are located near campus: one at Broad and Oxford Streets and one at Oxford and 10th Streets.
Indego's three-speed bikes were made specifically for the program, named for the sponsorship by Independence Blue Cross. Rides cost $4 per 30 minutes for walk-up riders, and membership options include $4-per-hour rentals and an unlimited number of 30-minute rides. In addition, Blue Cross subscribers receive promotional discounts on memberships.
Aaron Ritz, head of bicycle programs for the city of Philadelphia, reports that Dollar Days will promote the system by offering rides for $1 each as more stations and bikes are added.
"Our sponsors want Indego to be healthy, be fun and give everybody the benefits of biking where they want, when they want," Ritz said.
Temple is one of Indego's founding partners and was instrumental in securing the space for stations on campus, as well as backing the program in principle. "A lot of the first letters of support to the city came from Temple," said Kathleen Grady, director of Temple's Office of Sustainability. "This is a great option for students who can't store bikes or carry them up stairs."
Temple has an impressive cycling community, with 4.5 percent of Owls commuting regularly by bike. Bike Temple, an initiative launched in 2009 to support bike culture on campus, sparked a variety of innovations including a bike registration effort that halved bike theft on campus and a program that refurbishes abandoned bikes and offers them at discount to students.
Beginning in fall 2015, Bike Temple will offer its Urban Riding Basics course so Owls can be safe and responsible on Indego bikes and their own rides. "We're expecting a lot more bikers on campus," said Blake Larson, student coordinator of Bike Temple. "We want to see them riding with confidence."
Indego is Pennsylvania's first municipal bike share, with Pittsburgh preparing to launch the second next month. Philadelphia has been awarded a silver rating as a bicycle-friendly community by the League of American Bicyclists since 2012.
More infrastructure for bicycles allows for "more people on bikes, so there are fewer accidents," Grady said. "Temple's already doing great with biking, but we're always trying to up our game."
Learn more about Indego and become a member at rideindego.com.
- Michael Mastroianni