New commercialization partnership is launched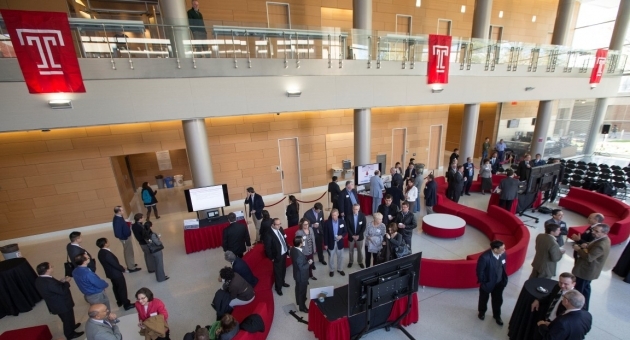 Temple showcased several faculty-created technologies as it launched Temple Ventures—Powered by Ben Franklin in a ceremony April 24 at the Science Education and Research Center.
The initiative, a joint partnership between Temple and Ben Franklin Technology Partners of Southeastern Pennsylvania, is a new startup accelerator designed to assist early-stage companies advancing Temple-created technologies. Each institution contributing equally to a $1 million pool of funds to be invested in ventures developed from Temple's discoveries in advanced technologies.
"Temple Ventures—Powered by Ben Franklin represents a significant investment from both entities involved," said Temple President Neil D. Theobald. "It is the kind of collaboration and investment Philadelphia needs."
In addition to Theobald, other speakers at the launch included Michele Masucci, Temple's vice provost for research; RoseAnn B. Rosenthal, CLA '78, president and CEO of Ben Franklin; Anthony P. Green, MED '94, vice president of Ben Franklin's technology commercialization group; and Philadelphia Congressman Chaka Fattah.
Rosenthal said that the new partnership is a commitment by both Temple and Ben Franklin designed to keep new technologies and innovations in Philadelphia, where they are created.
The initial $1 million commitment is for the pilot program, with a goal to commit an additional $1 million annually over the next five years. Temple's funding contribution to the initiative will come from royalty revenues obtained through the previous licensing of Temple-created technologies.
Prior to the launch ceremony, several Temple-developed technologies that are on the commercialization path were showcased. These include next-generation antimicrobial agents, software that automatically interprets EEGs, a tactile imaging system for detecting malignant tumors, a novel low-cost regenerable water filter technology, and a new therapeutic approach for ALS (Lou Gehrig's Disease).