PECO scholarships help STEM students achieve success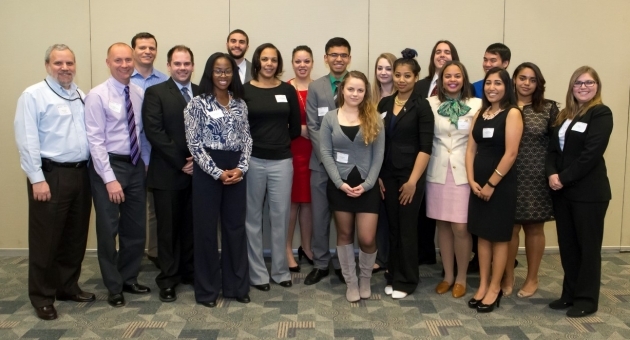 Markolline Forkpa, CLA '15, came to Temple intending to study marketing and communications. But her plans changed when she was introduced to the study of infectious diseases while studying abroad in South Africa and realized she could help support global communities facing HIV and AIDS epidemics.
"There are several diseases that are treatable in the States but are fatal abroad," said Forkpa, a neuroscience major in the College of Liberal Arts. "I decided that studying within the science, technology, engineering and mathematics [STEM] field would put me on track to making a difference."
As a recipient of a PECO scholarship, she is one step closer to achieving her goal of working in a STEM-related field.
Forkpa and 13 junior and seniors studying STEM-related disciplines were awarded scholarships from PECO this year. The award is offered to students with financial need who demonstrate a high degree of academic achievement and leadership potential. 
"Although women and some minority groups are still underrepresented in the science, technology, engineering and math fields, the opportunity to pursue successful careers in these areas, while helping advance scientific research, are within reach," said Forkpa.
PECO supports programs that encourage students from all backgrounds to stay in school, develop their talents and continue their education beyond high school. Since it was established in 2010, the PECO Scholars Program has provided a total of $125,000 in scholarships to 63 qualified Temple students from the five-county area.
"PECO has a special interest in STEM education, which is why we've focused on scholarships for students studying in Temple's College of Engineering, College of Science and Technology, and College of Liberal Arts," said Craig L. Adams, president and CEO at PECO. "These studies are challenging and will lead to future careers here at PECO—and at other companies—that will have a positive, lasting impact on our community and local economy."
"Paying for college can be a challenge for most students, but awards like this help," said Forpka.
Forkpa plans to continue her studies by earning a master's degree in public health or epidemiology.