Temple breaks fundraising record for third straight year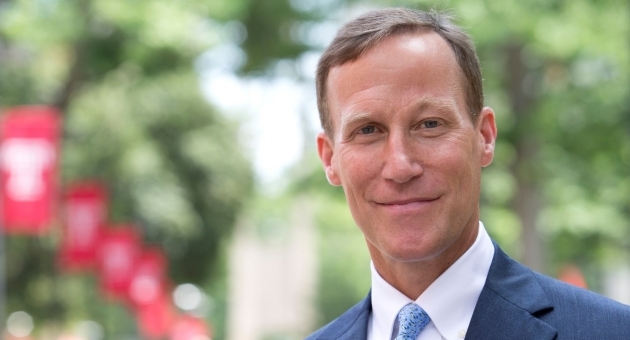 For the third consecutive year, Temple University has set a new fundraising record, totaling $84.2 million for the fiscal year that ended June 30 and receiving contributions from more than 19,000 alumni.
Temple received not only the largest donation in its history—$25 million from the estate of Lewis Katz, an alumnus and longtime trustee for whom the School of Medicine will be named—but also contributions of $10,000 or more by 419 donors, a five-year high.
The more than 19,000 Temple alumni who donated to the university in fiscal year 2014–2015 is the most since 2008. Those donors include the Golden Owls, alumni who graduated 50 or more years ago. The group presented a check for more than $4 million to President Neil D. Theobald in April.
"Donations to Temple support our groundbreaking research and instructional innovations, as well as open so many doors for our talented students," the president said. "The depth and breadth of generosity that our donors have shown is a reflection of their belief in our mission and the continued momentum of Temple University."
In fiscal year 2014–2015, Temple donors supported research initiatives with $11.3 million in donations, including $5 million from School of Pharmacy alumni Lonnie, PHR '80, and Sharon Moulder, PHR '80, to endow the Moulder Center for Drug Discovery Research. Another $11.4 million in donations supported Temple students, and $5.8 million enhanced community programs.
In addition to donations, 18,000 Temple graduates and friends attended alumni events, including high attendance at reunions in China, Japan, South Korea and Taiwan. In February, Temple held its first day of giving, raising $127,754 from 1,274 donors.
Vice President for Institutional Advancement James Dicker said the university's third-straight fundraising record is a testament to the Board of Trustees' commitment to staffing and the wide-ranging enthusiasm for Temple among alumni and supporters. For example, Temple Athletics raised 29.1 percent more in donations than last year. And Temple's Owl Club, comprised of donors who help provide resources to enrich the lives of student-athletes, more than doubled its membership.
"This type of broad participation in greater numbers than ever is a reflection of the energy of our alumni and supporters," Dicker said. "Our alumni engage with Temple in a variety of ways, from creating internship and employment opportunities for students via our Career Center to participating in our Global Day of Service. Whether it's making a donation, mentoring a student or attending an event, Temple alumni and friends share their spirit in many ways."
This year's record of $84.2 million surpasses last year's then-record of nearly $68 million in gifts and commitments and the $65.8 million raised in 2012–2013.