Temple Contemporary show in 'New York Times'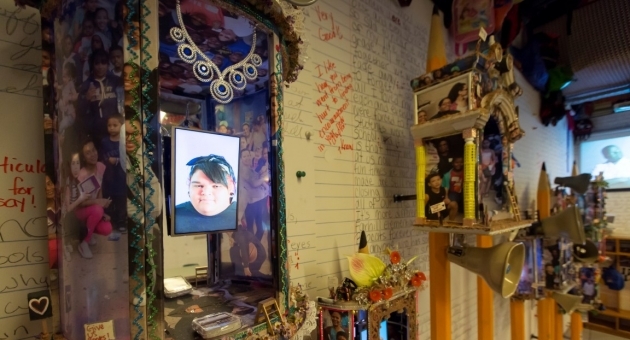 reForm, an exhibition at Temple University's Tyler School of Art, was featured in The New York Times on Saturday, Aug. 29. The story—"Art Show Captures the Wrenching Effects of Closing a School" by Jon Hurdle, with photographs by Jessica Kourkounis—appeared in the national print edition of the Times and on the front page of the "Art & Design" section in the New York area.
reForm was commissioned by Temple Contemporary in 2013 in response to an "outpouring of protests, grief and tears" after the School District of Philadelphia closed dozens of schools. Those emotions are captured by Laura H. Carnell Professor of Community Art Pepón Osorio and a group of former students and teachers at one such school, Fairhill Elementary, located about a mile from Temple's Main Campus.
"The exhibition, in a converted basement space at [Tyler], is a model of a classroom at Fairhill," wrote Hurdle. "The space is filled with familiar equipment like lockers, books and desks—80 percent of which comes from the school itself—but also includes written and oral testimony about the closure and its wrenching effect on students."
"There is a sense of the urgency; there is a sense of allowing [the former students] to be able to say what they think is important right there in the moment," Osorio told the Times. "They had control; I wasn't filtering."
The exhibition is open through May 20, 2016 (Thursday to Sunday, 12–5 p.m., and by appointment). Major support for reForm was provided by the Pew Center for Arts & Heritage, with additional support from the Surdna Foundation.