Temple to honor veterans during November 11 ceremonies
Those who have served will be saluted on Main Campus and Ambler.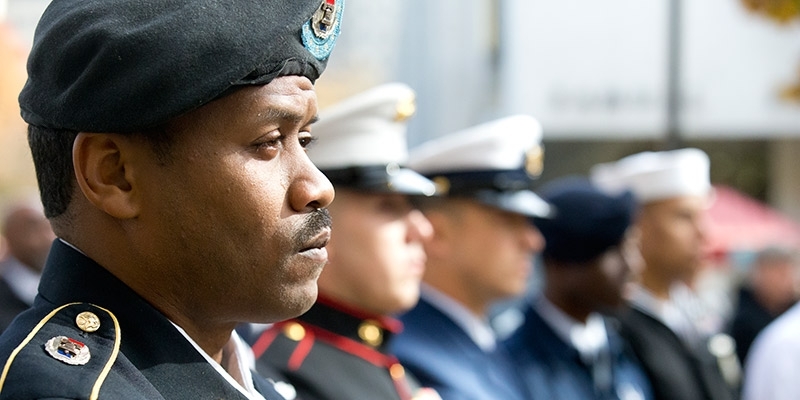 When thinking about American soldiers fighting and serving in Afghanistan and Iraq, it's understandable to envision sweltering heat and dessert terrains.
For Temple University Municipal Police Academy cadet Ryan Berk, his memory of Afghanistan is decidedly different.
"We were in a small outpost in a mountainous region right on the border of Pakistan conducting regional patrols, raids and humanitarian aid patrols in local villages," said Berk, 27, a United States Army Sergeant who served with the 101st Airborne Division during Operation Enduring Freedom. "In addition to separation from family, the physical conditions and the terrain were the hardest things to deal with. At a 10,000-foot elevation, the winters were extremely cold, but what you're doing is important and necessary so you focus on that." 
On Wednesday, November 11, Berk will be among several veteran and active duty military members of the Temple community to share their stories as the University honors its veterans during special Veterans Day ceremonies beginning at 11 a.m. Ceremonies will take place at Rock Hall Auditorium at
Main Campus
and the Campus Lounge (Bright Hall) at
Ambler Campus
.
"Temple has designated November Military Appreciation Month to honor everyone at the University who has served or is currently serving in the armed forces," said Laura Reddick, Associate Director for Adult and Veteran Student Recruitment at Temple. "We want our veterans to feel proud to be 'Temple Made.'"
The Veterans Day ceremonies are sponsored by Temple's Military and Veteran Services Center, Temple University Center for the Performing and Cinematic Arts, Temple University Division of Student Affairs, Ambler Campus Office of Student Life, the November Military Appreciation Month Committee, Sodexo Dining Services and a variety of Temple departments.
"I think it's always important to recognize those who have served, overseas and at home, and their willingness to make sacrifices for their country," said Temple Executive Senior Associate Athletic Director and Senior Woman Administrator Mary McElroy, who served as a Captain in the United States Marine Corps from 1987 to 1992 and will speak during the Main Campus ceremony. "I will always be grateful for my time in the service. Serving my country taught not only how to lead and inspire, but also how to be a good follower. My service also helped me to find ways to develop the best strategies to get things done."
In addition to speakers, the Veterans Day events will include a singing of the National Anthem, honor guards representing all branches of military service, a laying of the wreath and playing of Taps to honor fallen soldiers and performances by students from the Boyer College of Music and Dance. 
Temple University was ranked No. 31 among "Best Colleges for Veterans" in the country by U.S.News & World Report and was designated a "military-friendly school" by G.I. Jobs Magazine for 2016, the seventh year in a row Temple has achieved this status. The designation is given to just 20 percent of colleges, universities and trade schools nationwide.
Related stories: