Beasley School of Law has a winning week
The National Trial Team and Dean JoAnne Epps are recognized for excellence.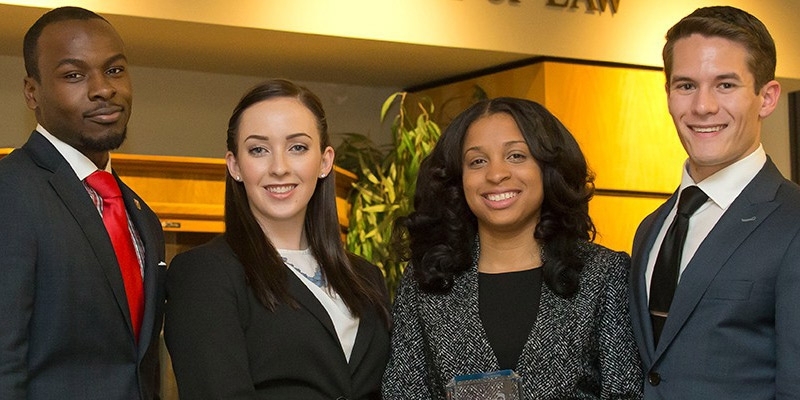 National Trial Team wins advocacy competition
The Temple Law School National Trial Team won the Puerto Rico Trial Advocacy Competition, besting thirteen other teams to claim the championship for the second time in the past four years.
Team members R. Ian Evans, Katelyn Hutchison, Dominique Moore, and Joel Michel beat Yale Law School in the semi-final round and Barry University in the final round. In addition to the team victory, Michel was named Best Advocate, and three of the four—Michel, Evans and Hutchison—received perfect scores from the judges, with Michel and Evans doing so twice.
"I could not be more proud of this team," said Professor Jen Bretschneider, who coached the team together with Adjunct Professor Maureen McCartney. "They are all exceptionally talented advocates, and to see their hard work and commitment pay off with a performance like this fills me with excitement for each of them."
Epps chosen for the Spirit of Excellence Award from the American Bar Association
The American Bar Association Commission on Racial and Ethnic Diversity in the Profession has selected Beasley School of Law Dean JoAnne Epps for a 2016 Spirit of Excellence Award. Epps is one of four recipients selected nationwide for the award, which will be presented during a ceremony on Feb. 6, 2016, in San Diego.
The Spirit of Excellence Award celebrates the efforts and accomplishments of lawyers who work to promote a more racially and ethnically diverse legal profession. Awards are presented to lawyers who excel in their professional settings; who personify excellence on the national, state or local level; and who have demonstrated a commitment to racial and ethnic diversity in the legal profession.
"JoAnne Epps has had a profound impact on not only Temple University Beasley School of Law, but she has also been an influential leader in the city of Philadelphia, her region and in the nation. She embodies the concept of lawyer-leader and symbolizes the Spirit of Excellence Award," Section Chief Will Gunn said. 
Epps has been dean of Temple Law School since 2008 and a member of the faculty since 1985. She is the author and co-author of several books and articles on evidence and trial advocacy.