Temple conducts community health assessment
The findings from the research will inform the creation of programs to address the community's needs.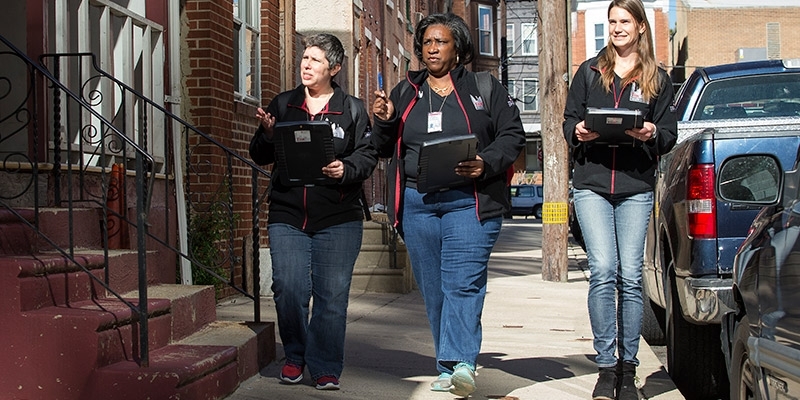 Rosemary Jackson grew up in Philadelphia and has lived in the neighborhoods around Temple for years. While walking down a North Philadelphia residential block she's greeted with familiar glances and friendly hellos. 
As a field research specialist for Temple Health: Block-by-Block, her popularity and bubbly personality help keep her connected with residents—some even recognize her face.
Jackson and four additional researchers are going door-to-door to survey the health and wellness needs of residents in 11 ZIP codes including North Philadelphia, Strawberry Mansion, Kensington and Germantown. 
"The information we collect will help us put practices in place that will help us build a bridge between Temple and the surrounding communities."
-- Amie Devlin, research program manager
"We're trying to gather enough information to better understand the health concerns and needs of communities in North Philadelphia," said Mariana Pardes, field research specialist. "The entire process takes about 20 minutes but the information will have long-term effects." 
Under the direction of Susan Fisher, the initiative's principal investigator, Temple Block-by-Block will work to reach 1,000 people by the end of 2016. 
In addition to gathering health surveys, Temple Health Block-by-Block works to connect community members with existing health programs at Temple. Once a survey is complete, participants are encouraged to take advantage of health initiatives offered by Temple's Lewis Katz School of Medicine. 
The entire research is expected to take about five years.
Once the field research is complete, the Temple Clinical Research Institute will develop a report on how the university can create programs that address the needs of the community.  
"So far the community has been responsive," said Amie Devlin, research program manager. "The information we collect will help us put practices in place that will help us build a bridge between Temple and the surrounding communities."
Related stories: