DNC internship program coming to Temple
Scholarships available for Temple students at DNC in Philadelphia, RNC in Cleveland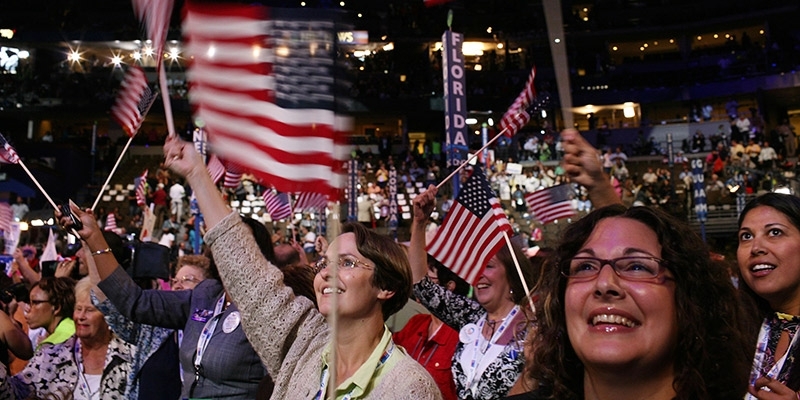 Hundreds of college students from across the nation will be coming to Temple University to participate in a unique, two-week, total-immersion educational experience during the Democratic National Convention in Philadelphia next summer.
Temple has partnered with The Washington Center for Internships and Academic Seminars (TWC)—an independent, non-profit, non-partisan organization that provides students with challenging opportunities to work and gain valuable experience while earning academic credit in Washington, D.C.—to administer their academic seminar at the Democratic National Convention. From July 17 to July 29, 2016, students who are accepted into this competitive program will live at Temple's new, state-of-the-art Mitchell and Hilarie Morgan Residence Hall and Dining Complex, attend guest lectures at Temple by prominent political leaders and scholars and then volunteer on the convention grounds in Philadelphia.
"This academic seminar teaches students about the process, but not from the sidelines."
-- Mike Smith, president, The Washington Center
Temple President Neil D. Theobald joined TWC President Mike Smith and Joseph P. McLaughlin, director of Temple's Institute for Public Affairs (IPA), to announce and celebrate the partnership in Sullivan Hall on Tuesday, Nov. 17.
"The academic seminar at the Democratic National Convention will be an incredible opportunity for college students—not just to watch our democracy in action, but also to network and gain priceless practical experience as they prepare for their post-graduation careers," Theobald said. "That's what unites Temple University and our partners in this experience, The Washington Center: our commitment to experiential learning—providing students with unparalleled real-world opportunities to learn by doing, and placing them at the center of the world stage."
More than 200 students are expected to attend the academic seminar, including many from Temple. During the first week of the program, students will attend lectures at Temple's Main Campus exploring the history of political campaigns, convention procedures and the role of the media. Students will participate in fieldwork assignments during the second week of the program, attending receptions, rallies and other events in the convention hall and elsewhere around the city.
"The national convention is an integral part of the U.S. political process and a piece of preserved history," said Smith. "This academic seminar teaches students about the process, but not from the sidelines. Students learn from within, in the thick of it. And Temple University, as a natural extension of its commitment to excellence, accessibility and affordability, made it all possible."
Since 1984, nearly 3,000 students from more than 300 academic institutions around the world have attended TWC's academic seminars at both Democratic and Republican national conventions—it remains the only national academic program of its size, scope and visibility. TWC's academic seminar at the Republican National Convention will take place in Cleveland July 10-22, 2016. Scholarships are available for Temple students selected to participate in both the DNC and RNC programs.
For more information about the academic seminars at the conventions in Philadelphia and Cleveland in 2016, visit
TWC's website
. To learn more about specific opportunities and scholarships available for Temple students,
visit IPA's website
. President Theobald urged Temple students to act quickly—the deadline for Temple students to apply for scholarships is Friday, Nov. 20. 
Related stories: