Football players earn honors
Owls score big with 10 players selected for all-conference honors.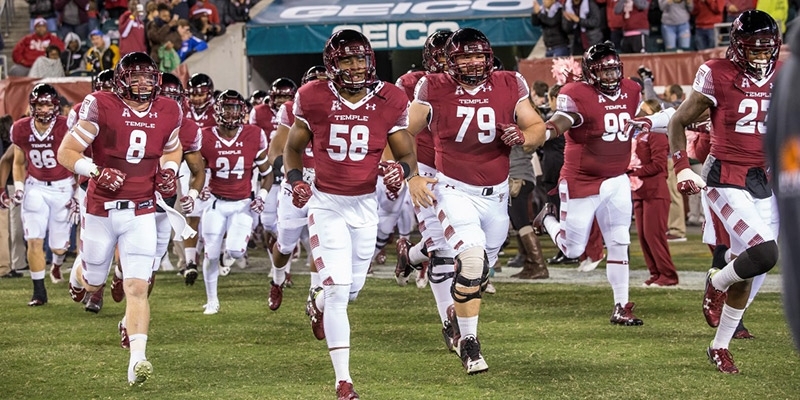 Temple football celebrates another historic achievement with the recent announcement of the American Athletic Conference's all-conference honors. Seven players from Temple's squad made the first team, which is the most of any team in the conference. Overall, 10 Owls earned all-conference honors—a record for Temple's program.

"I'm prouder that Temple had more all-conference selections than any single award I have received."
-- Tyler Matakevich, senior linebacker
Four players join the first-team defense and three players were selected for the first-team offense. Second team honors went to one offensive and one defensive player each. One defensive player earned an honorable mention.
Senior defensive back Alex Wells, who was named to the first-team, said, "I'm glad I got the accolade, but I'm happier we're having a great season."
It's a sentiment shared by his teammates. Senior defensive end Nate D. Smith, who was also selected for first-team honors, said, "All of this couldn't have been done without my coaches and the rest of my team—all of the praise goes to them."
Defensive powerhouse
Senior linebacker Tyler Matakevich was the only conference player to receive a unanimous selection to the first team from the conference's coaches. Matakevich, who earned recognition as the defensive player of the week on four occasions throughout the season, was also named the AAC's defensive player of the year.
"It's quite an honor," said Matakevich. "I said it before and it's no different now. I'm able to make plays because my coaches put me in the right position and my teammates take on blockers to free me up."
He continued: "I'm prouder that Temple had more all-conference selections than any single award I have received."
His team-focused approach to football finds him in the running for another prestigious award—the Lott IMPACT Trophy. The award is given to a defensive player whose personal character is equal to his athletic performance. The four finalists vying for the award are Matakevich, Jeremy Cash of Duke, Carl Nassib of Penn State and Joshua Perry of Ohio State.
The winner will be announced on Sunday, Dec. 13, during the Lott IMPACT Trophy Award Banquet, which will be broadcast on Fox Sports at 10 p.m. EST. 
Related stories:
Ten Football Players Selected in Football's All-Conference Honors
Matakevich Named Lott IMPACT Trophy Finalist