Matt Rhule to remain as Temple football coach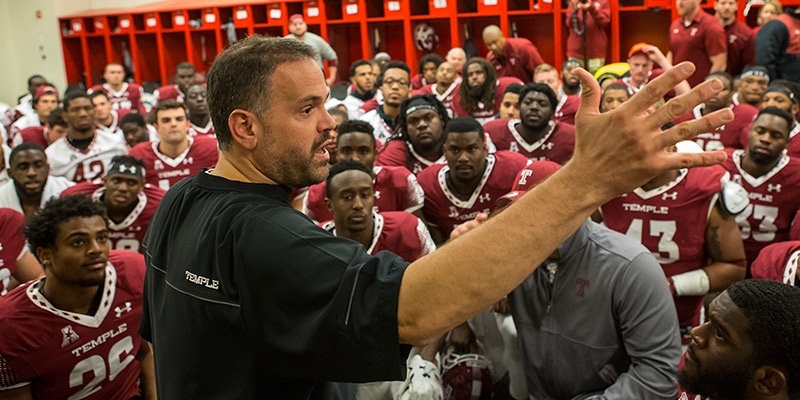 Temple University President Neil D. Theobald announced today that head football coach Matt Rhule has agreed to a new six-year contract, keeping him at the helm of a team that, under his leadership, experienced unprecedented success this season. The contract runs through the 2021 season. Financial terms are not being disclosed.  

"One of the first decisions I made as Temple's president was to hire Matt Rhule as football coach," Theobald said. "Matt's commitment to our student-athletes on and off the field, as well as the program's substantial improvement each season, has more than justified my confidence in him. He works tirelessly for the betterment of our players, our football program, and our university."
 
"I am proud to coach such incredible student-athletes and I am honored to continue to be a part of the Temple community."
-- Matt Rhule, Temple football head coach
Rhule became Temple's 26th head football coach in December 2012. The third-year coach has turned around a program that went 2-10 in 2013; 6-6 in 2014; and this year finished the regular season 10-3, while capturing the American Athletic Conference East Division title. The Owls will play Toledo in the Boca Raton Bowl on December 22.
"While this has been such a special season, there is still so much more that Temple football can accomplish," Rhule said. "I am proud to coach such incredible student-athletes and I am honored to continue to be a part of the Temple community."
This season has been an historic one for Temple football. It has included the program's first Top 20 ranking since 1979 (the team finished the year No. 24 in the College Football Playoff rankings); its first 7-0 start, including Temple's first win over Penn State in 74 years; and the first time the team has recorded 10 wins in the regular season. Temple also sold out two home games—Penn State and Notre Dame—and was visited by ESPN's College GameDay for the matchup against Notre Dame.
"Matt is one of the top coaches in college football and has been responsible for making Temple a national program," said Director of Athletics Patrick Kraft. "He is an even better person off the field; a true leader who instills character and values in the men under his charge. I look forward to working with Matt in continuing to advance the program for many years to come."
Rhule was a Temple assistant for six seasons, including two bowl teams and three bowl-eligible teams. He left the Owls in 2012 to become the assistant offensive line coach for the New York Giants before returning as head coach.
Rhule began his coaching career at Albright College in 1998 and also coached at the University of Buffalo (1999-2000), UCLA (2001) and Western Carolina (2002-05) before coming to Temple. The State College, Pa. native attended Penn State University where he earned a bachelor's degree in political science and a master's degree in educational psychology while playing football. He and his wife, Julie, have a son and two daughters.

Related stories: