Temple celebrates MLK Day of Service
Students and faculty join community members at events in North Philadelphia to honor King's legacy.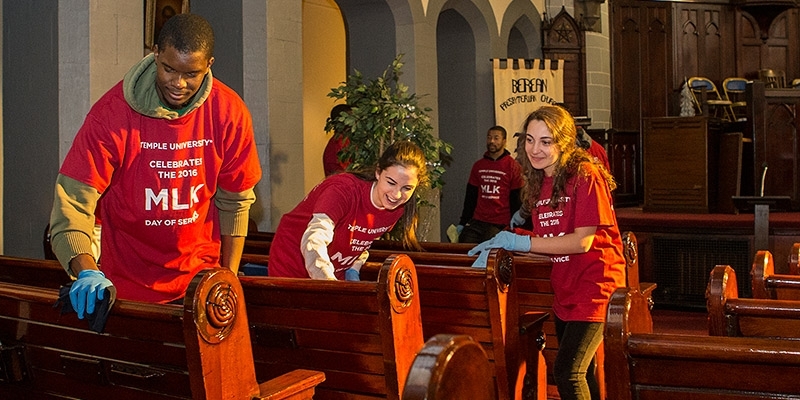 Compared to the day before, the sanctuary at Berean Presbyterian Church, located at the corner of Broad and Diamond streets in North Philadelphia, was quiet on Monday morning. No more than 24 hours before the arrival of the Temple football team and other volunteers, each seat was filled with the more than 200 churchgoers who spend this and every Sunday morning listening to an invigorating sermon delivered by Pastor Michael J. Evans.
Evans, who can usually be found in his office on Monday mornings, joined Temple students and administrators for an annual community clean-up event held in honor of the legacy of Martin Luther King Jr.
"Any event that encourages ongoing partnerships between the university and the community is important," said Evans. "It's wonderful to see all of these Temple students here working in honor of King's ministry of kinship and support for your fellow man."

"Events like this help Temple students and administrators learn more about the history and the people of North Philadelphia."
-- Greg Bonaparte
Light streamed through the stained glass windows, making it easy for students assigned to clean the sanctuary to see the areas that needed attention. In other areas of the church, student-athletes repainted a stairwell, and members of the Temple University Community Service Association swept and organized the basement.
Dion Dawkins, Class of 2016, was one of several members of the football team who got up early and made his way over to the church to participate in the service event. Before the lunch hour, the team had already spent hours working on improvement projects.
"It's more than just a clean-up event. It felt good to take some time to help out the community," said Dawkins. "We are a part of this community, and it's just as important for us to make sure it's taken care of. We live on these blocks together so we can take care of it together, as one community."
Berean has been a stronghold in North Philadelphia since 1880. Under the leadership of founding reverend Matthew Anderson, the church established the Berean Savings and Loan Bank in 1888 and the Berean Institute 1889. Over the years, the Berean community remained very active in the civil rights movement. 
Greg Bonaparte, a Temple employee and a member of Berean, can remember waking up early on Sunday mornings to attend service with his family. Bonaparte organized the volunteers for his home church with the help of Temple's Office of Community Relations.
"We try to organize events with Temple throughout the year," said Bonaparte. "Events like this help Temple students and administrators learn more about the history and the people of North Philadelphia."
In addition to the event at Berean, several other schools, colleges and offices hosted their own service events. The Alumni Relations office partnered with Institutional Diversity, Equity, Advocacy and Leadership to host screenings of documentaries that explore various segments of the civil rights movement.
On Ambler Campus, the Alpha Kappa Alpha sorority supported a children's blanket initiative project and Temple's Black Alumni Alliance volunteered to help organize the Jobs Now Digital Job Fair sponsored by Philadelphia Opportunities Industrialization Center Inc. 
"This year our office worked to plan a number of service projects that allowed students, faculty and staff to work alongside our neighbors," said Andrea Swan, SMC '98, CLA '11, director of community and neighborhood affairs. "It's important that we observe the holiday together."

Related stories:
Temple community unites in MLK service