Temple's innovative Fly in 4 grants earn national media attention
The unique program empowers students to reduce student debt by focusing more on class and less on money.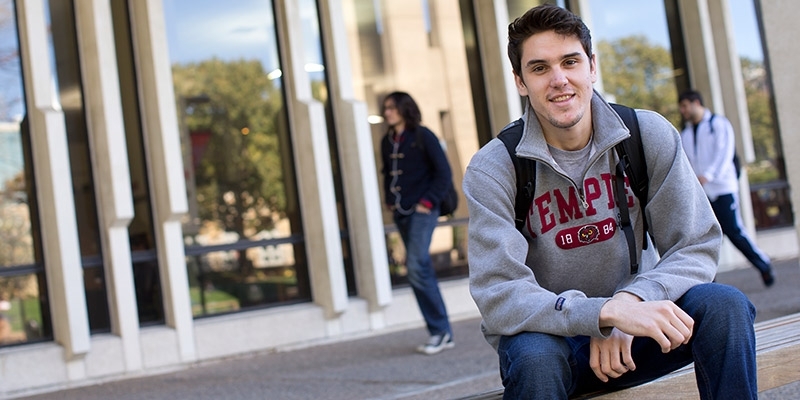 Fly in 4 is helping thousands of Temple University students fast-track their futures and limit their student debt. But the program's most innovative breakthrough is the Fly in 4 need-based grant, which earned praise in a recent Inside Higher Ed article.
The grant awards $4,000 per year to 500 students with the greatest need in each incoming class. The idea is to help those students reduce the hours they work at jobs each week to no more than 15 so they can spend more time on their studies.
Research has shown that students who work too many hours during the school year suffer academically. Many of them also end up paying more for college overall because they take longer to complete their degrees.
"It's counterintuitive, but, long term, it can actually cost you more to work while you're in college," Temple President Neil D. Theobald said in the article.
Kevin Kruger, president of NASPA: Student Affairs Administrators in Higher Education, commended Fly in 4's emphasis on reducing student work hours. "Low-income students who work more than 20 hours have much lower degree progress and completion rates than those students who work less than 20 hours," Kruger said.
Since Fly in 4 was introduced in 2014, it has made a significant impact on students' progress toward graduation. Six hundred more sophomores this year compared to last are on track to graduate in four years. If they stay the course, they'll save roughly $15 million collectively in college costs.
About 93 percent of freshmen signed up for Fly in 4 this year, surpassing the university's expectations.
Henry Fountain, Class of 2018, signed up for the program last year and received a Fly in 4 grant. The extra funding allowed him to quit one of his two jobs and devote more time to his classes.
"I'm understanding material better and I have more time to work on coursework and studying," Fountain said. "I've been able to almost forget about my financial situation and really just focus on my schoolwork."
Related stories:
Fly in 4 among initiatives that save time, money
Temple alumni create Fly in 4 scholarship
Temple creates Fly in 4 initiative to help students control debt