Program gives gunshot victims a chance at survival
A new partnership between Temple University Hospital and the North Philadelphia community uses education to decrease gunshot deaths.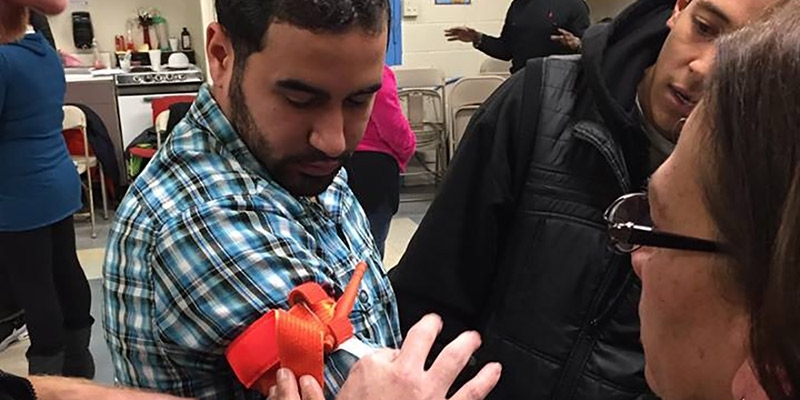 Scott Charles, Fighting Chance
In the critical seconds after a gunshot wound, victims have a better chance of survival if bystanders understand how to slow bleeding and keep the victim breathing.  
Easy-to-learn techniques, such as using a T-shirt as a life-saving tourniquet or placing a victim in a position that allows them to breathe, might mean the difference between life and death.
"We're working with the community to train the trainers who will take these skills out into Philadelphia."
-- Tim Bryan, director of emergency medical services
"A gunshot wound doesn't have to mean the end," said Wayne Jacobs, director of the recidivism-prevention program X-Offenders for Community Empowerment. "But people will only react with confidence if they know what to do. I've seen it happen too many times, without information on how to respond, people won't do anything."
Scott Charles, Temple University Hospital's trauma outreach coordinator, and Tim Bryan, director of emergency medical services, worked with Jacobs to develop Fighting Chance—a two-hour, first-aid class that focuses on how to treat gunshot victims.
Being at the scene of a shooting can be frightening. The chaos that erupts between the time that shots are fired and when medical help arrives might leave onlookers paralyzed with fear.
Keeping a level head and using knowledge of first aid can be a critical step toward saving a life, Charles noted.
"We're not expecting people to run into the scene of a crime," he said. "But in the same way that people are trained to use CPR in an emergency, educating the community on how to stop severe bleeding can make a huge difference."
Led by Bryan and a team of trauma and emergency medicine nurses from Temple University Hospital, the class underscore that bystanders should prioritize personal safety. But if someone does make the decision to help, the training will empower them by providing basic first aid knowledge.  
"Ideally we'd like to expand the program and distribute bleeding control kits, which would include items like gloves, face shields, hand sanitizer and tourniquets, to high crime communities across the city," said Charles, who serves as co-founder of Cradle to Grave, a program housed in Temple University Hospital that works to decrease youth violence. Fighting Chance is modeled after the Stop the Bleed Campaign, an initiative announced by the White House in 2015 which seeks to distribute bleeding control kits in cities across the country.
Since its inception Fighting Chance organizers have received requests for trainings from churches, local grade schools, halfway houses and recreation centers.
"This is a community-led, community-driven initiative," Bryant said. "We're working with the community to train the trainers who will take these skills out into Philadelphia."
Jacobs hopes that the initiative will not only save lives, but also will generate interest in medical professions in school-aged participants.
"A lot of young people are attending these classes," said Jacobs. "This will help them learn about what to do in an emergency. I'm also hoping this will make them interested in pursuing careers as trauma surgeons, nurses or other medical professionals."
For more information about Fighting Chance, call 215-707-8398 or email scott.charles@tuhs.temple.edu.