Men's basketball to compete in NCAA Tournament
The Owls earned the No. 10 seed in the South Region.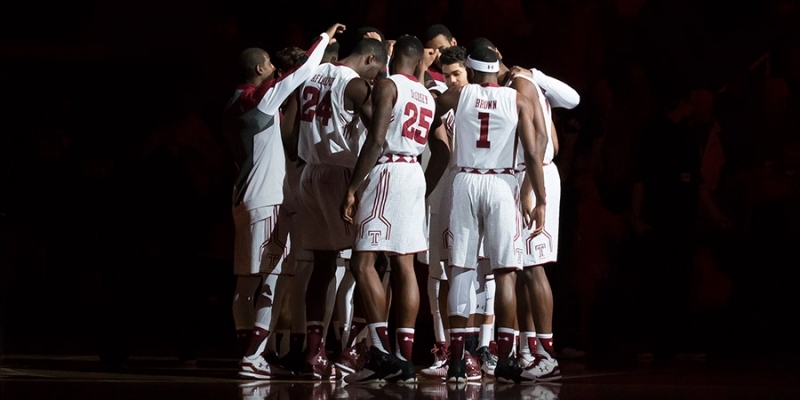 The Temple Owls will make an appearance in the NCAA Men's Basketball Tournament for the 32nd time in program history. Seeded 10th in the South Region, Temple will face seventh-seeded Iowa in the first round of the tournament on Friday, March 18. The game will tip off at approximately 3 p.m. at the Barclays Center in Brooklyn, New York.
Leading up to Selection Sunday, the Owls, with a 21–11 overall record, were considered a bubble team.
"It's a stressful day when you've been advertised as being 'on the bubble,' and you never know what that's going to mean," said Head Coach Fran Dunphy. "Last year we were on the bubble and we didn't get in."
That's not the case this year. "It's a whole different feeling," said Dunphy. "This year, going into that room was pretty cool."
A few key wins over the course of the season pushed Temple from on-the-bubble to in-the-tournament: The Owls defeated three ranked opponents in the regular season—Cincinnati, SMU and UConn—for the first time since the 1999–2000 season. The win over SMU was the seventh time in the past eight seasons the Owls beat a Top 10 opponent.
Temple enters the tournament having won 10 of their last 13 games, while Iowa has lost six of their last eight matches. This will be the third time the Owls have played the Hawkeyes. Iowa leads Temple 2-0 in their all-time series, winning in both 1955–1956 and again in 1990–1991.
According to Dunphy, Iowa is very well-coached. "They're a good team, they played well throughout most of the year and we'll get their best effort on Friday," he said. "We better be ready to go."
Tickets for the game are available online. A free, on-campus watch party will be held in the Great Court of Mitten Hall. Doors open at 2:30 p.m.
Related stories:
Owls win regular-season conference title
Temple men's basketball plans to score against hunger