'reForm' exhibit at Tyler keeps local students connected
Students from the closed Fairhill Elementary—the inspiration for the installation—use the space for community discussions.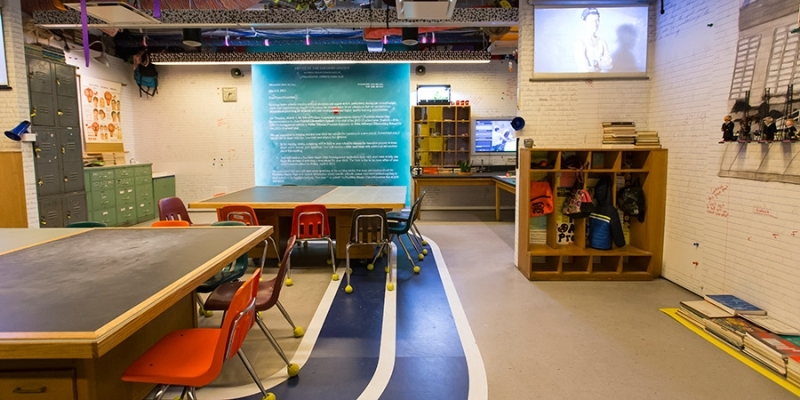 Leaving Fairhill Elementary was difficult for the hundreds of students who had to say goodbye to teachers and friends after the embattled school closed its doors in 2013 as a result of the Philadelphia School District's budget crisis.
"It basically felt like a divorce," said 16-year-old Cassandra Pittman. "I graduated that year and it was hard for me so, I know it was ten times as hard for the younger students."
But what started out as an experience with adversity turned into an opportunity to thrive after Pepon Osorio, a Laura Carnell Professor of Community Art in the Tyler School of Art at Temple University, developed "reForm," a large-scale installation designed in memory of Fairhill.  
Pittman and her former classmates formed a group called the Bobcats, named after Fairhill's mascot. The Bobcats participate in workshops, attend School Reform Commission (SRC) meetings and work to keep the community of students who used to attend Fairhill in touch with each other.
Last week the installation, which serves as both a weekend reunion hall and a space for community discussion, became the backdrop of a meeting between Bobcats and four members of the SRC.
During the meeting, which was organized by Pittman and fellow Bobcats Lynoshka Santa, 19, and Chelsey Belez, 19, the commission addressed questions about the decision-making process behind school closures and the future of Fairhill, which is currently vacant.
"There are several factors that go into the closing of a school," explained Marjorie Neff, chair of the SRC. "For example we had a school in the district where, because of poor performance, 80 percent of the parents decided to send their children elsewhere. This led to low engagement, which ultimately led to our decision to close the school."
The Bobcats plan to meet with the SRC again to discuss the possibility of developing a community school in their neighborhood.
"I've seen both sides of the process," said commision member Sylvia P. Sims, founder of Parent Power, a family driven organization focused on eliminating the academic achievement gap in Philadelphia's schools. "I live in a neighborhood very similar to the one you live in, so I understand the importance of creating a dialogue with the community about how we can work to improve schools."
The Bobcats, which started with 10 students, has doubled its membership. Older members of the group established a branch for their younger counterparts affectionately known as the Bob-kitties.
"We still live in the same neighborhoods, but coming together this way is important," said Belez.
When the exhibit ends in May, students will have to face another closing.  
"We're already looking into other areas where we can continue to meet," said Santa. "We still want to stay in touch with SRC. The installation won't be here but we will be."

Related stories: 
Tyler professor transforms salvaged classroom objects into art
Temple sponsors North Philadelphia community park and mural
Alumnus' film follows North Philadelphia family