Next stop: Philadelphia Union
School of Hospitality and Tourism student Brandon Johnson turned an internship with the soccer team into a full-time position.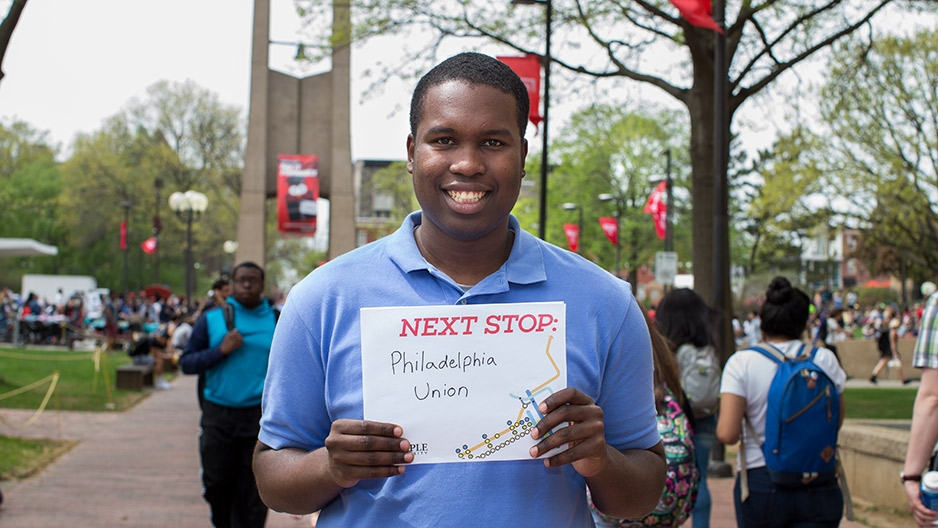 Brandon Johnson, Class of 2016, was only looking to stay in shape for basketball season. What he found was a love for soccer.
Johnson is the team operations coordinator for Bethlehem Steel FC, the United Soccer League affiliate of Major League Soccer's Philadelphia Union. Upon earning his sport and recreation management degree from Temple's School of Tourism and Hospitality Management, he will plan the Steel's travel and lodging arrangements for road trips and manage the first-year franchise's budget, among other responsibilities.
"I couldn't have been more prepared for this position, and that's because of [Temple]," Johnson said. "The foundational classes, like a course in budget and finance systems, ready you technically and professionally for the real world. The courses give you a 'What would you do in this circumstance?' approach to problem-solving, and it's because of that I'm able to adjust in a blink and make sound decisions."
Johnson's passion for the game of soccer took hold in middle school, when he joined the soccer team to keep fit for his sport of choice, basketball. He also played throughout his four years at Plymouth-Whitemarsh High School, which is located in a northwest suburb of Philadelphia.
"I fell in love with soccer," he said.
Johnson joined the Philadelphia Union in January as a team operations intern, and turned his role into full-time employment. By February, he had agreed to join Bethlehem Steel FC. The club plays its games in the Lehigh Valley, and trains alongside its parent team, the Union, at its home headquarters in Chester, Pennsylvania, out of which Johnson operates daily.
Johnson's preparedness for his position with the Steel stems from a four-year stint as team manager with the Temple men's basketball team and previous internships with Temple football and the U.S. Olympic Committee.
"Because I'm the Steel's first operations coordinator, I have the unique opportunity to establish the precedent for this role," Johnson said. "I can set the standard moving forward. That's a lot of responsibility, but I'm ready for it because of Temple."
—Christopher A. Vito