A liberal arts degree led Taylor Ray into the world of finance.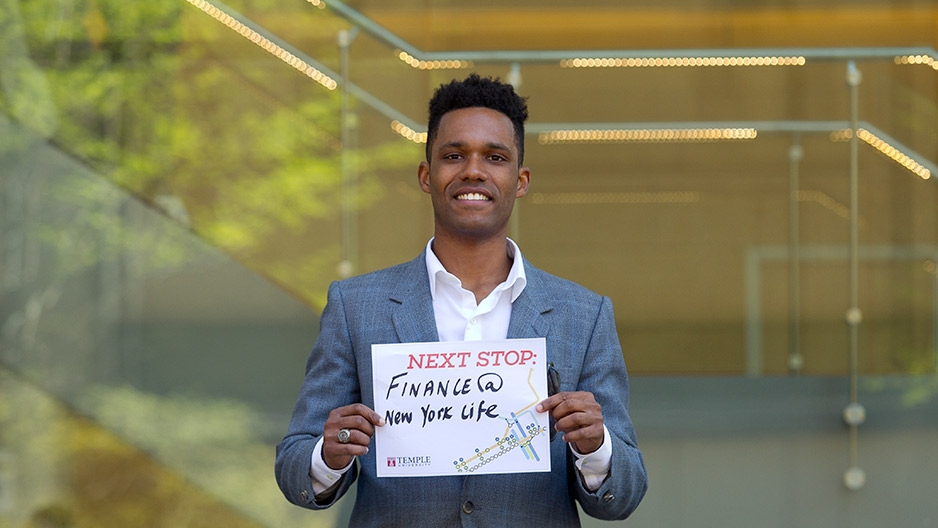 Political science major Taylor Ray's college journey is decidedly liberal arts–focused. He described his educational experience as learning "how to understand the foundation of how everything works."
Temple was the perfect place for him to do that.
Before Temple, Ray attended the Community College of Philadelphia and the University of Pennsylvania. He made the choice to switch to Temple for two reasons: cost and diversity.
"At Temple, you not only get diversity of people coming from all over the world, but also diversity across economic lines, racial lines, religious lines and interest lines," he says. "We work harder. People respect that. Employers respect that."
Ray thrived in the classroom, where he dove into W.E.B Dubois, Socrates and political theory,  and the conference room, as he secured internships in public policy and campaign finance for a congressional candidate. His experiences resulted in job interviews with prestigious financial firms in London and New York.
"He thinks in a much more complex way about all the things he has studied and how they match up with the requirements of the job," says Paul Crowe, Ray's academic advisor in philosophy. "Employers want people who can actively think about a job in this broader, more complex way, and they recognize this in Taylor."
Ray ultimately accepted a job offer as a wealth management consultant for New York Life. His liberal arts education prepared him for his next stop.
"The liberal arts allow you to study multiple disciplines rather than learning just one field," said Ray. "This college cultivates knowledge. And these skills are absolutely transferrable."
—Joseph Master