Peter J. Liacouras, 1931–2016
Liacouras' profound impact on Temple is evident in the university's continued academic success, commitment to diversity and development of Main Campus.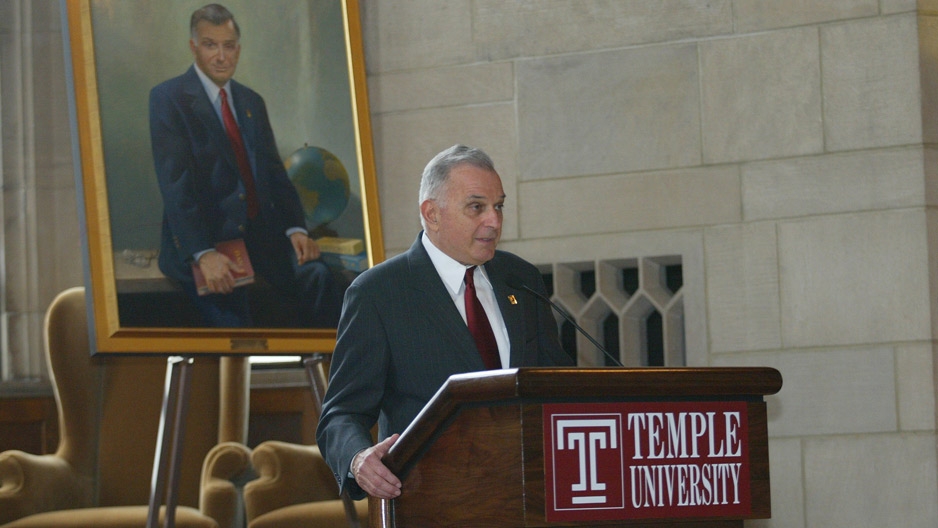 Temple's seventh President Peter J. Liacouras, the transformational leader whose vision and pride in Temple University spearheaded Temple's evolution from a local commuter school to an internationally renowned public research institution, passed away Thursday, May 12. He was 85 and died after a long illness.
Liacouras served as Temple's seventh president from 1982 to 2000, a tenure exceeded in length only by the university's founder, Russell Conwell. Liacouras was also dean of Beasley School of Law for 10 years and a law professor. He was later appointed a university chancellor.
"Peter was a man of vision and determination," said President Neil D. Theobald. "He loved Temple and would do anything he could for the university's greater good, whether that was before, during or after his term as president."
Theobald noted the Liacouras legacy can be seen on Main Campus, where both the central pedestrian artery—Liacouras Walk—and the showcase basketball and entertainment venue—The Liacouras Center—were named in his honor.
His influence can be observed in the student body, which grew larger, more diverse and more international under Liacouras' watch, he said.
It can even be seen in the ubiquitous Temple "T" logo, which was designed by Tyler School of Art students during Liacouras' presidency and has become a global symbol of Temple's quality and reach.
"There is no doubt in my mind that he laid the groundwork for the nationally respected university that Temple is today," said Theobald.
During his more than five decades at the university, Liacouras was driven by a goal of fulfilling Temple's immense potential. In his presidential retirement address, he recalled that "Temple's mission … captured my heart, soul and intellect from my first encounter as a young law professor in 1963. Temple's mission and the tremendous diversity of its people lifted my spirit then and has regenerated me almost daily since."
One of Liacouras' signature achievements was the dramatic development of Main Campus. More than $900 million was spent on capital projects. Construction included the Liacouras Center (originally called the Apollo of Temple), the Tuttleman Learning Center, Shusterman Hall and several student residence halls.
Thanks in part to these efforts, the total number of students and staff living within three blocks of Main Campus grew by more than 200 percent, and Temple was put on the path from a primarily commuter school to a dynamic, increasingly residential community.
"Peter's energy and enthusiasm for Temple was contagious," said Board of Trustees Chair Patrick J. O'Connor. "Everywhere he went, he was an ambassador of optimism for this great university's potential. It was an honor to know him."
During his presidency, Liacouras helped strengthen the student body. Temple was able to recruit more students from other parts of the state and country outside the Philadelphia region. The university could also offer those students higher quality academics: Several new schools, colleges and academic programs were created, and Temple's Honors program was launched.
Liacouras led Temple to several other milestones. The men's basketball team was ranked number one in the country; and Temple launched what is believed to be one of the first national advertising campaigns for a university.
One of Liacouras' proudest accomplishments was expanding Temple's diversity. He increased opportunities not only for students of color, but also for minorities in high-level leadership positions. The first doctoral program in African American Studies also started under Liacouras' watch.
When Liacouras announced his retirement in late 1999, Pulitzer Prize–winning columnist Acel Moore wrote, "I can't think of any other white college president who has done more than Liacouras to promote diversity and provide access to those who traditionally have been left out or excluded."
The first Temple president who was a native Philadelphian, Liacouras was the son of Greek immigrant parents. Later in his life, he was elected as a member of the Academy of Athens, the successor to Plato's academy and the highest honorary scientific association in Greece.
Liacouras attended public schools, then studied at Drexel University, the College of William and Mary, the University of Pennsylvania Law School, the Fletcher School of Law and Diplomacy, Harvard Law School and Yale Law School, where he was a Sterling Fellow. He served as an American specialist for the Department of State in India, a public defender, and special assistant district attorney in Philadelphia.
A memorial service will be held at 11 a.m. Friday, May 20, in the Temple Performing Arts Center.

Memorial donations may be made to the Peter and Ann Liacouras Scholarship Fund at Temple University, which provides scholarships for undergraduate students based on academic merit and financial need.