Dan Baker, EDU '72, has been the voice of the Philadelphia Phillies for more than four decades.
Video Production:
Gina Benigno
When Citizens Bank Park was constructed in South Philadelphia at the turn of the 21st century, workers lugged in hundreds of thousands of bricks and more than 80,000 square feet of aluminum curtainwall, not to mention tons upon tons of steel.
But it's not only building materials that constitute a Major League park. Every stadium needs a voice, too. And for the home of the Philadelphia Phillies, it's always been that of Dan Baker '72.
His is the familiar one that calls out the starting lineup at every Phillies home game, the one that ushers the team onto the field with a thunderous proclamation: "Ladies and gentlemen, the 2016 Phiiiilaadelphia Phillies!"
Baker began his dream job as public address announcer for the Phillies in 1972, in their former stadium, after earning a master of education at Temple.
He had received several polite rejections before landing the interview with the team in late 1971. When he did, he knew management was looking for someone who was both articulate and well-versed in baseball.
"I used to lay in bed at night and listen to Phillies games and keep the balls and strikes on my fingers—it's second nature to me," Baker said. He confidently told as much to his interviewers and secured the job, fulfilling a childhood dream triggered by his first Phillies game with his father in 1954.
"When I saw that, the beautiful green grass and the lights—I thought I entered heaven," Baker said. "I thought, man, wouldn't it be great someday to be a part of this?"
When he was an undergraduate student at New Jersey's Glassboro State College (now Rowan University), Baker began working as a mail boy at the former Channel 48, where he assisted production operations and filled in for a wrestling announcer.
Baker continued to pursue such work while also satisfying his passion for education: He worked as an elementary school teacher while completing his master's degree at Temple. His advisor encouraged him to continue both paths, he said, and that's what he did until 1980, when he retired from teaching to focus on his announcing career.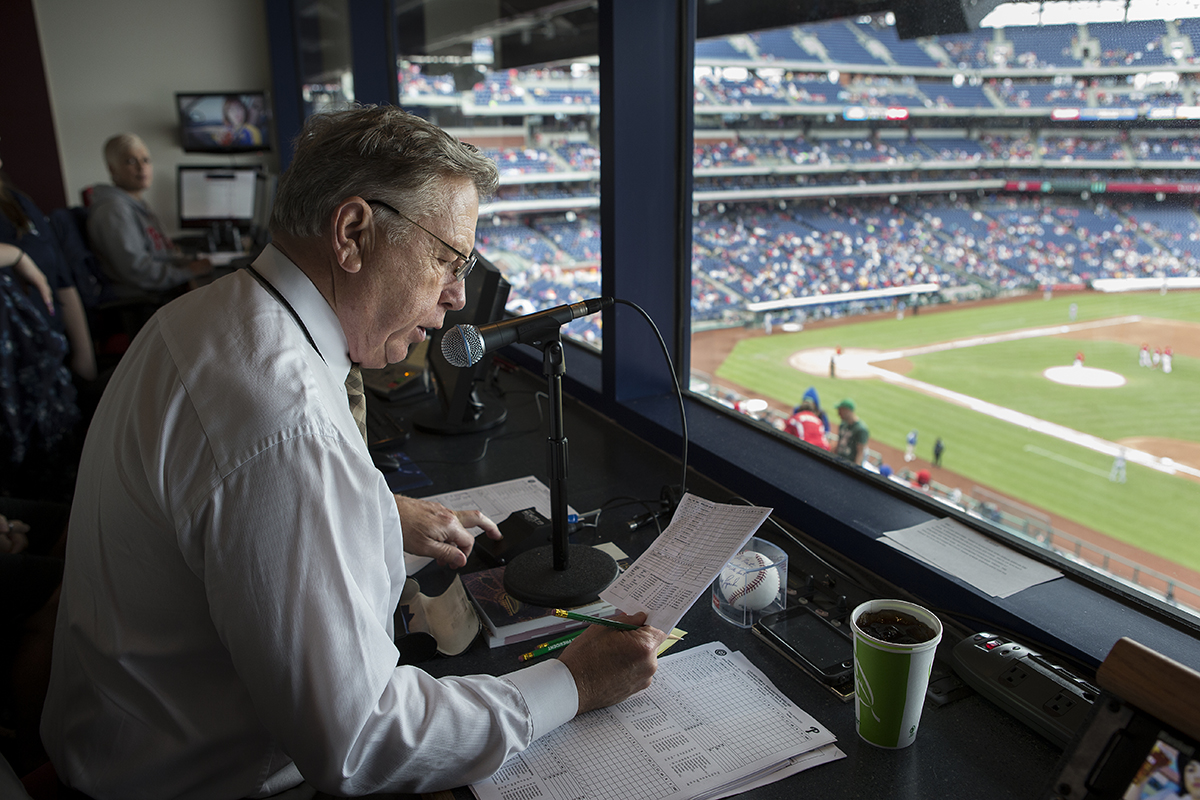 Photography by: Joseph V. Labolito
Years later, he has announced more than 3,600 games, including five World Series; was inducted into the Philadelphia Sports Hall of Fame; and is the longest-tenured public address announcer currently working in Major League Baseball.
He's also applied his personality to a number of other roles, including serving as the public address announcer for the Eagles for 29 years.
But it's easy to see how at home he is at Citizens Bank Park, where he possesses a mayor-like presence, greeting nearly everyone whose path he crosses. After welcoming the team to the field each game, he walks determinedly back to his chair in a busy control room so as to not miss any gameplay. He's still giddy about it all.
"I had so much fun going to the games, which I still do 45 years later," he said. "I feel like a kid in here. I love it so much."
In a world without Temple, game days in Philadelphia wouldn't sound the same.

Learn more about the impact of Temple alumni.