20 facts about the Class of 2020
The record-breaking class of freshman and new transfer students will keep Temple's momentum going.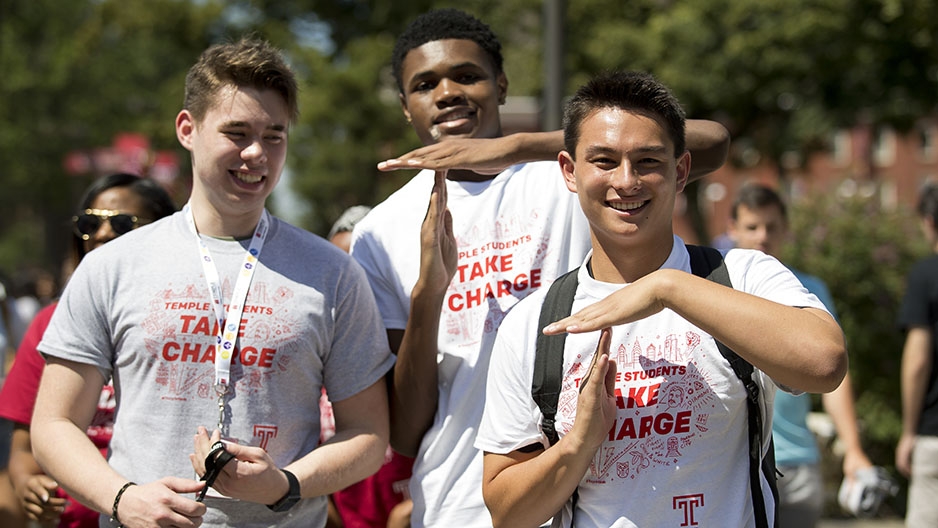 With the start of the new academic year, Temple welcomes another class to the university's ranks. And like previous years, this incoming class—known as the Class of 2020—is already breaking records before they've begun taking classes.
The university received its largest-ever number of freshman applications for a space in the class, which is expected to set records for overall size and academic strength.
These go-getters were drawn to Temple from places near and far and for a variety of reasons. Daniel Kim, an engineering major from Sejong, South Korea, chose Temple because of rave reviews.
"People said they loved it," he said. And his experience so far has lived up to his expectations. "I'm excited about my college career."

Meet some Owls from the Class of 2020.

Final stats on the new students will be available mid-September. But for now, here are 20 fun facts about the Class of 2020 (all numbers are based on the most recently available data).
The projected number of freshmen in the Class of 2020 is about 5,100, a university record.

The number of applications Temple received to fill those freshman spots? 34,512. That's a record high and 15 percent higher than last year, the previous record.

Another record: The average freshman high school GPA is 3.56.

The average freshman SAT score is 1170, also a record.

And yet another Temple record: The projected number of freshmen in Temple's Honors Program is 750.

The projected number of transfer students is about 2,400.

Talk about legacy: About 435 freshmen and 85 transfer students have at least one parent who's a Temple graduate.

About 335 freshmen and 150 transfer students are international.

First-year and transfer students represent 65 countries.

Freshmen and transfers come from 59 of Pennsylvania's 67 counties.

New Temple students represent 46 states. 

The oldest member of the Class of 2020 is 59 years old.

The youngest registered new student is 15 years old.

There are 30 sets of twins and one set of triplets among freshmen and transfers.

Matthew (97) and Emily (87) are the most common first names among freshmen and transfers.

The most common last names: Nguyen (70), Patel (64) and Smith (46).

Fifty-nine students have 20 letters in their first and last names combined, making them perfect additions to the Class of 2020.

Thirteen freshmen and transfers share a birthday, Dec. 13, with Temple's Acting President Richard M. Englert.

Twenty-six students share a birthday, Feb. 15, with Russell Conwell, Temple's founder.

Five students have the word "Owl" somewhere in their names.