During his tenure as president, David Adamany raised academic expectations for the entire university. A memorial service will be held Thursday, Nov. 17 in Sullivan Hall.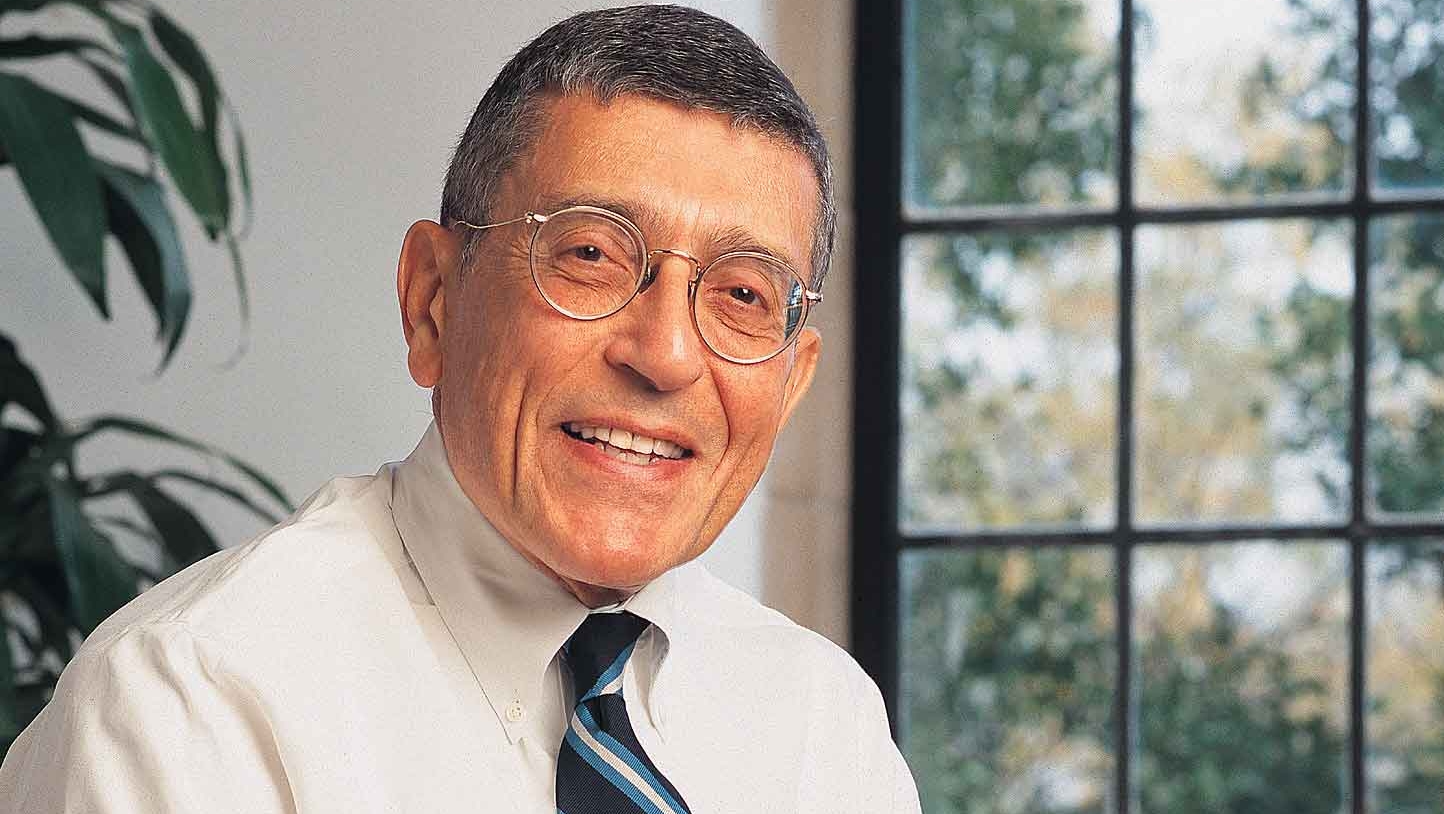 David W. Adamany, Temple University's eighth president and an uncompromising advocate for high-quality education who transformed and invigorated the institution, died Thursday night after a brief illness. He was 80.
A memorial service will be held Thursday, Nov. 17 at 4 p.m. in Sullivan Hall's Feinstone Lounge. The service is open to all.
Adamany, who was born in Janesville, Wisconsin, to an immigrant family of Lebanese heritage, came into office in 2000 and retired in 2006 as a university chancellor. He continued to teach for the university's Beasley School of Law and the Political Science Department in the College of Liberal Arts.
"David demanded the best of everyone, especially himself," said Temple University President Richard M. Englert. "He had an exacting vision of Temple as a place where everyone worked in unison for the benefit of our students and that's the university he helped create."
During his tenure as president, Adamany raised academic expectations for the entire university. One of his most influential achievements was to introduce a bold new program of general education for undergraduates. The enhanced gen-ed curriculum provided a shared intellectual backbone for all Temple students.
"Whenever someone asks me why it's important to have high academic standards, I turn the question around," Adamany said in 2006. "Can someone please explain to me why a kid from a working-class or middle-class background shouldn't get the same kind of education as a kid who goes to an Ivy League school?"
"You have to drive for higher standards, because it's good for students and it's good for society," he said at the time.
That vision for higher standards became a reality for Temple during Adamany's watch, said Board of Trustees Chair Patrick J. O'Connor.
"David Adamany pushed Temple University to be its best self," he said. "But David never forgot his own roots and made sure Temple remained true to its mission of being affordable, accessible, diverse and high quality, all at the same time."
"That is a legacy we still hold dear," said O'Connor. "Temple is nationally recognized today for the quality of its education because of David's determination, and we owe him a tremendous debt of gratitude."
Under Adamany's watch, the quality of Temple's student body grew. The average SAT score of Temple freshmen increased by more than 60 points. Its average high school GPA and enrollment in Temple's Honors Program also rose.
Adamany helped expand the size of the student population. Total enrollment grew by 17 percent, fueled by an unprecedented 40 percent surge in undergraduate applications. The percentage of African-American, Latino and Asian students also increased, and Temple's student body was rated the second most diverse in the nation by the Princeton Review.
To support all these students, Adamany helped recruit a new crop of exceptional faculty. Over a three-year period, Temple hired more than 140 tenured or tenure-track faculty. The influx of talented professors helped raise the university's national standing among institutions of higher education.
Adamany also emphasized faculty research. Research expenditures grew by 40 percent, while research awards increased by more than 28 percent.
Adamany's legacy is perhaps most visible in the development of Main Campus. Because of his leadership, Temple was able to further its transition from a commuter school to a vibrant residential community.
During Adamany's presidency, more than $400 million was committed to capital projects. Construction work included the Student Center and the TECH Center, two of the most utilized facilities on campus today.
After he left the presidency in 2006, Adamany remained a vital part of the Temple community, serving as chancellor and Laura Carnell Professor of Law and Political Science. His courses included Election Law and The American Supreme Court.
Prior to arriving at Temple, Adamany had a lengthy and accomplished career in public service. He was former president of Wayne State University in Detroit, as well as chief executive officer of Detroit Public Schools. Adamany also worked for the governor's staff in his home state of Wisconsin and served as vice president for academic affairs in the University of Maryland System and at California State University, Long Beach.
Adamany earned both his undergraduate degree and juris doctor from Harvard. He also earned a master's degree and a doctorate from the University of Wisconsin.