Geoff Collins selected as Temple's head football coach
Known for aggressive defenses, Collins joins Temple from Florida.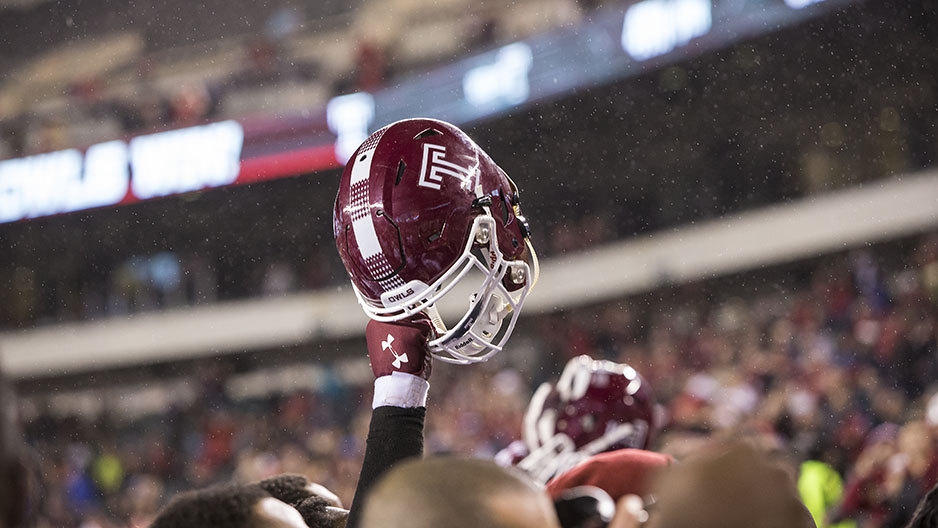 Temple University announced today the hiring of Geoff Collins as head football coach. Collins joins Temple from the University of Florida, where he oversaw a Gators unit that ranked among the nation's best during his two seasons as defensive coordinator.

​"As soon as I met with Geoff I knew right away that this was the right coach at the right time for Temple University," said Director of Athletics Patrick M. Kraft. "Well beyond Geoff's acumen as a coach of hard, physical football, he shares our values of embracing the student-athlete and demanding excellence in all that we do. We welcome Geoff and [his wife] Jennifer to the Temple family. I know that he will be fantastic."

Collins said he is excited about the opportunity at Temple.

"I want to thank President Englert and Dr. Kraft for this incredible opportunity to join Temple and the City of Philadelphia," Collins said. "I have been in the game of college football for more than two decades and I am humbled and honored to be chosen to build on a great foundation of success. We will compete for championships, we will provide a world-class student-athlete experience and education, and we will represent the community with pride."

Known for his high energy, toughness and attacking defenses—a perfect fit for Temple, which also ranks among the top 10 nationally in various defensive categories—Collins has more than 20 years of coaching experience, including at Mississippi State, Florida International, and his alma mater, Western Carolina. He also served a year as Alabama's director of player personnel and, before that, as Georgia Tech's recruiting coordinator.

"Geoff Collins is an extraordinary leader, and it's clear he is the right person to take an already successful program and advance it to the next level," said the university's Board of Trustees Chairman Patrick J. O'Connor. "We are thrilled to have him join the Temple University community."

Collins takes the helm of a nationally ranked 10-3 Owls team, winners of seven straight, including the American Athletic Conference Championship game, which earned Temple its first conference title since 1967. Collins succeeds Matt Rhule, now head coach for Baylor University.

"The excitement over Temple football has been growing for years, and Geoff is going to ensure that Temple's reputation for quality on the field and in the classroom is going to continue," said President Richard M. Englert. "Our student-athletes are great representatives of this university and make me proud every time I see them play."

A Georgia native, Collins initially planned to be a history teacher until a college football coach suggested he pursue coaching. Over his career, Collins has coached 17 players who were drafted into the NFL. These include at least one name familiar to Philadelphians: Fletcher Cox of the Eagles.

In 2010, Collins was a finalist for the Broyles Award for the nation's top assistant coach. He has consistently produced some of the highest-performing defenses in the country, including a 2014 Mississippi State team that was the nation's best in red-zone defense. At Florida, he created the #BDN (Best Defense in the Nation) hashtag on social media and backed it up on the field, where this year the Gators are sixth in total defense and 10th in scoring defense.

Collins joins Temple football at arguably the best time in modern program history. The team's 20 wins in the last two seasons is the best two-year stretch the program has seen and the first time Temple has won 10 games in back-to-back seasons.

Temple next faces Wake Forest in the Dec. 27 Military Bowl as the program seeks a record 11th win. It is the sixth bowl game in school history and the first time Temple will go to a bowl in consecutive seasons. As previously announced, interim Head Coach Ed Foley will lead the team in the Military Bowl.

Turnkey Sports & Entertainment, a top search firm in the sports industry for over two decades, assisted Temple in the expedited nationwide search process. Turnkey is located in Haddonfield, N.J., and works with professional and college sports clients across North America.

A news conference to introduce Collins is scheduled for 11 a.m. Wednesday, Dec. 14, in the Fox-Gittis Room of the Liacouras Center on North Broad Street.