Fox alumnus now heading Nike's Jordan Brand returns to campus
Larry Miller, FOX '82, spoke with students about his career and shared insights into the sports industry.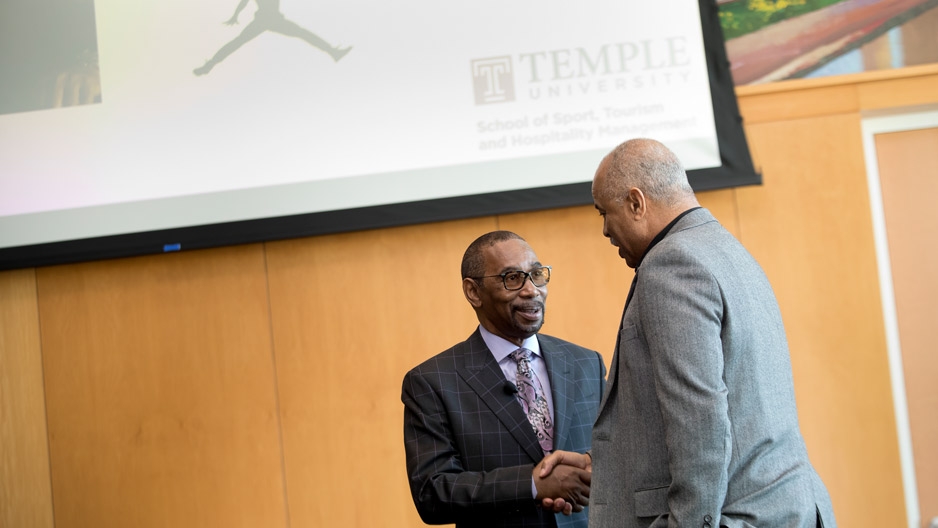 On occasion, Larry Miller's office phone rings — and on the other line is Michael Jordan.
"Actually, calls from him are pretty standard in my line of work," Miller, president of Nike's Jordan Brand, said.
Miller, a 1982 graduate of the Fox School of Business, returned to Temple recently to speak with students in the School of Sport, Tourism and Hospitality Management as part of school's Executive in Residence program.
The Executive in Residence speaker series brings accomplished business leaders to campus to share their industry expertise with students in the fields of sport, recreation, tourism and hospitality management.
Miller has served in his current role since 2012 and was named one of the nation's most powerful people in the sneaker industry by Complex magazine. Miller's visit to Temple as an Executive in Residence was moderated by Lara Price, senior vice president of business operations for the Philadelphia 76ers.
"Temple allowed me to start in accounting and transition into general management, marketing and beyond," Miller said. "You don't have to be a professional athlete to have a career in sports. There are incredible opportunities out there."
Read more about Miller's talk.
—Christopher A. Vito