For this Temple senior, the next step is a leap
Nahla Ward, a criminal justice and Spanish major, plans to pursue a career in singing after Temple.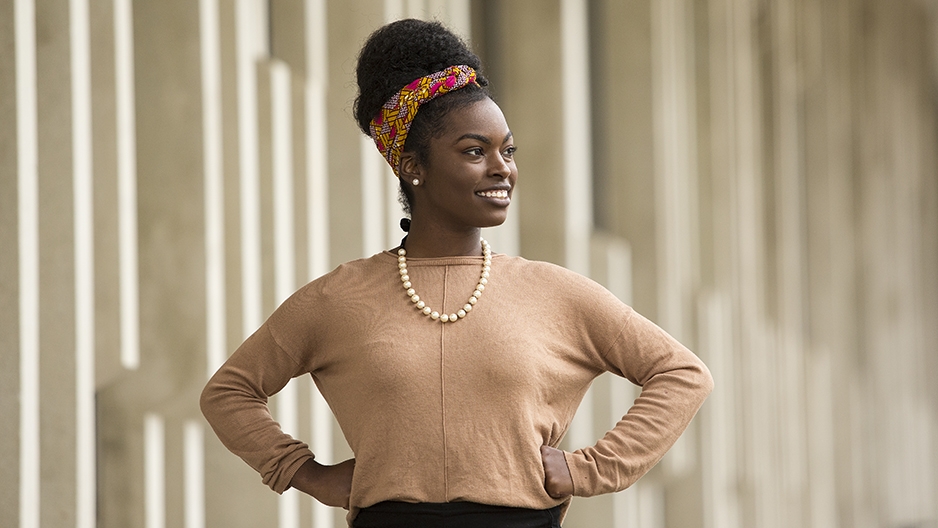 Nahla Ward, a senior criminal justice and Spanish major, will graduate from Temple next week with an enviable résumé that would make her quite the job candidate.
She has interned in the Philadelphia Court of Common Pleas and has twice traveled outside of the country for educational trips, most recently to the National University of Costa Rica. She's worked as a teaching assistant and a photographer and was named the Miss Black and Gold by the Phi Rho Chapter of the Alpha Phi Alpha Fraternity.
In advance of Commencement, she's received the Criminal Justice Faculty Award and was named a recipient of the 2017 Diamond Award, the highest recognition offered by Temple to undergraduate students and one based on a holistic review of a student's achievements inside and outside the classroom.
But Ward, a 21-year-old from Danbury, Connecticut, said while her experiences over the past four years have prepared her for a career in criminal justice, they've also prepared her to pursue something else entirely.
"I realized my purpose is to serve others through singing," she said recently.
While many Temple graduates leave school destined for definitive next stops like prominent jobs, graduate school and fellowships, Ward's story represents another route that Owls don't flinch at taking: A leap. And she has good reason to believe she'll land just fine.
During her final year at Temple, Ward has found successes that have affirmed her longing to integrate positive messages with her passion for music.
In August, as celebrity videos fanned the flames of a social media challenge dubbed the #SoGoneChallenge—a video competition of users putting their own spin on the 2003 song "So Gone" by R&B singer Monica—Ward decided to create a remix touching on women's empowerment and, specifically, her experiences as a black woman.
Ward's video went viral, catching the attention of The Real, a daily, one-hour show on Fox Television Stations and in national syndication that also rebroadcasts on BET. The show contacted her through Instagram and brought her to Los Angeles to perform her version in a one-on-one battle against another contestant. Each had 25 seconds to perform. The judge? Monica.
"Nahla is the winner for me because, let me just say this, what she's saying is so important," Monica said in declaring the Temple senior the victor, a title that came with a cash award.
Amid her progress on the stage, the College of Liberal Arts student has remained resolute that studying at Temple was the right choice, not just to earn a degree but for the personal growth it has afforded her. It was opportunities on campus that made clear her drive to impact others through words.
"Even though music is a form of entertainment, to me personally, through my music, I want to educate, inspire and encourage."
-- Nahla Ward
Early in her college career, Ward worked as an Owl Team Leader, helping to acclimate new students to campus during Orientation. That position fueled her self-confidence in leading others. Years later, when a student from her group passed away, she was invited to sing at a memorial service.
"I was in awe, hearing that through this one experience—through my leadership—it kind of brought us all together," Ward said.
Not long after appearing on The Real, Ward seized another opportunity: a competition for young artists at The Apollo, the famed theater in Harlem, New York City. She placed second.
Ward has continued to sing wherever and whenever she can, including at open mic nights on campus and at performances in her Connecticut hometown and at a venue in Brooklyn. She's continued to attract a following, with nearly 44,000 followers on Instagram.
"Even though music is a form of entertainment, to me personally, through my music, I want to educate, inspire and encourage," Ward said. "To me, if there's no message, it doesn't make sense."