Adjunct Professor Lew Klein has left an indelible mark on the broadcast industry, and on scores of people leading it.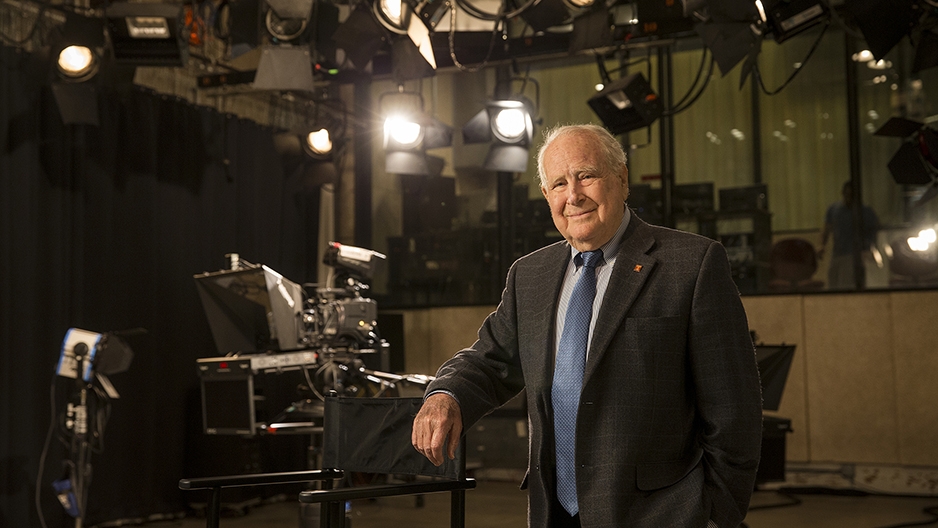 To hear Lew Klein describe it, that thing that draws people into journalism and communications isn't happenstance or luck or chance—it's a sort of magnetism.
"When it comes to journalism, when it comes to broadcasting, when it comes to communication, you just feel it. You've just got to do it," Klein says. "They talk about ink in your blood. And I don't know that it's ink in our blood, but it's video and stories and excitement."
Video. Stories. Excitement. All of which Klein knows a thing or two about.
For nearly seven decades, Klein—a broadcast pioneer and adjunct professor at Temple—has left an indelible mark on broadcasting and those entering the industry.
Video Production:
Gina Benigno & Louis Peluyera
A Cheltenham, Pennsylvania, native, Klein's storied career began in 1950, when he was hired at the then-WFIL-TV (now WPVI Channel 6 in Philadelphia). There he became a producer and a director known for his work on American Bandstand, the influential show that featured teenagers dancing to pop songs, and other programs.
Among his many successes, Klein helped launch Channel 6's Action News format, featuring more news stories, shorter segments, local coverage and crisp, fast delivery. He also co-created the popular children's series Captain Noah and His Magical Ark, directed programming for TV stations across the country and co-founded the National Association of Television Program Executives.
As much as Klein has invested in his own journey, he's invested in others'.
Klein began teaching at Temple in 1952, before the university had a school designated for media and communication. In that capacity, he's mentored scores of students who've launched impressive careers—CBS Evening News Executive Producer Steve Capus, KLN '86; actor and comedian Bob Saget, KLN '78; Philadelphia Eagles announcer Merrill Reese, KLN '64, to name a few.
"After 65 years, I can tell within the first 15 minutes of class who the good students are going to be," Klein says. "They've got energy, they are interested, you get a feeling they have some passion for why they are there."
That's important, Klein says, because the industry is vital to the public.
"The world has gotten very small," Klein says. "An event happens in Moscow and within an hour, live, you're in Moscow. The ability to deliver a story—especially a news story or commentary—so quickly, live, remote from any corner of the world, I think, has such total impact."
Impact is the context in which Klein's former students describe him, too.
"You have helped so many people, and many of them are known, and many are just off on a career in production," Saget told Klein during a 2017 ceremony that marked the official naming of the Klein College of Media and Communication at Temple. "You are a conduit for a world of talent."
In a world without Temple, the airwaves might be missing their energy.