Posted
September 25, 2017
Project creates cardboard adaptations for kids with disabilities
Adaptive Design Greater Philadelphia, spearheaded by Temple's Institute on Disabilities and funded by a grant from the Christopher & Dana Reeve Foundation, is helping to improve the lives of children with paralysis.
Video Production:
Gina Benigno
For 5-year-old Mark Ovington and his mom, Andrea Krajci, some of the simplest things in life can be a struggle.
Mark, who has cerebral palsy, loves video games, but he doesn't have the mobility to hold up a controller with both hands. Sitting with his family at the dinner table can present challenges, too: Mark is unable to sit upright comfortably in a standard chair due to paralysis in his legs. 
"I don't feel like he's part of us being at the table together," Krajci explained. "The seating position chair we have at home, it's very big."
Now, that's all changing for Mark and his family: Thanks to a grant the Christopher & Dana Reeve Foundation awarded to
Temple's Institute on Disabilities
, a center within the College of Education, Temple is helping train local professionals to build personalized, inexpensive cardboard adaptations for children like Mark.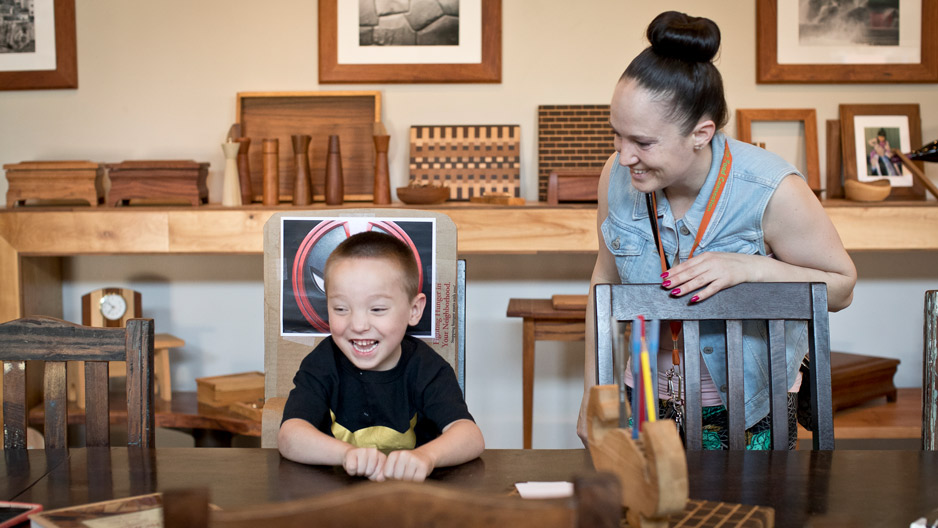 Mark Ovington, 5, tests out the chair designed for him through Adaptive Design Greater Philadelphia as his mother, Andrea Krajci, watches. Kim Singleton of Temple's Institute on Disabilities later put finishing touches on the chair. (Photography by Ryan S. Brandenberg)
Improving access to change lives
The project Temple created with the grant, Adaptive Design Greater Philadelphia, aims to change the lives of children like Mark and their families by making adaptations more affordable and accessible to them. Because young children grow so quickly, acquiring multiple specialized commercial devices to help them move or play is often out of reach and inaccessible for families. A commercial device can cost hundreds of dollars, while materials to make cardboard adaptations generally cost less than $50. 
"If you go and get something commercially made, it's very expensive, it takes a very long time, and you can't incorporate what that child loves when you do it," said Kim Singleton, director of assistive technology programs at Temple's Institute on Disabilities. "By using cardboard, we can turn that challenge into a successful part of that person's life."
Besides being durable and highly customizable, cardboard adaptations can also be altered to grow with the children they're designed for as they get older, or simply be customized to pass down to another child.
"The beauty of cardboard is it's easy to manipulate and easy to cater to another child. So when one child outgrows our customizable pieces, another child can be re-fit to their needs," said Russell Goldstein, project manager for Adaptive Design Greater Philadelphia. "If done properly, it's very sustainable."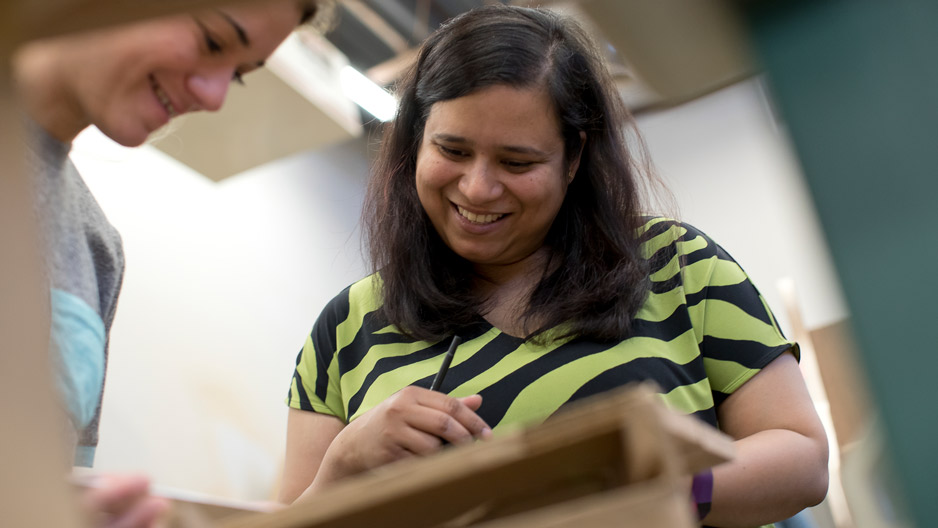 Temple Occupational Therapy Assistant Professor Rochelle Mendonca works on an adaptation at Philadelphia Woodworks in Manayunk during a build-and-fitting day in June. 
First in Philadelphia
Mark was among the first children fitted for cardboard adaptive devices—in his case, a chair insert specially designed for him and a tray that can be placed over it to hold his video-game controller in place—as part of Adaptive Design Greater Philadelphia. 
The $75,000 Reeve Foundation grant allowed Temple to bring Alex Truesdell—the MacArthur Fellow and founder of the Adaptive Design Association who spearheads the national movement of crafting cardboard adaptations for children—to Philadelphia earlier this year to train local professionals in how to fit, design and build the devices. Faculty members in Temple's Occupational Therapy program in the Department of Rehabilitation Sciences and staff from the Institute on Disabilities, along with physical, occupational and speech therapists from around the city, received the training and used workshop space at Philadelphia Woodworks in Manayunk to build, paint and fit the first round of adaptations.
Celia Feinstein, executive director of Temple's Institute on Disabilities, said the project marks the first time that a group of professionals has been trained in Philadelphia to create cardboard adaptations for kids. 
"Prior to Alex Truesdell actually coming here, there wasn't much experience with the fabricating end of this work," Feinstein said. "So it's giving us that opportunity, which is pretty awesome." 
Adaptive Design Greater Philadelphia is also working with Frankie's World, a specialized day care for children with disabilities in North Philadelphia about a mile from Temple's Main Campus, to create adaptations for children who attend programs there. 
In all, roughly 100 adaptations for more than six dozen children will be produced in the first year of the grant. 
Mark Ovington, 5, helps paint a cardboard adaptation for another child at Philadelphia Woodworks in Manayunk with his mom, Andrea Krajci. 
A collaborative effort
This fall, students from Tyler School of Art are joining Adaptive Design Greater Philadelphia to help paint and decorate adaptations created by students in the Occupational Therapy program—which built cardboard adaptation design into its curriculum. As part of the fabrication process, trainees customize each adaptation to the recipient's likes and interests.
For his chair, Mark chose red and black paint, and asked for a picture of Deadpool, a superhero from one of his favorite movies, to be glued to the back.
Adaptive Design Greater Philadelphia has paved the way for collaborations far beyond Temple. The Institute on Disabilities partnered with several local organizations and institutions, including Kencrest, Elwyn and Thomas Jefferson University's Occupational Therapy program. 
Feinstein said part of the goal of training professionals throughout Philadelphia is to create a sustainable program that can continue far beyond the yearlong grant period, ensuring access and inclusion for children for several years.
"As you can imagine, it's life-changing," Feinstein said of the project. "A simple adaptation can give people better access to being in school, to being in day care, to playing with peers, you name it. It makes life easier and more inclusive, which is really what we're about, creating inclusive environments for all children."
There is perhaps no one who knows just how life-changing an adaptation can be better than Mark's mother, who was moved to tears when she saw the sheer joy cross her son's face as he tried his chair for the first time during a fitting in June.
"I seriously can't believe the imagination behind these things, and the creativity. I think it's awesome," Krajci said. "I'm lucky that he was able to be a part of it."