Meet Temple's record-breaking class of Student Fulbright grantees
The latest cohort of Fulbright grantees is part of a historic surge of Temple students and recent graduates who have explored the world and enhanced their careers.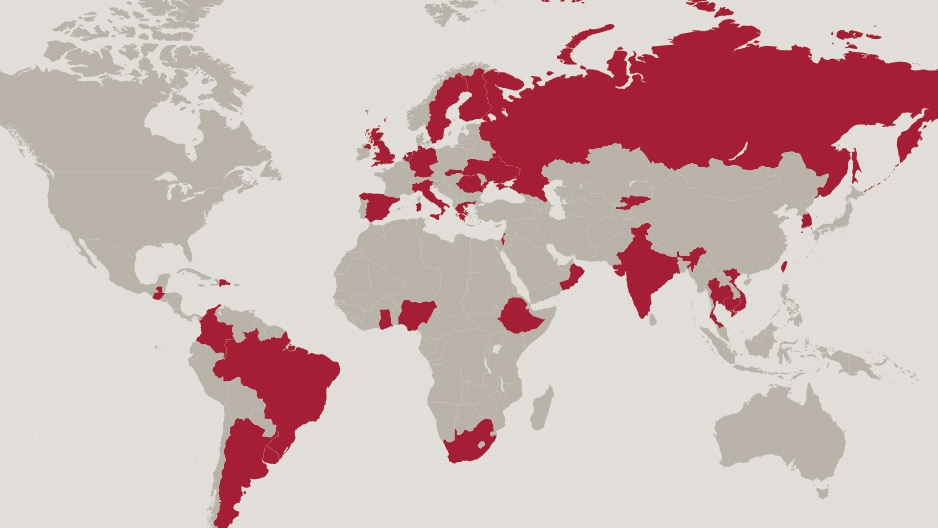 Ten Temple students and recent graduates have earned prestigious U.S. Student Fulbright grants for 2017-18, easily topping the annual record for the most Temple Student Fulbright grantees since the cultural exchange program was created more than 70 years ago.
Temple's Student Fulbright grantees are traveling abroad in 2017-18 to conduct individually designed research projects or teach English, fulfilling the program's mission of "promoting mutual understanding" between the U.S. and other nations. (An 11th was offered a grant, but declined—see complete list with destination countries below.)
This year's largest-ever class of Temple "Fulbrighters" breaks the previous annual record of five grantees and caps a run of unprecedented success for Temple students and recent graduates applying for spots in the highly competitive program. Fifty-four Temple students and alumni have earned Student Fulbright grants since 2000 (see map above), more Fulbrighters than the previous half-century-plus combined.
"Eleven Student Fulbright finalists is great news, but it's no surprise to the Temple community that we've seen a dramatic increase in recent years," said Provost JoAnne A. Epps. "This increase is undoubtedly fueled by Temple students' energy, credentials, global aspirations and the quality of the teaching and mentorship they're provided by our faculty and advisors."
Temple's 2017 Student Fulbright finalists (10 of whom accepted grants):
Riannon Caflisch, EDU '16, is teaching English in Germany.
Tom DiAgostino, CLA '16, and current College of Liberal Arts graduate student, will teach English in Uruguay.
Emily Heller, KLN '12, is teaching English in Slovakia.
Kacie Hoagland, CLA '17, is teaching English in Spain.
Nicole Nathan, a graduate student in the College of Liberal Arts, will conduct anthropological research in the Dominican Republic.
Magda Ostrov, CLA '15, and current College of Education graduate student, is teaching English in Kyrgyzstan.
Andrew Stoquert, a Beasley School of Law student, is researching environmental law in the United Kingdom.
Nicholas Valentini, SSW '16, will teach English in Guatemala.
Hope Watson, CPH '17, declined a grant to conduct research on antimicrobial resistance in the United Kingdom (she is currently a graduate student at the University of Cambridge).
Eunice Yu, TYL '13, is teaching English in South Korea.
Albert Recierdo, CLA '17, is teaching English in Brazil.
Sen. J. William Fulbright introduced the bill that created the U.S. Student Fulbright Program in 1945 to promote "international goodwill through the exchange of students." President Harry S. Truman signed it into law a year later. Temple's first Fulbrighter, artist and novelist Octavia Capuzzi Locke, TYL '52, studied painting and printmaking in Italy. Since then, 99 other Temple students and recent graduates have earned Student Fulbright grants to pursue life-changing and career-enhancing academic experiences around the world.
Tom DiAgostino, a 2017-18 Student Fulbright grantee, will be spending eight months teaching English in Uruguay—four in the country's rural provinces and four in the capital city, Montevideo. He will also pursue a community engagement project exploring Uruguay's LGBTQIA+ community.
"A huge part of the Fulbright is bringing the knowledge that you gain in [another] country back to the U.S. and continuing that connection. That's what I hope to do," said DiAgostino. "As Americans, how do we continue to inform ourselves and others about that experience? It's a cultural exchange."
Like his fellow 2017-18 grantees, DiAgostino says he intends his Student Fulbright experience to be "an integral part of my future career path." He has plenty of role models among Temple's many recent Student Fulbright alumni, including Robert Berry, CLA '08, a former Fulbrighter who currently works for the U.S. Department of Homeland Security in New York City. Berry's Student Fulbright experience took him to Oman to continue his Arabic studies and to research Islamic jurisprudence. Now Berry uses his understanding of Arabic and Arab culture in his job at Homeland Security, for whom he interviews Arabic speakers seeking asylum or refugee status in the U.S.
"To be able to speak to someone in their native language, to establish a rapport with them, to connect with people who've experienced trauma and persecution and make them feel comfortable—that's essential for me as a professional," said Berry, who regularly returns to Temple to speak to students and encourages them to apply for Student Fulbright grants.
To Berry, Temple's ascent as a major source of Student Fulbright grantees is a source of pride.
"It tells me that Temple is really becoming a known quantity in U.S. academia. People are seeing Temple excel," he said. "That's important. We've all worked hard to make Temple what it is today."
Learn how Temple's Office of Scholar Development and Fellowships Advising can help students apply for such external awards.

[Editor's Note: This post was updated Feb. 15, 2018, to include an additional Student Fulbright grantee whose grant was not known at time of publication.]