Bursar's dedication to student financial services wins national accolades
Assistant Vice President and Bursar David Glezerman was recently awarded the inaugural Student Financial Services Award by the National Association of College and University Business Officers.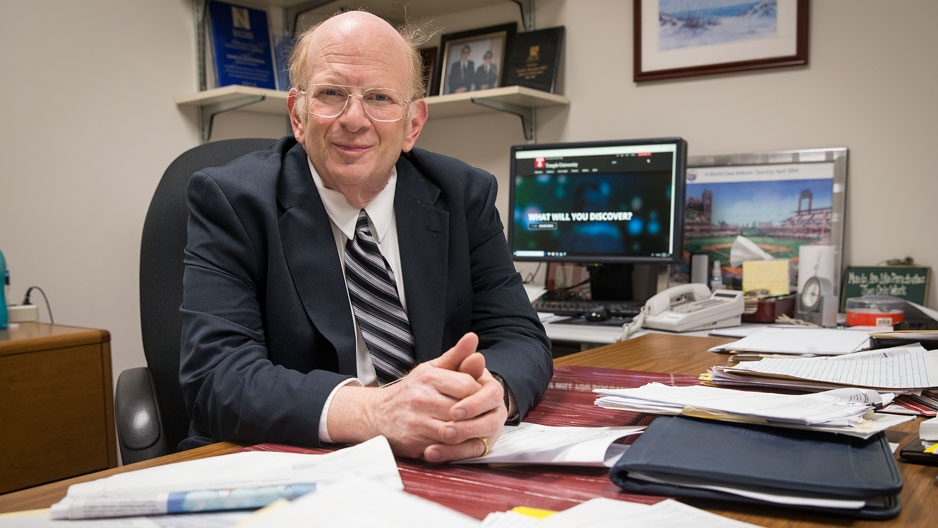 For Assistant Vice President and Bursar David Glezerman, who oversees the university's business office that collects tuition and fees, if there's one thing of key importance, it's providing good customer service.
"Service is really important," said Glezerman, FOX '91, who's been at Temple for 32 years and served in his current role since 2001. "For what our families are paying, they expect a high level of service."
To help ensure that quality service, under Glezerman, the Bursar's Office has undergone a number of changes, including contracting an outside call center to provide support so that people calling about tuition bills don't experience long hold times or have their calls go unanswered; implementing the iGrad platform, designed to educate students, parents, prospective students, alumni and employees on financial wellness and affordability; initiating a student debt letter that communicates to current students what their debt may look like when they graduate; and creating a tuition calculator that simplifies figuring out how much it costs to attend Temple.
Some of these changes are innovative for institutions of higher education—external call centers have long been used in the financial services and retail industries, Glezerman said, but aren't often seen in higher education. For that kind of innovation, Glezerman has won accolades from his peers. He was recently awarded the first-ever Student Financial Services Award by the National Association of College and University Business Officers (NACUBO) in recognition of his contributions to the field.
"All of Temple should be proud of David," said Ken Kaiser, university vice president, chief financial officer and treasurer. "He always puts our students first and has dedicated himself to making sure they have the tools necessary to make informed decisions. He's a leader in his profession and constantly thinking outside the norms."
Glezerman, the founding chair of NACUBO's Student Financial Services Council, has long had a vested interest in the world of student finances, particularly focusing on all aspects of what the Bursar's Office does, such as ensuring that students pay their tuition bills and are informed about financial wellness. To him, the concept of student financial services means not only providing that quality service but also ensuring that students' financial well-being is secure.
Under Glezerman's leadership, the Bursar's Office has played a role in shaping policy related to student debt. Temple was one of the first higher education institutions in Pennsylvania to implement a student debt letter. After Temple sent its first letter to students, Glezerman testified before the Pennsylvania Senate Education Committee about student financial literacy and student loan debt. State legislators have since proposed legislation that requires colleges and universities to have that type of communication with students.
"Debt is a big issue for our students," Glezerman said, adding that anything his office can do to help them minimize their student loan debt—such as showing them what it will look like based on the loans they've already taken—is a priority.
Glezerman credits Temple with giving him the support he needed to usher in such impactful changes, which he said come from sharing ideas among a network of those who work in the same field.
"You don't get best practices when you're not looking at the outside world," Glezerman said. "This is all because of what Temple has allowed me to do. Without that support, I couldn't have achieved what I have done."