After graduation, this music entrepreneur won't skip a beat
Ben Thomas, an entrepreneurship and innovation management major, will continue pursuing a career in audio engineering in Philadelphia.
Video Production:
Gina Benigno and Louis Peluyera
Ben Thomas, a Fox School of Business entrepreneurship and innovation management major, will soon graduate and continue making waves in the Philadelphia music scene as an audio engineer. 
While creative entrepreneurship is where Thomas is headed, it's not quite where he started. 
As a high-school student at Germantown Friends School in Northwest Philadelphia, Thomas was interested in finance, which inspired his dual marketing and finance major when he enrolled at Temple and his two-year investment analyst internship with Firstrust Bank. 
When he wasn't crunching numbers, Thomas was mixing and producing music (including the
Class of 2017 Commencement anthem, "Soar Time"
) at a makeshift studio in his mom's basement and, eventually, at his own studio in Northeast Philadelphia. From his early days at Temple, he was an active member of the Student Hip Hop Organization and an intern for RECPhilly, a startup music incubator in the city. It was in those studios and in that work that he found his true calling.
"To me, music is an international language," Thomas said. "Music allows you to transcend every cultural difference, every country, every nationality."
Through his work for RECPhilly and as a campus ambassador for GrammyU, the college division of the National Academy of Recording Arts and Sciences, Thomas made connections and landed opportunities that inspired him to transition to the Fox School's Entrepreneurship and Innovation Management program and to start his own company as a freelance audio engineer and music producer.
"The entrepreneurship major allows you to be really creative in a business sense," Thomas said. "It allowed me to gain the skills to be able to run my own business while still in school."
Over the last two years, Thomas moved up to lead audio engineer at RECPhilly and Studio Breed, one of the largest recording studios in Philadelphia, where he's worked with major hip hop artists Jazmine Sullivan, Bryson Tiller, Ty Dolla Sign, Brian McKnight, Shawn Smith and Lil Dicky. He also developed a close working relationship with West Philadelphia native artist Chill Moody, with whom he co-created independent record label nicethingsMUSIC.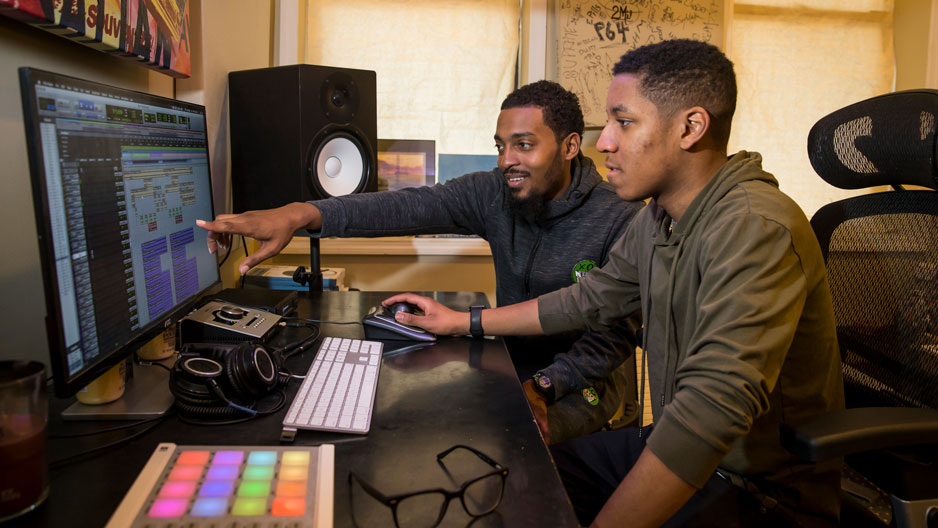 Thomas and local hip hop artist Chill Moody edit a track in Thomas' home studio. (PHOTO: Joseph V. Labolito)
His crowning professional moment, though, was when he found out a song he worked on with Jazmine Sullivan and Bryson Tiller would be the lead single for the season two soundtrack of the HBO series Insecure. 
In addition to working in the greater Philadelphia music community (and in Los Angeles with former members of Boyz II Men), Thomas has also been deeply involved on campus, not only in the classroom but also with the Black Student Union and the Entrepreneurial Students Association, of which he's been a member since freshman year and is now a senior advisor.
His involvement with these organizations, Thomas said, has "allowed me to not only get really involved with the music community, but also to try to bring other students who are interested in music into the larger ecosystem that we have here in Philadelphia."
With graduation right around the corner, Thomas reflected on his four years at Temple and the role it played in helping him get to where he is now. 
"I always like to look at Temple as a backdrop that's allowed me to do all this stuff," he said. "I met Chill, I got my job at [Studio] Breed because I was the campus ambassador for GrammyU. It's really just given me a foundation to be able to grow upon."
What does the future look like for Thomas?
"I'm going to keep doing music, keep on the grind, try to progress my career," he said. "I have a lot of big goals. I want to win a Grammy one day. That's at the top."
PHOTO: Gina Benigno
—Nicole Quaste