From gymnastics to law enforcement, senior dreams of a life in motion
With a goal of one day joining the FBI, Alexa Phillip knows she wants a career that's physically active.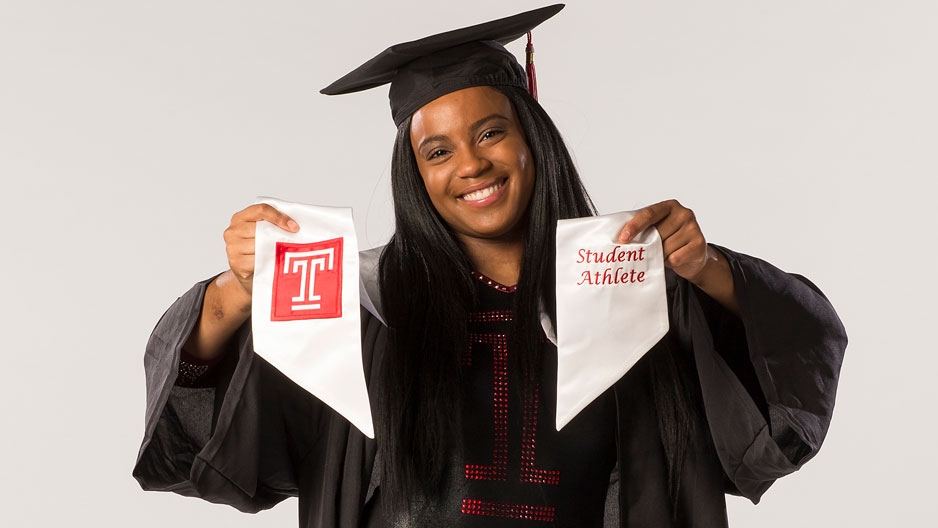 Senior Alexa Phillip's life has been upside down since she was 6 years old.
"My mom told me that when I was little, I would get up on the bed and start rolling around and flipping for no reason—I was just a crazy and wild kid," Phillip said. "She put me in gymnastics class, but she didn't think it would be something I would do for the rest of my life." 
Throughout her childhood, high school and college, gymnastics has been a constant for Phillip. The sport brought her to West Virginia University and eventually led her to Temple. 
At West Virginia University, something wasn't quite right. She wasn't sure what it was, and she began to question if she still wanted to do gymnastics. A childhood friend and fellow flipper helped her get on track. 
"One of my gymnastics teammates from high school said she was transferring out of Rutgers to go to Temple," Phillip said. "She told me, 'Come to Temple, what do you have to lose?'" 
Her friend was right. She talked to a coach at Temple and started her journey to North Broad Street. 
Phillip joined Temple's gymnastics team and even claimed the title as conference uneven bars champion at the Eastern College Athletic Conference (ECAC) in 2017—the program's first ECAC champion. 
Now, she's one class away from her bachelor's degree in criminal justice and officially saying goodbye to the gymnastics team on which she's spent her entire time at Temple. But she'll never say goodbye to a life in motion—Phillip is determined to be a FBI special agent one day. 
"I want to be out working in the field," Phillip said. "I want to travel for missions. I'm so used to moving, I need to work where they let me move."
Coursework surrounding criminal law, the prison system in America and juvenile justice—and a summer working with Temple Police—fueled Phillip's dream of working with the FBI. She said she didn't have much background on how the FBI's hiring process actually works until she was able to meet with a FBI director at an on-campus event exclusively for criminal justice majors. 
The director broke the process down for her and shared that if you apply to the FBI with police officer experience, you have a serious advantage. 
"It was something that stuck with me. I told myself I have to change my whole mindset, my whole gameplan," Phillip said. "I was so focused on the FBI that I was blocking out other opportunities."
Enlightened, Phillip has a new goal: U.S. Capitol Police. This agency protects the U.S. Congress—its members, employees, visitors and facilities. 
Working with the U.S. Capitol Police can pave the way into the FBI, and Phillip has already made progress. She passed the first round of the testing process and will move onto the next steps that will determine if she is accepted into the training program.