Summer programs prepare high school students for college
Temple Summer Academy is an on-campus pre-college summer program for college-bound students. The program gives students a head start with college credits and $4,000 scholarships.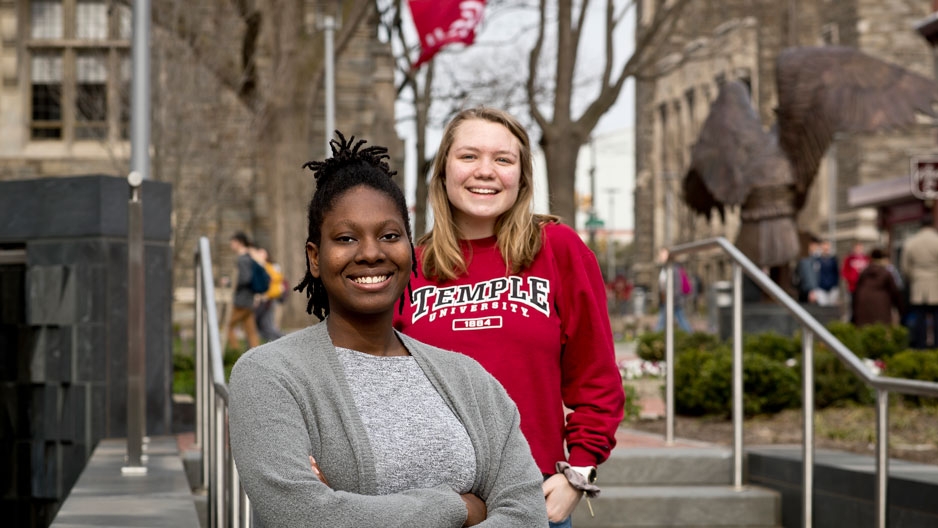 When Randi Jones decided where she wanted to earn her college degree, she knew with certainty she wanted to be at Temple.
Before college, Jones, a rising sophomore and double major in anthropology and African American studies, had already had the chance to have a firsthand Temple experience: She participated in part of the university's Temple Summer Academy, a group of summer programs launched in 2016 that allow college-bound rising high school juniors and seniors to live in campus residence halls, enroll in college courses and take various excursions in Philadelphia to get familiar with the city.
Temple Summer Academy currently includes the Summer Owls Leadership Experience (SOLE) program and a Visual Studies studio art program at the Tyler School of Art. The Summer Academy gives students the tools to succeed in college and provide them with a head start in the form of college credits and $1,000 scholarships for each of their four years at Temple. 
Jones said participating in Temple Summer Academy's SOLE program not only solidified her decision to attend Temple but also gave her a sense of college life. 
"The fact that we got to take a class gave me a good feel for what college classes would look like," she said. 
Leeanah McNew, another rising sophomore and public relations major, agreed with Jones, a friend whom she met while both attended the SOLE program. 
"SOLE prepared me for college with time management and getting used to being on my own," McNew said.
The minute I stepped foot on campus, I knew this was my home."
-- Leeanah McNew, public relations major
Although students are given ample free time and personal freedom during Temple Summer Academy, they are supervised by college counselors—current Temple students—who guide them through the university and make sure they are comfortable on campus. 
"During the three weeks they spend on campus, students take a GenEd course, interact with faculty and administrators, live in a residence hall with other Summer Academy students, explore the campus and the city, identify majors or academic areas of interest, and meet current Temple students," explained Maureen Saraco, the assistant director of summer programs at Temple. Saraco added that many students who attend the Summer Academy eventually go on to enroll at Temple. 
Jones and McNew both spoke highly of their experiences connecting with the program's counselors, saying they were less like supervisors and more like friends. They felt they could ask any questions about Temple of the current students and receive answers from their expert perspective. 
Whether it was the freedom, life skills or experience with a real college class, both Jones and McNew said that Temple Summer Academy and SOLE were a major factor in their decision to come to Temple.
"SOLE definitely solidified my decision to go to Temple," McNew said. "The minute I stepped foot on campus, I knew this was my home." 
Temple's Office of Summer Programs is looking to expand the offerings at Temple Summer Academy. If your college, school or unit is interested in partnering, contact Assistant Director of Summer and Special Programs Maureen Saraco at maureen.saraco@temple.edu.
—Hansen Bursic and Nicole Quaste