New vision for Tyler Metals/Jewelry/CAD-CAM
The trendsetting program has hired two new faculty members and metals artists: Doug Bucci, who takes the helm as program head, and Mallory Weston.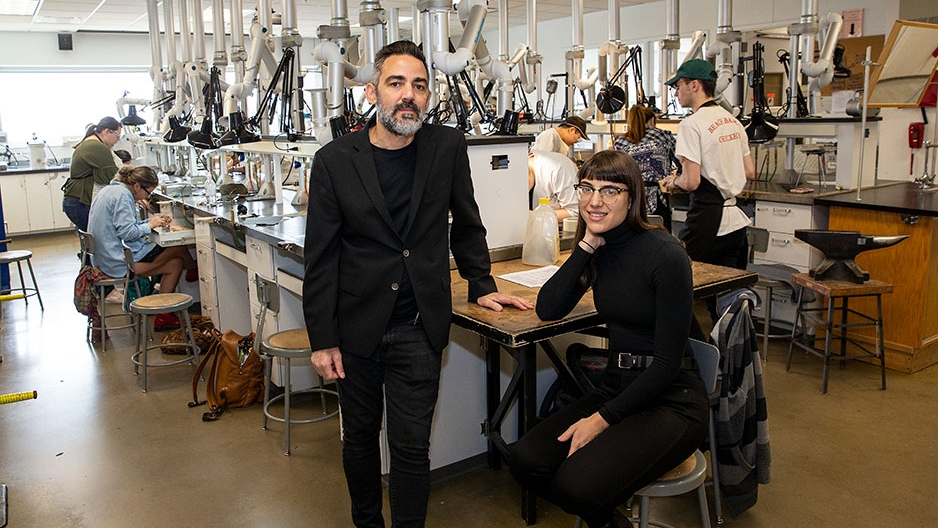 For the first time in 56 years, the Metals/Jewelry/CAD-CAM (MJCC) program at Temple University's Tyler School of Art—a program that redefined jewelry-making practice, education and industry by pioneering new technologies—has new leadership.
After a national search, Tyler has welcomed two new full-time faculty members and influential designers, Doug Bucci and Mallory Weston, to one of the world's largest programs of its type. Bucci, the new program head, replaces Stanley Lechtzin, who led MJCC until his retirement earlier this year.
"We're committed to keeping this program's legacy of innovation alive," Bucci said, "but we're just as committed to our traditional practice. That's a unique combination in the world of art education. To have an opportunity to move Metals/Jewelry/CAD-CAM forward—and to do it with an amazing colleague like Mallory Weston—it's phenomenal."
Bucci and Weston are well positioned to continue pushing boundaries. Bucci, a designer of forms from jewelry to furniture, is best known for using digital processes to translate biological systems and data into meaningful, personal, wearable art. A 1998 MFA graduate of Tyler, Bucci's pieces are in the collections of museums from London's Windsor Castle to the Philadelphia Museum of Art. Weston's practice marries traditional jewelry-making and textile techniques to create large, wearable metal pieces that move with the fluidity of fabric. A 2013 MFA graduate of the Rhode Island School of Design, Weston has produced work that can be found in the permanent collection of the CODA Museum in the Netherlands.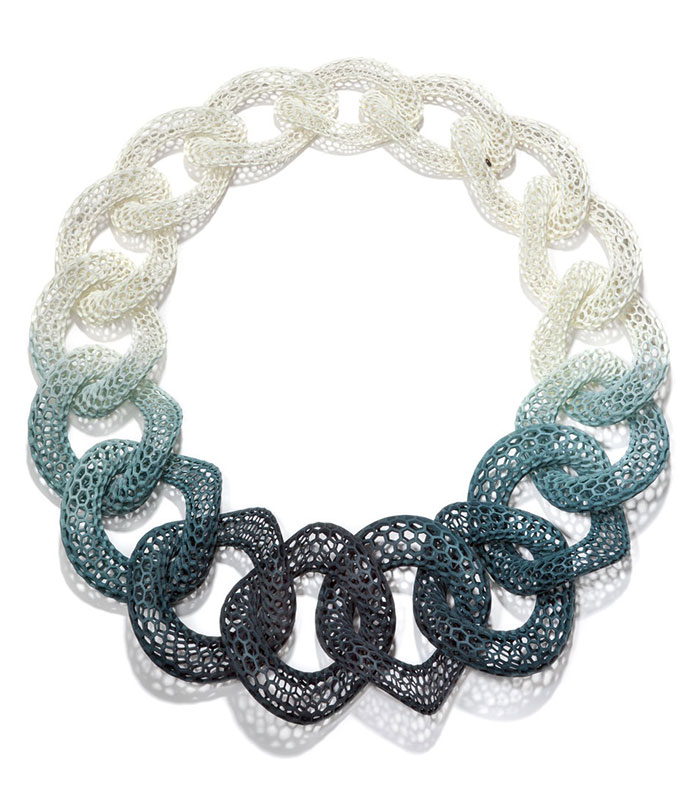 A piece by Doug Bucci (Photo: Ken Yanoviak)
The story of MJCC began in 1962, when Lechtzin established the program at Tyler's former home in suburban Elkins Park. Within a few years, he introduced electroforming to metalsmithing, a process that builds up a metal skin on non-metal forms, allowing artists to create massive yet lightweight pieces. In the late 1970s, Lechtzin began to use computers as a tool, bringing CAD-CAM (computer-aided design and computer-aided manufacturing) to the craft. Lechtzin and his colleague Vickie Lee Sedman trained hundreds of accomplished alumni, including artist Harriete Estel Berman, TYL '80; metalsmith Eleanor Moty, TYL '71; and sculptor Albert Paley, TYL '66, '69.
MJCC continued to grow after the program moved into Tyler's new building at Temple's Main Campus in Philadelphia in 2009. Now MJCC has 47 BFA students and seven MFA students, all with access to facilities that are considered among the most advanced at any art school: three studios totaling 54 benches; a 20-workstation computer lab; a dedicated 3-D printing lab; an electroforming, plating and anodizing lab; a machine room with a milling machine, laser welder and laser cutter; a wood and plastic shop; casting, foundry and smithing areas; a polishing room; and a room for seminars and critiques.
"The facilities here are unparalleled," said Weston. "I've studied, visited and taught at other metals and jewelry programs, and Tyler's is unlike any other I've set foot in."
One of Tyler's greatest resources, Weston says, is its location.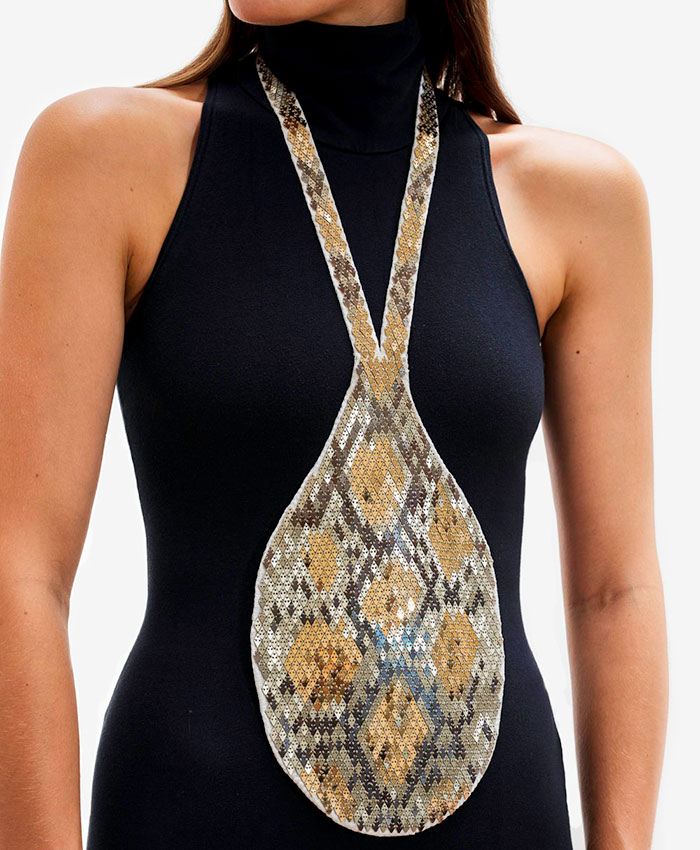 A piece by Mallory Weston (Photo: Ian Shiver)
"Philadelphia is one of the best cities in the nation for a student or art jeweler," she said. "There are so many trained metals artists here, many of whom are Tyler alumni. You have all the museums and galleries. And you have proximity to the arts scenes of New York and Washington, D.C."
Bucci and Weston bring a deep roster of personal and professional connections to their new roles, and they use those relationships to create opportunities for their students, connecting them with visiting artists, activities in the city and employers.
"You can measure our success by the success of our graduates," Bucci said. "Our alumni have gone on to work as independent artists, in studio production and in industry at places like Tiffany. A David Yurman representative was just here last week to talk to our students. It's a powerful network, and we will keep it growing."