Law of attraction: Couple finds love on Temple's police force
Sgts. Kamari and Lauren Boone entered the police academy in search of rewarding careers. They found them—and each other.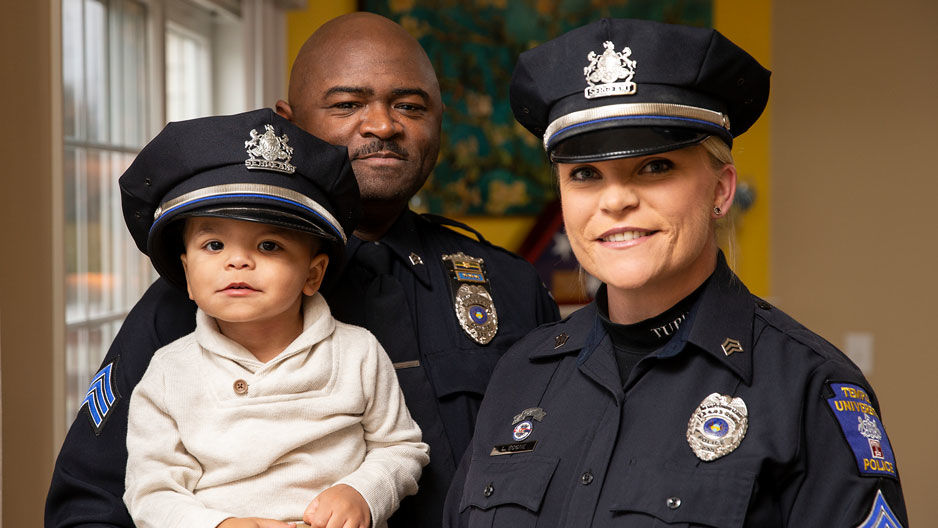 They entered the police academy as strangers, born on opposite coasts and attracted to Temple University for different reasons. They exited as colleagues, patrol officers—and boyfriend and girlfriend. 
Today, they are husband and wife, parents to a toddler son, and sergeants in the Temple University Police Department.
Kamari and Lauren Boone met on a tree-lined stretch of Meetinghouse Road in Ambler, where they were completing a mile-and-a-half run as part of their physical endurance test for the police academy. In mid-November, they will celebrate their 10th wedding anniversary.
Temple's Campus Safety Services, the division that houses the Temple Police Department, is also celebrating a milestone. This year marks the 50th anniversary for the division, which has more than 200 full-time police officers—including the Boones—as well as security officers and employees who work in conjunction with Allied University security.
"We love it here," Lauren said recently. "This is where our story began. At Temple with Kamari is exactly where I want to be. I couldn't imagine my life any other way."
Their lives intersected at the Temple Police Department. Their paths there were circuitous.
Born in Virginia Beach, Virginia, Kamari moved to Philadelphia's Yorktown neighborhood after his parents died during his childhood. He split time between the homes of two maternal aunts who lived only blocks from Temple's Main Campus. He frequented after-school activities at R.W. Brown Community Center, at Eighth Street and Cecil B. Moore Avenue. That's where he first met Temple Police Capt. Jeffrey Chapman.
"Back then, he was a line officer wearing blues," Kamari said. "He'd work with the kids on arts and crafts, rec-league sports teams, and things like that. I always appreciated my interactions with him."
Years later, and prompted by the terrorist attacks of Sept. 11, 2001, Kamari joined the U.S. Army, for which he still serves in a reserve role. Unsure of his next career move, he recalled his interactions with Chapman and considered a future in Temple's police department.
"I wanted to do something with my life that would bring a lot of pride to my family and my community," Kamari said. "That's why I'm policing my community, right where I grew up. You could say I'm a community-relations posterboy. I'm the story told in the movies, except it actually did happen."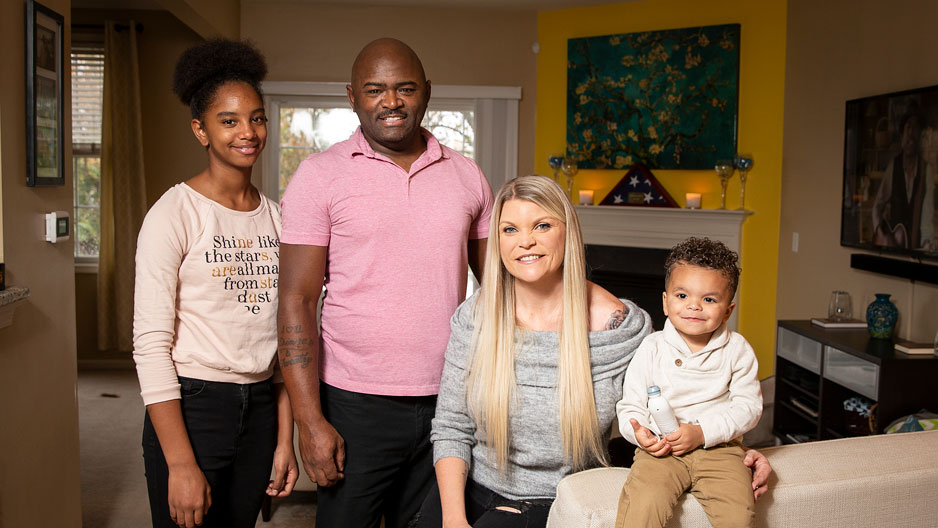 Sgts. Kamari and Lauren Boone with children, Kamore (left) and Kaleb (right). 
Lauren is a West Coaster. A native of Mission Viejo, California, she relocated to Philadelphia to pursue a criminal justice degree and play softball at Temple. An undergraduate internship with Campus Safety spurred her interest in the department and, upon graduating, Lauren decided to enroll in the police academy.
That led to their eventual encounter in Ambler. Kamari finished his September 2006 training run with relative ease and well ahead of the pack. He retraced his steps along Meetinghouse Road to encourage others to finish their runs.
"I look down this hill," he said, "and I see this ponytail swinging back and forth. That's when I first saw Lauren."
She was living in Drexel Hill, Delaware County. He was living in West Philadelphia. They began carpooling to the academy, sharing stories, listening to one another's music. A relationship was born. Along the way, they were accepted into Temple's Police Department.
"I recall their interviews so well," said Denise Wilhelm, Campus Safety's Deputy Chief of Operations. "Lauren's passion for Temple and her desire to remain a part of this community, and Kamari's love for his community and being able to serve it through our department stand out the most, all these years later. Just two terrific role models for our community."
Their relationship was only two years old when Kamari, about to be deployed on his fourth tour of duty, knew something had to change. Certain privileges, like visiting a wounded spouse, for example, are afforded to married couples, but not those who are dating.
"Lauren came down to Baltimore, where my mother unit is based, for a send-off," Kamari said. "We're at an Applebee's and, right there, I proposed to her by singing Usher's 'Before I Met You.' She said yes, and she was bawling. She went home, back to Philly. And our flight out on a Sunday got canceled. I thought, 'Maybe this is a sign.' I rented a Chevy Tahoe the next morning and drove to Philadelphia to get married."
Added Lauren: "I called my girlfriend and said, 'Hey, what are you doing? Can you take a lunch break? We're getting married and we need a witness.' We went to City Hall that Monday, got it drawn up, had a ceremony in Southwest Philly, and he got deployed three days later."
That was Nov. 24, 2008, and they have been happily married ever since. Their love story, like any, has endured its challenges—and Kamari and Lauren said they have grown closer as a result. For example, Lauren works the 3-11 p.m. shift, while Kamari works what is dubbed "last out," from 11 p.m.-7 a.m. "By the time I'm leaving work, he's just getting in," Lauren said. "It's a quick 'hello, goodbye,' and that's it, but we have a routine and we make it work."
In August 2016, the couple welcomed their first child, a son named Kaleb. The toddler pinballs around the living room of their Sicklerville, New Jersey, home with boundless energy. He's routinely swallowed up by bear hugs from his parents and his sister, 12-year-old Kamore—Kamari's daughter from a prior relationship.
Kamari calls Kaleb "perfect." The couple endured three miscarriages before their son's arrival; Lauren has since marked those losses with three butterfly tattoos. That's also why she describes Kaleb as "our little miracle."
"Their dedication to themselves, their family, their profession, their community, and Temple University defines them," Chapman said. "That campaign from a few years back—Temple Made? There are a lot of people in this department who wear our badge and that badge, too."