Posted
September 25, 2019
In the media: What reporters are saying about Charles Library
The Philadelphia Inquirer called Temple University's Charles Library "easily one of the best new buildings in Philadelphia." Others also are raving about the library.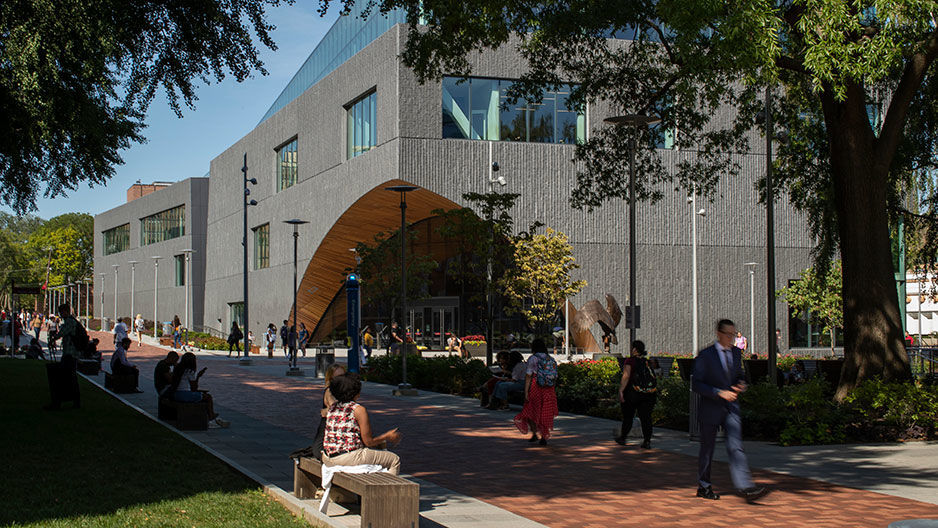 "Stunning." "Undeniably beautiful." "Compelling." 
These are among the superlatives being heaped upon Charles Library, which debuted on Temple University's campus this fall. The 220,000-square-foot space has drawn positive publicity from media outlets locally, nationally and beyond.
The Philadelphia Inquirer showcased Charles Library by featuring it on the cover of its Friday, Sept. 20 print editions under the headline, "A New Campus Classic." A subheadline beneath a photograph of the library's grand atrium reads, "Temple constructs a library for the digital age and creates one of Philly's best new buildings."
Here is a sampling of what reporters from around the world are saying about Temple's Charles Library:
Philadelphia Inquirer: "Charles Library is easily the most compelling work of architecture Temple has produced in decades. Actually, it is easily one of the best new buildings in Philadelphia."
Wall Street Journal called Charles Library "a joyously extroverted building," replete with "every possible kind of space, the whole spatial spectrum from seclusion to exhibitionism: quiet rooms, social rooms, interstitial space, alcoves and cubbyholes, balconies, and even a roof garden." The Journal referred to Charles' BookBot book retrieval system as "a spectacle, one of the most thrilling offered by any library."
Technical.ly Philly: "Temple understands what a modern-day library needs, and it sure makes me wish I could have pushed back graduation by a few years to experience the university as a student in 2019."
Philadelphia Magazine: "The library is undeniably beautiful, and here's the best part: In keeping with (Temple's) vision of a library that's not just meant for academics, the building is open to the public. Which means you can check out all of the architectural splendor above for yourself."
Philadelphia Business Journal calls Charles Library "what a library of the 21st century or of the future looks like," explaining it is "a place to read, think and facilitate new ideas, as well as a place where people intersect."
designboom says Charles Library "embraces the needs of contemporary students and evolving models of learning. It enhances the visual and physical connectivity to the academic resources and fosters learning through social interaction, inspiring students to engage more directly with the library's activities."
Architectural Digest describes Charles Library as "the opposite of the 'shh' ethos most are familiar with and, according to (Temple Libraries dean Joe) Lucia, precisely what a 21st-century library should be," which lauded the library's use of street-level space for community-access computers and resources. "An increasingly important part of the library's mission is to engage with the surrounding North Philadelphia neighborhood, an area underserved by the city's public library system."
The Architect's Newspaper: "The library is already being filled with students socializing in the ground floor café, soaking up some sun in the stacks, and diligently working on their laptops anywhere there is an open seat. "(Charles) is sure to draw attention from more than those cramming for tomorrow's exam—the university is expecting over five million visitors to stop by the building annually."
Avontuura: "Charles Library stewards Temple's progressive mission to provide equitable learning experiences for its students, its faculty, and the surrounding community. … As a world-class facility for Philadelphia's only public university, the project marks a transformative moment not only for Temple University, but also for the city, and for academic libraries around the world."
—Christopher A. Vito