LGBTQIA+ alumni, faculty and staff activists, scholars
In honor of Pride month, we're highlighting powerful alumni, faculty and staff who champion LGBTQIA+ rights.
 
This story was updated on June 29, 2022.
June is Pride month and we're spotlighting some incredible alumni, faculty and staff in the LGBTQIA+ community. These individuals have shaped and are continuing to shape the world for the queer community. 

Edith Windsor, CLA '50
Windsor was arguably one of the most prominent gay rights activists in the country. Name sound familiar? That's because she was the plaintiff for the landmark United States v. Windsor Supreme Court case in 2013, which overturned the Defense of Marriage Act. The case also set the precedent for Supreme Court case Obergefell v. Hodges in 2015, which legalized same-sex marriage across the nation. After graduating from Temple with a bachelor's degree in psychology in 1950, Windsor moved to New York City where she earned a master's degree in mathematics from New York University. Windsor became one of the first women senior system programmers at IBM. Throughout her life she worked tirelessly for the LGBTQIA+ community and the gay-rights movement. Windsor passed away in 2017 at age 88. 

Dr. Henry Anonymous

ImageCourtesy of Temple University Libraries 

You might know John Ercel Fryer, more commonly known as Dr. Henry Anonymous, as a bold gay rights activist who helped fuel the decison to remove homosexuality from Diagnostic and Statistical Manual of Mental Disorders (DSM). He famously wore a rubber face mask, baggy tuxedo and wig on stage to conceal his identity and challenge the DSM at the 1972 convention of the American Psychiatric Association. He challenged how homosexuality was listed—and came out at the same time. Fryer was a psychiatry professor at Temple and very active in the North Philadelphia community. Before becoming tenured, however, Fryer was at risk of losing his position if his true identity was discovered. He eventually was granted tenure at Temple and his identity became public more than 20 years after the convention in 1972. 

Nu'Rodney Prad 
Thanks to Nu'Rodney Prad, Temple celebrates National Coming Out Week (NCOW) every October. He co-introduced the weeklong programming in 2009 and still works each year to bring meaningful programming to Temple's LGBTQIA+ community for NCOW and throughout the year. As Director of Student Engagement for the Office of Institutional Diversity, Equity, Advocacy and Leadership (IDEAL), Prad works tirelessly to support students and empower the entire university community to play an active role in creating inclusive environments by leading guided discussions, training sessions and more.
Prad views diversity on an intersectional level—something that's top of mind this Pride month. 
"We have a duty to our ancestors, like Marsha P. Johnson, Silvia Rivera and James Baldwin, to understand the importance of intersectionality. Recognizing the richness of diversity will make us a more understanding and inclusive community to one another." 
 
Scott Gratson, TYL '19
Scott Gratson is a professor and director of communication studies at the Klein College of Media and Communication. A guru in LGBTQIA+ issues, Gratson has contributed to his community for decades. For instance, did you know he was an archivist for the Hetrick-Martin Institute, the nation's oldest and largest organization serving LGBTQIA+ youth? 
Among other courses, he notably leads Klein College's Pride summer internship course. Each year, Gratson guides his students through the creation of a digital marketing campaign for NYC's Pride March and educates his students on queer history. "People end up becoming upset because of how much they realized they didn't know about their own community," he said. "When I told my students about Eleanor Roosevelt's long-term relationship with a woman, they were floored by this. Part of Pride is reclaiming our history and fully understanding it."
Last year, the students' hard work culminated in NYC where they attended the Pride March. Due to the pandemic, this year's Pride March is going to look a little different—though, this online celebration sparks new and exciting opportunities.

Brad Windhauser
As an associate professor with expertise in first-year and creative writing as well as gay and lesbian studies, Windhauser has used literature as a vehicle to fearlessly voice his experience as a gay man. His classes at Temple range from Gay and Lesbian Lives to LGBTQ Novels of the 21st Century and multiple LGBTQ+ film courses. In 2016, he launched a blog titled The Bible Project, where he shares his reactions to reading the bible for the first time based on his sexual identity. Additionally, Windhauser's personal research explores queer film, especially the queer coming-of-age film genre, and queer novels. His two published novels, Regret andThe Intersection, are set in Philadelphia. 

"It's important to understand what our community has been through so we can pay tribute to those who have fought and given so much so we can be the thriving community we are today," said Windhauser. "That said, there is still a lot of work to be done, as sections of our community continue to struggle for basic acceptance and recognition, not to mention safety. It's up to all of us to give voice to these members of our community, for if one part is in trouble, we all are."
Leonore F. Carpenter, LAW '00
Law expert Leonore F. Carpenter teaches several different classes, including a seminar that focuses on sexual orientation and gender identity issues in law. Before joining the Beasley School of Law as a full-time faculty member, Carpenter served as an LGBTQIA+ rights attorney and continues to be involved in pro-bono representation by acting as an expert witness in same-sex marriage litigation, serving on nonprofit boards and signing onto amicus briefs in national impact litigation. Her academic work tends to focus on marginalized communities, such as LGBTQIA+ people experiencing poverty and transgender women of color.  

"Law school can be daunting for anyone, but it can be especially challenging for students who don't see themselves reflected in the people who they are expected to look to as mentors and professional role models," Carpenter said. "I hope that my presence as an out and proud LGBTQ+ member of the Law School faculty helps to make LGBTQ+ law students feel as though Temple Law is a welcoming and supportive environment."
Tom Waidzunas
Tom Waidzunas is an assistant professor of sociology and affiliated with the women's studies program. He's been active in the LGBTQIA+ community for his entire career. Prior to joining Temple's faculty, Waidzunas was a postdoctoral fellow at Northwestern University from 2010 to 2012, where he traveled to Kampala, Uganda, to study the controversy over the Anti-Homosexuality Bill. Since then, Waidzunas has contributed to a variety of academic publications and is working with a colleague at Temple to evaluate the work experiences of LGBTQIA+ engineers and professional scientists in the U.S. He is currently crafting a book manuscript (tentatively titled Drawing the Straight Line: Sexual Reorientation and the Scientific Fringe), examining debates over sexual reorientation therapies and ex-gay ministries from the 1950s to present day. 
Malcolm Kenyatta, KLN '12

Photography by: Ryan S. Brandenberg 

A passionate advocate for justice and equality, Kenyatta has always been invested in both the LGBTQIA+ and Philadelphia communities. At the age of 11, he ran for junior block captain and as he got older, he continued to join other local organizations including the Liberty City Democratic Club and Smith Memorial Playground. After earning his degree from Temple in 2012, Kenyatta served as a coordinator at the Graduate Medical Education Department at Hahnemann University Hospital and coordinator for the Chamber of Commerce for Greater Philadelphia's Diversity & Inclusion initiative before running for public office. In 2018, Kenyatta was the first openly gay person of color to win public office in the Pennsylvania House of Representatives, representing District 181. Kenyatta's main priorities include addressing systemic poverty, affordable education and childcare.

Heath Fogg Davis
Heath Fogg Davis was appointed the director of Temple's Gender, Sexuality and Women's Studies Program (GSWS) in 2018 and is also a professor of political science. He has been at the university since 2005 and his areas of expertise include antidiscrimination law, LGBTQIA+ politics, and feminist and queer studies. He believes that the Gender, Sexuality and Women's Studies Program is integral to the mission of every department across the university. Davis encourages students to take advantage of the resources in front of them, such as the LGBT Studies minor and Gender, Sexuality, and Women's Studies major and minor.
"These are credentials that enhance students' employment and career prospects in every professional sector, especially now that diversity and inclusion are strategic goals in most industries," he said.  
Outside of his role at Temple, Davis serves on the American Political Science Association's LGBTQ Status Committee, which advocates for inclusion and equity in the professional discipline of political science across the U.S. He has also published Beyond Trans: Does Gender Matter, a book in which he questions the need for sex-classification policies by exploring the experiences of trans and gender non-conforming people.

Sara Davis Buechner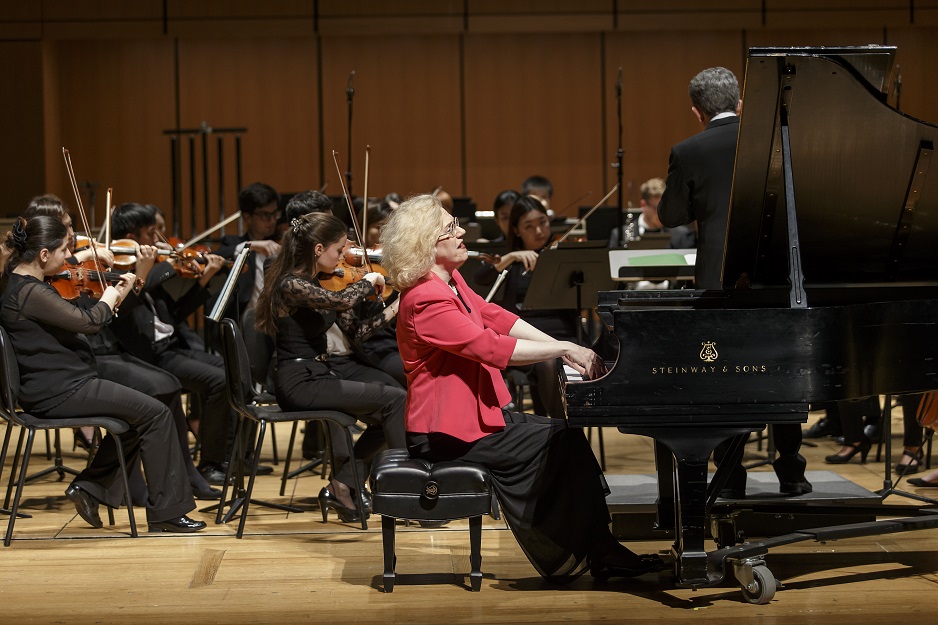 Photography by: Joseph V. Labolito  

As one of the first prominent performers in the music industry to publicly transition from male to female, Sara Davis Buechner is proud to serve as a mentor and role model for younger LGBTQIA+ individuals, which she says is an integral part of her life. She is currently a professor of music at the Boyer College of Music and Dance and strongly values transparency within her student-mentor relationships.

"Temple feels to me like an integral part of our city, our state, our country, our world. We have an out and proud family of all colors and backgrounds and genders of the rainbow and it is a marvelous thing."
-- Sara Davis Buechner
Buechner is open in admitting that one of the most difficult struggles in her life was coming to grips with her identity as a transgender woman. As a result, she wants to pay it forward and be a resource for those who may currently be dealing with similar experiences. "My own journey has enabled me to be extra aware and sensate to the wide range of personalities that walk through my Rock Hall studio door. I was in their shoes once, practicing music but maybe not yet old or aware enough to know where it was all going," she said. "So without even mentioning any LGBTQ issues, the concept of self-integrity is present in my teaching and in the lessons I give. That is certainly one of my major goals as a teacher."
Andreas Copes, KLN '22
During their time at Temple, Andreas Copes made a profound impact on the LGBTQIA+ community on campus. Copes became a member and event coordinator of the Queer Student Union, eventually establishing a Queer History of Philadelphia Zoom conference, became actively involved with Planned Parenthood, hosted The World at Temple, and co-created, co-produced and hosted Queer Temple. The Point Foundation, a nonprofit organization created in 2001 that awards three kinds of scholarships for LGBTQIA+ student leaders, recognized Copes for their achievements. They were awarded the foundation's Flagship Scholarship, which has an acceptance rate of less than 1%. 
Copes helped bring attention to the topic of identity on the show Queer Temple after interviewing a student whose "dead name," the birth name a transgender person no longer uses, had been mistakenly presented on the screen at graduation. After shedding light on this issue, Temple has since implemented a system through which students are able to change their own pronouns and names to avoid being misgendered or dead named.
Osimiri Sprowal, CLA '20
After coming out as trans, Sprowal ran away from home. While homeless, Sprowal applied to Temple as a transfer student. They were homeless for three semesters while attending Temple, which galvanized them to become an activist for homelessness. Sprowal is one of 41 recipients to be awarded the Marshall Scholarship and plans to pursue a master's in human rights and politics at the London School of Economics and a master's in applied theater at the University of Warwick. They co-designed the first "host home" program in the city, where LGBTQIA+ community members take in homeless youth. Sprowal has joined many organizations to help fight homelessness including Valley Youth Pride Task Force and National Youth Forum on Homelessness. 
Sprowal has been writing poetry for a decade. Their poetry addresses disability, trans identity and self-transformation. They have competed locally and internationally in poetry slams and have recieved several championships and awards including citywide youth champ of the Philly Youth Poetry Movement, Best Love Poem in 2018 at CUPSI and individual champion of 2019 Feminine Empowerment Slam. While at Temple they created Philadelphia's first trans and gender-expansive exclusive art collective in the city.
Kendall Stephens, SSW '23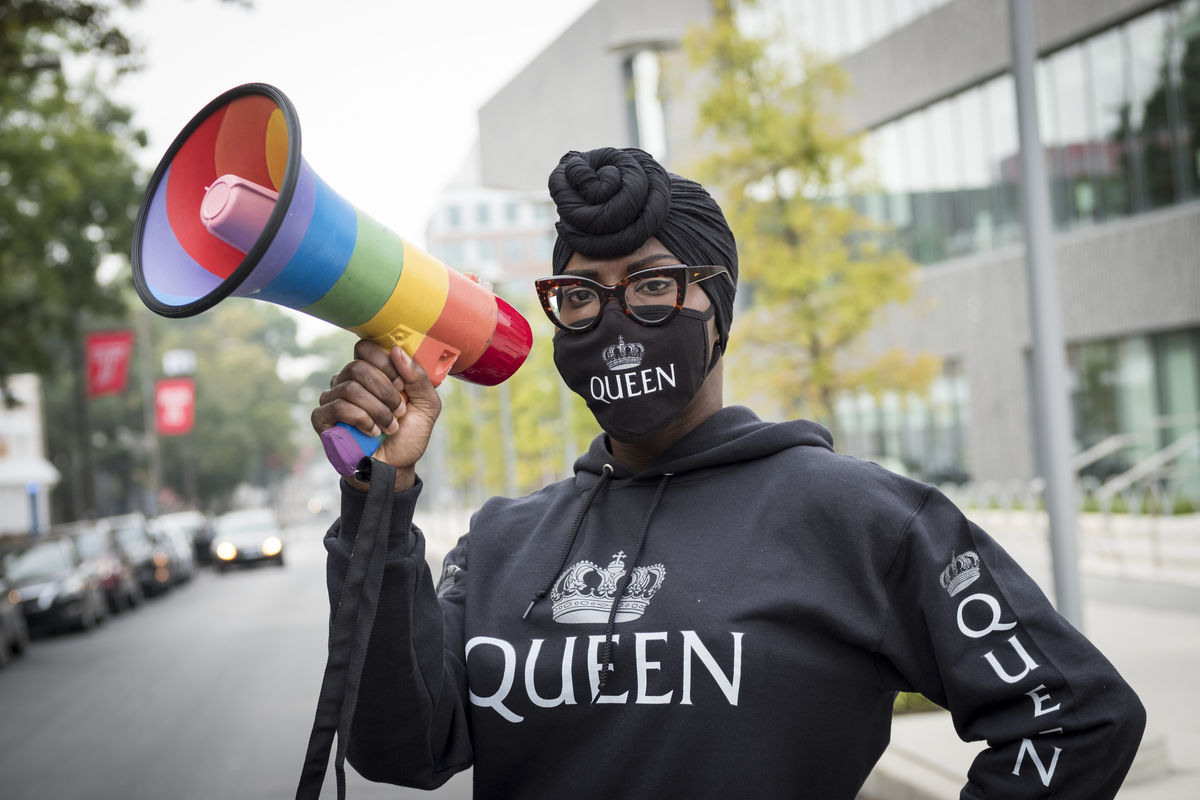 Photography by: Joseph V. Labolito
Kendall Stephens is an advocate for the trans community and all LGBTQIA+ individuals. Her goal is to end the hate that violently impacts the LGBTQIA+ community, specifically trans people of color. On her first day of classes Stephens was attacked outside her home. "This is why I advocate so stringently for the trans community, because if I don't, we all remain at risk," said Stephens. Stephens has worked with multiple organizations including William Way LGBT Center's transgender support group TransWay, as well as the Morris Home, which is the only residential recovery program in the country serving the trans community. She was the first openly trans speaker at the Senate Majority Policy Committee hearing in 2020 advocating for the hate crime bill in PA to include the LGBTQIA+ community as a protected class. Furthermore, Stephens served as a committee member of both the Philadelphia District Attorney's office LGBTQ Advisory Board as well as the Philadelphia Police Department LGBTQ Liaison Committee.
Prior to transferring to Temple, Stephens attended the Community College of Philadelphia where she earned an associate degree in behavioral health and human services. While at CCP, she worked to establish the first-ever LGBTQIA+ course, educated faculty and staff about pronoun usage, and developed relationships with allies. All her hard work was rewarded when Philadelphia Gay News recognized her as one of its People of the Year 2020.

—Nicholas Eiser, Matthew Aquino and Samara Grossel