Richard M. Englert announces plans to retire as Temple president
Englert's presidency caps 45 years of distinguished service to Temple. The Board of Trustees is planning a national search for his successor.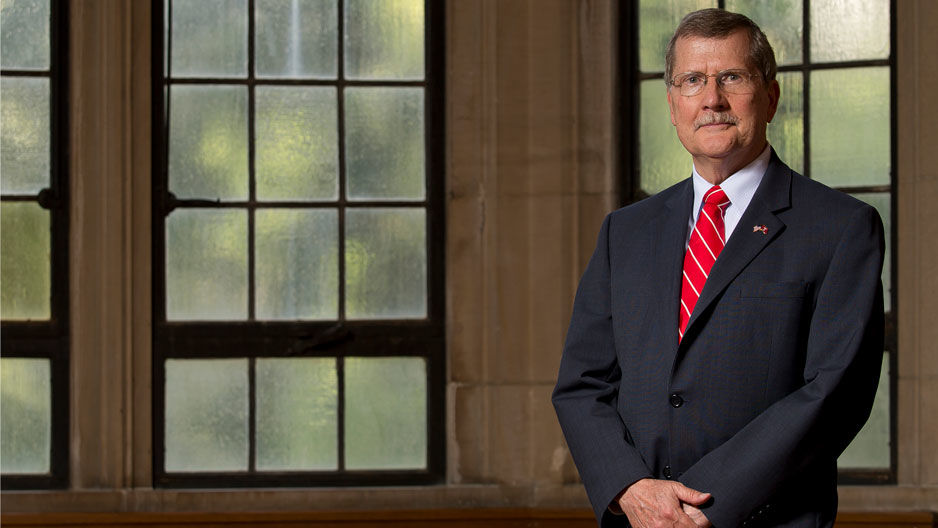 After 45 years in 17 different posts at Temple University, President Richard M. Englert told the Temple Board of Trustees on Tuesday that he will retire from his post next year. Englert, who will be 75 in December, has agreed to remain as the university's 11th president during the search for a successor to ensure a smooth transition to new leadership.
"Temple is in a terrific place as an outstanding urban research university that focuses on student success and prizes diversity, accessibility, affordability and quality," Englert said. "Russell Conwell's mission is alive and well, and it will be up to the next president to continue the work of determining how that mission will be applied to the challenges that lie ahead."
Board Chair Mitchell Morgan announced that a search for the next president will begin promptly, and he praised Englert's lifelong commitment to Temple and its core values.
"Dick Englert is the living embodiment of everything that is good about Temple University," Morgan said. "His dedication to this institution is unquestioned. Every time Temple has called, Dick has said 'yes,' and given his all for this school that he loves so much.
"In my view, the best way we can honor him is to do what Dick has done so often: Recognize the great opportunities that Temple offers, and use those strengths to attract an extraordinary new president," Morgan said.
"Temple is poised for great things in the years ahead, building on all that has been accomplished in recent years," Morgan said. "We're on a roll: increasing graduation rates, scholarships and national awards for our students; our growth as a premier research institution; great new enhancements to our campus; unprecedented alumni support; and a dedicated and effective response to the COVID-19 pandemic."
Morgan stressed that the board's top priority is to conduct a national search for a new president, and then "to support that new leader's ability to drive the strategy that will take Temple forward." The search process will include opportunities for input from a diverse array of Temple stakeholders, including students, faculty, alumni and neighbors.
"I want to thank Dick Englert for giving us the time to conduct a comprehensive and thoughtful search for his successor, and for his commitment to ensure a smooth transition," Morgan said. "His decision exhibits all of the grace and dedication to Temple's best interests that he has demonstrated throughout his remarkable career. We are all in his debt."
A career of distinction
Englert's career at Temple has spanned nearly half a century, highlighted by dramatic change and growth as Temple has evolved to become a national higher education leader, while never forgetting its singular role as Philadelphia's public university.
Starting at Temple in 1976, his tenure at the school has been longer than that of the university's founder, Russell Conwell. Under his guidance, the university welcomed its largest and most academically qualified classes of new students and broke records for freshman applications. Temple had its first Rhodes Scholar and has seen a steady rise of national and international recognition for students through Fulbright and other scholarship programs. Student-athletes also reached new levels of success on the field and off, with unprecedented academic results.
At the same time, groundbreaking research by Temple faculty solidified the university's place among the most active research institutions in the nation. Quality teaching and a commitment to community service remain central to the academic mission.
Englert also expanded Temple's relationship with its surrounding community through the creation of the North Central Special Services District, focused efforts to hire local residents whenever possible, as well as the largest community jobs fair in the City of Philadelphia and scholarships designed just for residents who live in the neighborhoods around Temple's campuses.
The university has continued to enhance its campus, symbolized by the state-of-the-art Charles Library, recognized around the world for its innovation, design and value to the university's academic program.
Englert arrived at Temple in 1976 as an assistant to the dean of the College of Education.
He has served in a number of leadership roles, including: acting president; chancellor; provost and interim senior vice president for Academic Affairs; deputy provost and dean of the University College; interim dean of the Graduate School; acting provost; vice president for administration; acting director of Intercollegiate Athletics; associate vice president for Administration; executive assistant to the vice president for University Administration; and Chief of Staff to the late President Peter Liacouras.
At the college level, Englert has been dean of the College of Education; acting chief administrative officer of the School of Podiatric Medicine; acting dean of the College of Health, Physical Education, Recreation and Dance; associate dean for administration and management at the College of Education; department chair for Policy, Organizational and Leadership Studies; and assistant to the dean of the College of Education.
Since 1985, he has served as a professor in the College of Education.
This is Englert's second term as the university's chief executive officer, having served as acting president for six months in 2012. Temple's Board of Trustees appointed him to the role of chancellor at the end of 2012, a position he will once again hold after leaving the presidency.
A native of Detroit, Michigan, Englert is a graduate of the University of California, Los Angeles, where he was awarded a doctoral degree in Educational Administration in 1976. He also earned a master's degree in Elementary Education from Pepperdine University in 1971 and a bachelor's degree in Philosophy from St. John's Seminary College in California in 1967.