Charles Library earns LEED Gold certification
The recognition shows Temple's continued commitment to sustainable development on campus.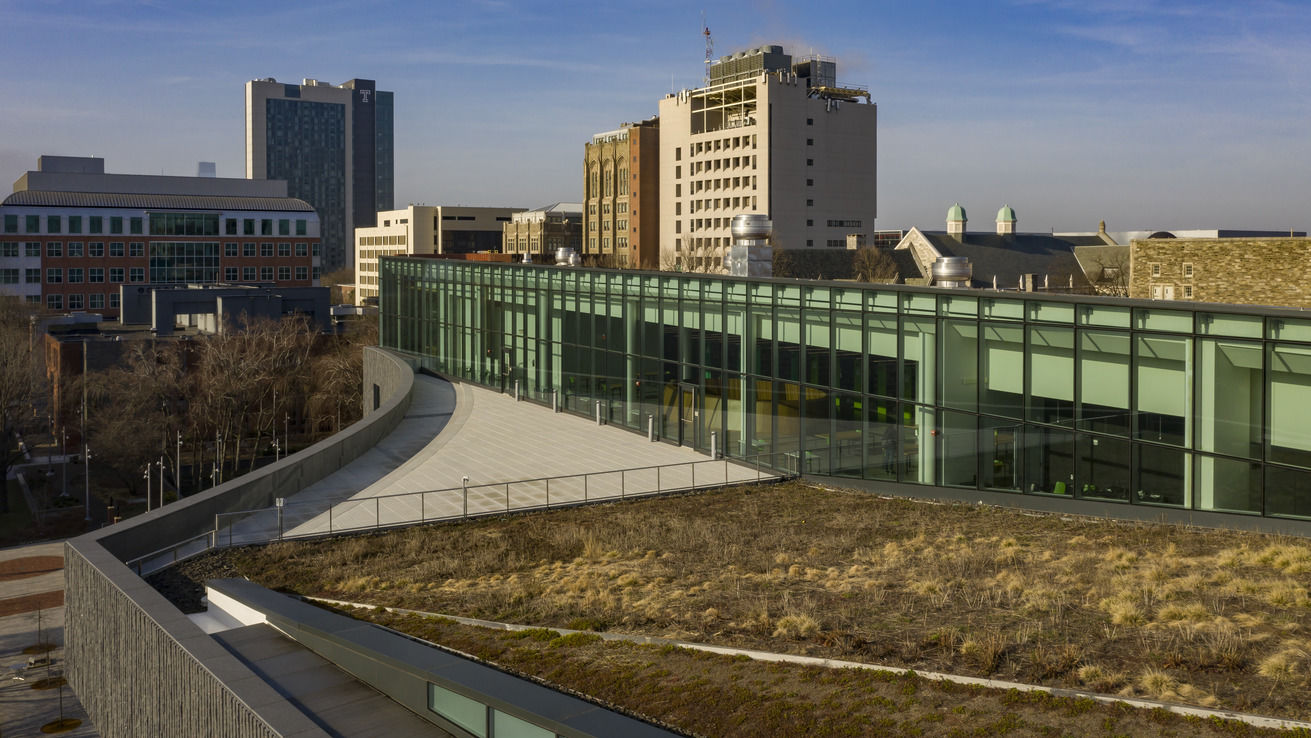 Since opening in 2019, Charles Library has led the way when it comes to sustainability efforts in higher education. Now, it's been recognized by one of the most widely used and established green building rating systems in the world. 
LEED (Leadership in Energy and Environmental Design) is the world's leading green building performance and project management system, and it conducts its point-based rating on a building's design, construction, operations and performance in terms of sustainability. 
Temple worked with the architects and engineers from Snohetta, a world-class architecture firm, and Stantec, a Philadelphia-based design firm, to develop ideas for Charles Library. Keeping sustainability in mind from the start, they developed a targeted list of sustainable items to incorporate in the design of the project and ensured they were implemented during construction. Once the work on Charles Library was documented and submitted to LEED's online system for review and certification, the final score resulted in the library receiving a Gold certification—the second highest possible rating.
A major factor contributing to Charles Library's Gold status is its green roof. "The library's green space in an urban environment is important not only to the students and stakeholders of the university, but green space can also help manage the natural precipitation that falls onto the site," said Julia Mullin, associate director of construction for Main Campus. "The roof above the fourth floor is planted with sedums—small drought-tolerant plants—that need very little maintenance and help contain and filter the precipitation that falls onto the roof. This limits and slows down the stormwater runoff that ends up in the city's underground stormwater systems, which can be overtaxed during heavy rain events." 
According to Mullin, other factors that contributed to the LEED Gold certification include reducing water use by using low flow toilets and faucets, optimizing the energy use of the building by using energy efficient equipment, and using construction materials that contain recycled content and/or low-emitting materials. Charles Library also features high-reflective paving to reduce the heat island effect and superior air quality through the use of low-emitting materials, air filtration and increased ventilation—providing a safer, healthier and more sustainable experience for students, staff and faculty. 
The LEED Gold certification showcases Temple's continued commitment to sustainability. And, it conveys the importance of the impact a built environment can have on the natural environment around it for years to come. 
"Charles Library is not only a signature architectural element on Temple University's Main Campus, but a sustainable and environmentally responsible building that will be here for generations," said Mullin. 
Learn more about Temple's commitment to sustainability and the efforts to build and maintain a green campus. 
—Kierstyn Smith