The 14th Annual Neighborhood Job Fair provides hope for job seekers
Temple University's Lenfest Center for Community Workforce Partnership in collaboration with the Pennsylvania Legislative Black Caucus offers its 14th Annual Neighborhood Job Fair, free for all job seekers in the community.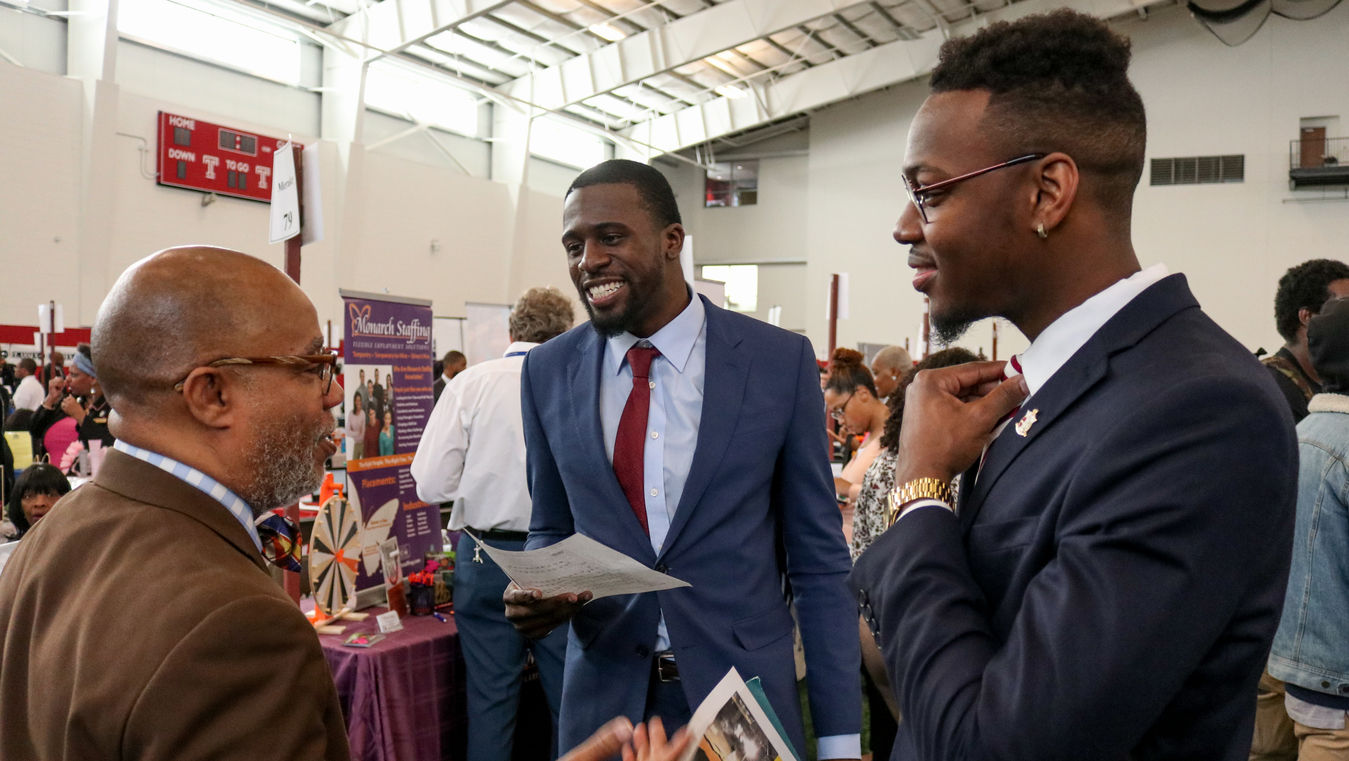 With more residents vaccinated for COVID-19 and restrictions being lifted in Philadelphia, the Annual Neighborhood Job Fair is back for its 14th year. On Friday, June 11, the in-person event will be held at Temple University's Aramark Student Training and Recreation (STAR) Complex at 15th Street and Montgomery Avenue from 10 a.m. to 2:30 p.m. and will feature 50 employers that are ready to hire. Registration is now open. 
Claire Pope, program manager for the Lenfest North Philadelphia Workforce Initiative (LNPWI), said the challenges of the COVID-19 pandemic have created a digital divide that impacts job seekers, especially those who might not have regular access to a computer and the internet. However, she believes having an in-person job fair will create more job opportunities that are accessible for the community. 
"I think one thing that makes this job fair unique is we do our due diligence to make sure that every employer at this event is hiring," said Pope. "Having so many diverse employers is going to allow people to re-energize their career and to take the next steps to where they see themselves in the future." 
An onsite, socially distant computer lab will be available for job seekers to apply to openings and do research on employers at the event. Job seekers who are unable to attend in person will have access to a booklet published online with all the available openings from this event's employer network. 
Pope added that community resources, including databases, programs, and supportive services to help attendees with education and training, in addition to digital literacy support to be successful in their job search, will also be available. And to help people feel safer as they enter the workforce, the Philly Counts Ambassador Program will be in attendance to provide information about the COVID-19 vaccines and encourage people to get vaccinated.
"Being able to offer an in-person job fair where people can connect one-on-one with employers makes more job opportunities accessible in ways that they weren't during the pandemic," said Pope. "It is usually one of the largest job fairs, if not the largest in the city, so we have been able to cultivate really strong relationships with employers over the 14 years of having this annual event." 
"We have seen job seekers talk with an employer and make a great first impression to the point where they have walked out with a job offer," she added. 
Michael Robinson, LNPWI director of community outreach and hiring, said with the reemergence of local, state and national economies, now is the perfect time to hold a job fair to ramp up the hiring efforts of many local employers. 
"This is a prime opportunity for job seekers who are looking to make more money than pre-pandemic salaries, since many companies are incentivizing people to return to the workforce with higher wages due to the skepticism about COVID-19," said Robinson. "It is important that the people who are looking for work attend this event because we know jobs can radically change the landscape of low-income situations."
Robinson is hopeful that the LNPWI will continue to provide the necessary digital literacy resources and skills to help community residents adapt to the virtual practices that are more common in today's workplace.
"Job seekers that weren't tech savvy have needed to learn digital skills because a lot of corporations and organizations pivoted to video conferencing platforms like Zoom, Meetup, and other types of virtual platforms to do interviewing and business meetings in order to network," said Robinson.
He encourages job seekers to dress for success, bring plenty of copies of their resumes and arrive on time. He added that job fair events provide opportunities for participants to not only network with other employers, but also with fellow job seekers, which increases the chances of landing the job that best suits one's needs and interests.  
In the future, LNPWI will continue to offer job training and career readiness programs, one-on-one career coaching and workshops that include resume writing, job search strategies and tactics, mock interview training, and networking to help job seekers become more successful in their search and prepare for the workforce. 
For information on upcoming LNPWI workforce development workshops or career coaching services, contact Dana Fletcher at dana.fletcher@temple.edu or call 267-761-2972.
Temple's Lenfest Center for Community Workforce Partnership in collaboration with the Pennsylvania Legislative Black Caucus are the sponsors for this event. Registration is free and required for job seeker participants. 
In accordance with the city's COVID-19 guidelines, only 250 people will be allowed in the building at all times. Temperature checks before entering the event space, masks and social distancing are required for all attendees.