Championing racial equity at Temple and beyond
Adjoa B. Asamoah, the Biden-Harris campaign's national advisor for Black engagement and social impact strategist for the CROWN Act, feels her time at Temple helped shape her as an activist.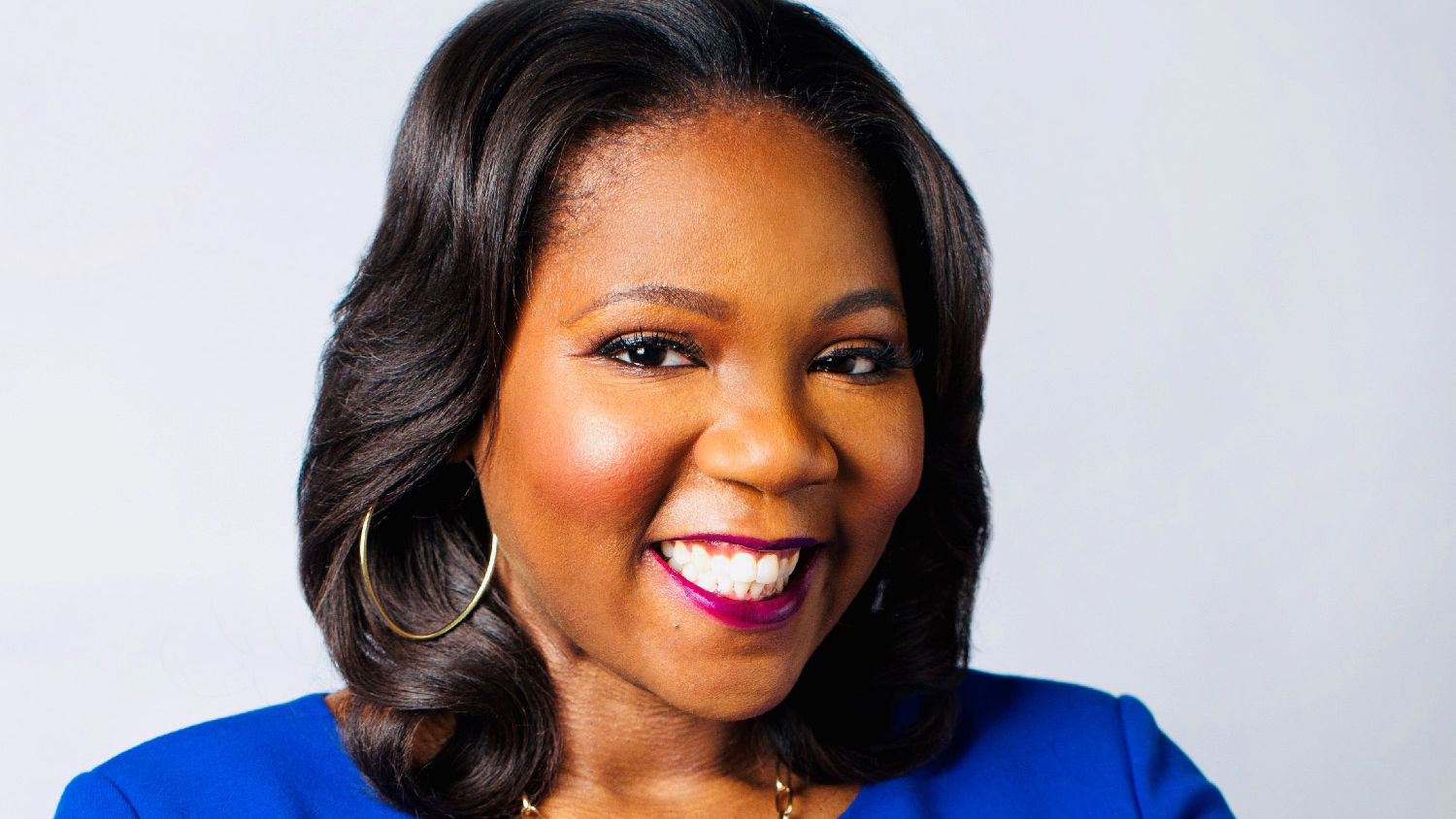 When Adjoa B. Asamoah, CLA '98, EDU '01, was 9 years old, her father Kwame, CLA '99, took her on a trip to Ghana, where he was born. In Elmina, on the south coast, they visited the "door of no return," through which millions of enslaved Africans had passed as they were shipped to the Caribbean, Brazil and the U.S. She walked through the dungeons they had been held in and touched the shackles that remain a testament to their suffering. 
"There is something that happens when you are in that space, where you know that your ancestors were held captive and tortured and brutalized and dehumanized," she said. "I don't think you can be unchanged." 
Asamoah made a decision there and then to devote her life to fighting racism and discrimination, a path that has led to her working as a political strategist and on Joe Biden's 2020 presidential campaign. 
Activism runs in her family. Her father was an activist and Africana studies and political science professor at the University of Pittsburgh who took her to her first rally when she was 2 years old. Her mother was a community organizer. "I don't know a life where I didn't think it was my responsibility to help move Black people forward," Asamoah said. 
She launched her first campaign as a student at Hopkins School in Connecticut, protesting the use of the term "headmaster" because of its association with slavery. "If the person is the head of school, you should use the language 'head of school.' I'm not calling any white man headmaster. I don't like that," she said. "It means something different to me." The title was eventually changed.
When her father told her he would be studying for his PhD in Africology and African American Studies at Temple—the first program of its kind in the country—she realized she wanted to go to Temple as well. "I wanted to be with my father and I wanted to go to this premier department," she said. "I literally cannot imagine who I would be or where I would be if I hadn't gone there." 
Asamoah studied with professors including Theophile Obenga and Sonia Sanchez, "people who other people read about," she said. Several years later, she served as co-chair of the African American Leadership Council for the Democratic Party and co-chaired a fundraiser for one of its annual summits. She chose Nathaniel Norment Jr., one of her Temple professors, as a special guest—a tribute to the influence he and his colleagues had had on her. "These people helped shape who I became, not just as an activist or as a strategist, but as a woman," she said.
At Temple, she also took every opportunity to serve her community. She tutored student-athletes, served as president of Temple's chapter of the Delta Sigma Theta sorority and vice president of the university's branch of the NAACP, and was also treasurer of the African student union, a teaching assistant in the Africology and Arican American Studies department, and an appointed student member of the university's disciplinary and affirmative action committees. 
Her deep commitment to racial equity soon led her into community organizing and politics and she volunteered with campaigns for candidates she felt cared about the Black community. "When there are people who I believe will not forget Black issues when elected, who don't take the Black vote for granted and who will champion policy that I think either protects Black people or advances us," she said, "I've supported them." 
She also began to work in local government, including as an appointed senior policy advisor for Washington mayor Muriel Bowser. When she set out to have the Mayor's Office on African American Affairs legislatively established, Asamoah knew she would have to rally support for a hearing. Colleagues told her few people would be interested in attending; she would prove them all wrong. 
"I had that hearing room packed," she said. "I had sororities and fraternities. I had scholars. I had activists. I had skeptics. I had community leaders and the National Coalition of 100 Black Women [a nonprofit organization that advocates on behalf of African American women]. I had so many people in that packed hearing that I had been told nobody would care about." 
The office became the first of its kind to be codified and helped earn Asamoah a reputation for being able to mobilize her community around issues. 
Rep. Cedric Richmond recommended her to the Biden campaign, where she became the national advisor for Black engagement, responsible in part for communicating the campaign's plans to the African American community. 
The coronavirus pandemic made a challenging job even more so. "We are a high-touch community," Asamoah said, but "you couldn't go to the big fish fry and talk and engage because we were dealing with a pandemic. It required me to be not just strategic, but creatively strategic in finding ways to create a sense of community."
To connect with members of historically Black fraternities and sororities, for example, Asamoah and her colleague Trey Baker organized a virtual rally for 30,000 members, featuring sorority and fraternity leaders, members of the Congressional Back Caucus and then-vice presidential nominee Kamala Harris, who is a member of a historically Black sorority herself.
Asamoah also led Black engagement for the presidential inaugural committee and she and her colleagues worked to make the event as inclusive as possible. "I'm happy, grateful and proud of the work that I was able to do," she said. "But I'm always mindful of ensuring that it is known that we did this work together."
Now she's focused again on a challenge she accepted back in 2018: passing the CROWN Act. The Act, which stands for "Creating a Respectful and Open World for Natural Hair," prohibits racially based hair discrimination. It's become law in nine U.S. states and is being considered in over a dozen more. Asamoah is the strategist for the campaign and volunteers her time, considering everything from the best legislators to contact about the Act in each state to the language and talking points used to describe it. "I work with [lawmakers], I talk to them, I do their press conferences with them, I prepare them, I make sure they understand the history and I make sure they have all the updates," she said.
Asamoah is passionate about the Act. "The CROWN Act is about shifting not just policy but culture for me," she said. "I've worn my hair in braids and twists and today I'm wearing it straight. The decision to be able to do that is mine. The CROWN Act protects my right to do that." 
She believes the Act would have defended the rights of people like Andrew Johnson, a young Black student who was forced to have his dreadlocks cut off or risk forfeiting a wrestling match. "You should not ever have to make a decision to choose between your identity or participation in an activity that you've earned the right to participate in," she said. "Nobody should be fired for rocking natural hair. Nobody should have an offer of employment rescinded because they show up with natural hair."
For Asamoah, her career in racial equity is partially informed by what she learned at Temple and the legacy she inherited as a graduate of the Africology and African American Studies department. "When I think about who I became, there's no way for me to detach my experiences at Temple University from it," she said. "There's no way."
—Edirin Oputu