An old community center provides new workforce services
Temple's Lenfest Center for Community Workforce Partnerships in collaboration with Philadelphia Housing Authority will manage a new center in the Norris Homes community where North Philadelphia residents can access digital equipment and digital literacy training. 
 
With the support of a one-year, $2.5 million grant from the Lenfest Foundation, Temple University's Lenfest North Philadelphia Workforce Initiative (LNPWI) is leasing the former Norris Community Center space located at 1915 N. 11th Street and turning it into a center for workforce development. LNPWI seeks to strengthen the earning potential of local communities by providing job training and career readiness programs that lead to sustainable employment.
Dubbed the Opportunities for Workforce Leadership (OWL) Hub, the new space provides North Philadelphia residents with free access to a computer lab with internet service, as well as free or low-cost adult education classes. After participants complete computer literacy classes, the OWL Hub offers them computers and electronic equipment they can bring home, through the Temple Tech for Philly initiative.
The OWL Hub will be managed by the Lenfest Center for Community Workforce Partnerships in collaboration with the Philadelphia Housing Authority (PHA) and Temple's Computer Recycling Center (CRC), the College of Education and Human Development, LNPWI, and the Pan-African Studies Community Education Program (PASCEP).
LNPWI's idea to rent the Norris Homes Community Center space for the OWL Hub started in early 2020 after PHA developed a new community center. LNPWI Executive Director Shirley Moy said the available space was a perfect location for her department to provide workforce services in the Norris Homes community. 
"I believe it is important to have resources nearby and available where local residents can conveniently get services," said Moy. "PHA and Temple have a lot of connectivity and have been really supportive with the effort to reinvigorate the community."
"A lot of LNPWI's work involves working with young people around education but also around workforce development," added Moy. "The center provides a free computer lab with internet access and opportunities to take classes to learn digital technology skills and build on professional development skills." 
Temple's Computer Recycling Center (CRC) will use space inside the OWL Hub called the Digital Equity Center. CRC is a program that collects and refurbishes computers and electronic equipment from across the university and distributes much-needed desktops, monitors, laptops, digital displays and servers to the community in North Philadelphia.
"We wanted to have a computer lab in a public space where the community can get connected to computers, electronic equipment and the internet because there is a huge digital divide in Philadelphia, and it's even more prominent in North Philadelphia," noted Jonathan Latko, executive director of information technology services at Temple University. 
"My goal is to set up a tech support network to support people's technology as we hand out computers to the community," said Latko. "The goal within the first year is to give between 300 and 400 computers into the community." 
He added that some of the equipment given out came from the #PHLDonateTech campaign with support from the Mayor's Fund for Philadelphia.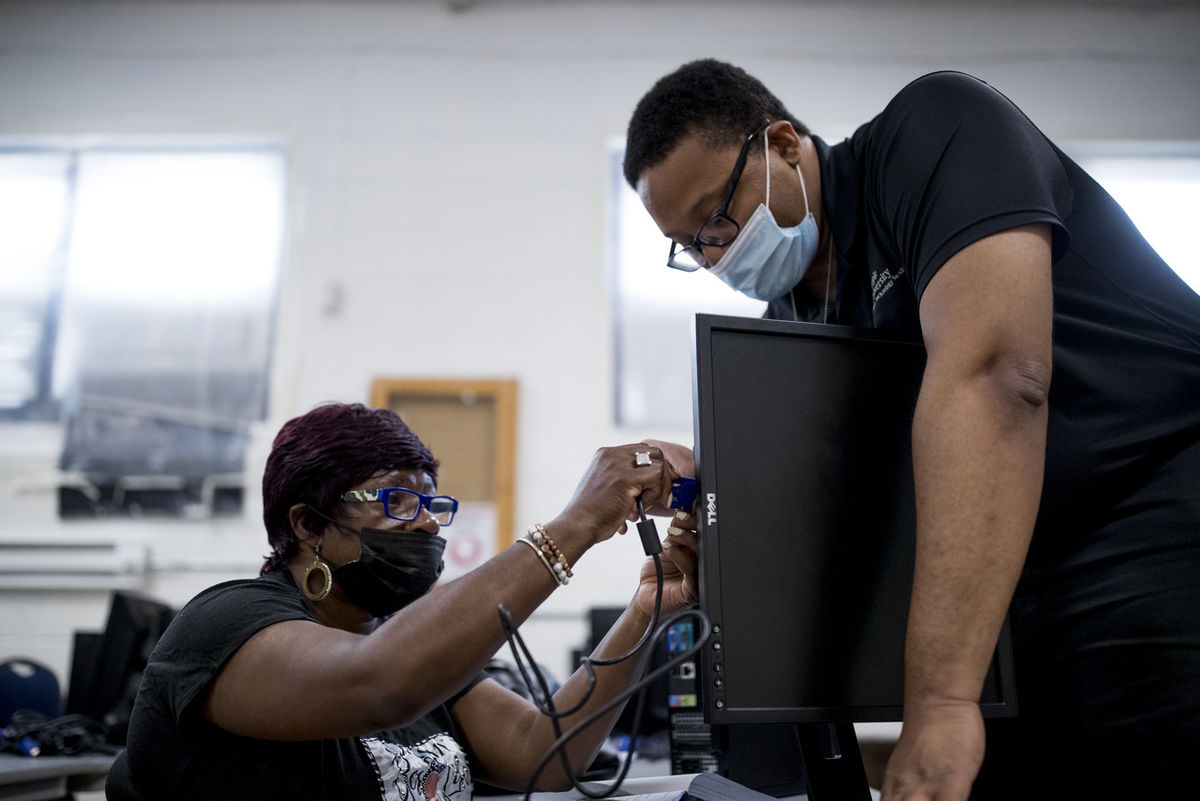 Image of Sean Mitchell, team leader for the Digital Equity Center instructing a North Philadelphia resident on how to set up a desktop computer. (Photo by Ryan S. Brandenberg) 
In addition, Latko said there was a need to get the community access to the internet, so as part of the CRC's program they will hand out internet vouchers for six to 12 months of service through Comcast Internet Essentials for those who qualify.
His team will also help neighbors get access to federal government funds, including up to $50 a month from the Emergency Broadband Benefit, allowing residents to get broadband from a provider and get connected to the internet. 
Residents who need to learn the basics of how to use and set up a computer can take classes at the OWL Hub through Temple's Pan-African Studies Community Education Program (PASCEP), a low-cost, noncredit continuing education program. As part of the program, residents interested in receiving computers and electronic equipment to use at home will be required to first take a four-part course on the basics of computers.
According to PASCEP Director Ulicia Lawrence-Oladeinde, PASCEP's collaboration with the CRC adds value to Temple's efforts to build digital access and literacy in the eight ZIP codes surrounding the university.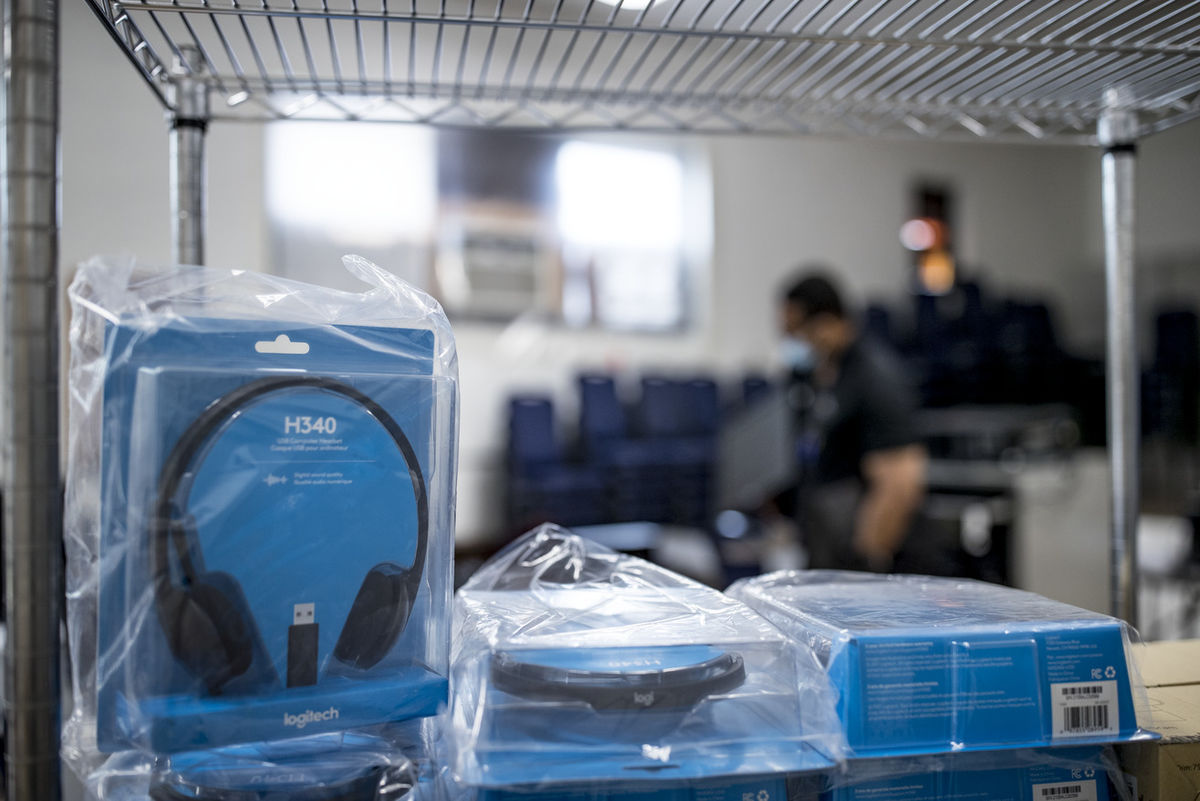 (Photo by Ryan S. Brandenberg) 
"This center helps build digital equity and digital literacy for the community through Jonathan Latko's team and provides additional space for adult education classes," said Lawrence-Oladeinde. "The collaboration with LNPWI gave PASCEP an opportunity to have additional staffing and resources to increase the number of educational courses offered for the community." 
PASCEP's OWL Hub also offers free virtual workforce development and job readiness classes funded by LNPWI. 
"If there are people who need help to acquire their GED/high school equivalency diploma or enhance other areas of education, we want to assist them in developing a career path," added Lawrence-Oladeinde. "We provide coaching for education and employment goal-setting to help our students land and keep a job."