"Black Lives Always Mattered!" invites all to see Philadelphia history in living color
A new graphic novel about the history of prominent African Americans in Philadelphia is being shared with the community. 
Black Lives Always Mattered!, a graphic novel created by the Charles L. Blockson Afro-American Collection at Temple, was recently published and is now being distributed to public high school students in Philadelphia. 
The graphic novel features profiles of 14 prominent African American Philadelphians throughout history. Both local and nonlocal comic book artists worked on the novel, which was published by the Blockson Collection and made possible by a grant from the Pew Center for Arts and Heritage. 
Planning for Black Lives Always Mattered! began in 2016 and curator and art director Eric Battle selected contributors who began drawing in 2019. An accompanying Black Lives Always Mattered! exhibit was hosted in Charles Library in the spring of 2020, just before the pandemic forced the library to transition to remote operations, followed by a 360° virtual exhibit containing content from the graphic novel as well as other cartoons, comic books, graphic novels and memoirs from the Blockson Collection. 
Now that the novel has been published, it is being used for its intended purpose: as a teaching tool for high school students. Five thousand copies of Black Lives Always Mattered! are being given out to high schools, especially those in North Central Philadelphia, an area chosen specifically for its proximity to Temple University and the Blockson Collection. The novel will be incorporated into African American history curriculums and extra copies will be made available in the high schools' libraries.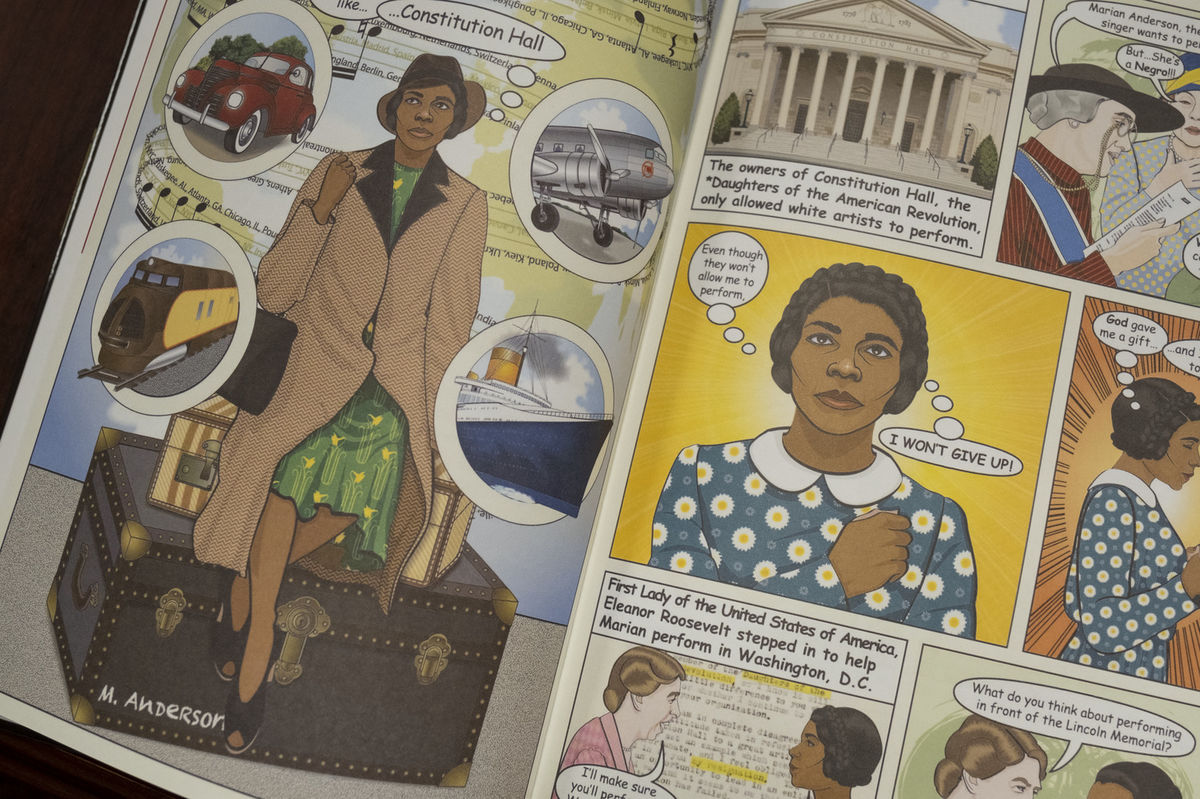 Local and nonlocal comic book artists illustrated the stories of 14 African American Philadelphians, including celebrated contralto Marian Anderson. (Photo by Joseph V. Labolito)
While many graphic novels about prominent African Americans already exist, some of them housed in the Blockson Collection, Black Lives Always Mattered! is the first graphic novel about African Americans from Philadelphia specifically. Blockson Collection curator Diane D. Turner hopes that the stories of prominent African American Philadelphians featured in the novel can play a part in combating negative stereotypes. Reading about the lives of African Americans that have made major contributions to various domains "helps students to develop their critical thinking skills and lets people know that the African American community is not monolithic," she said. 
Turner also hopes that Black Lives Always Mattered! will promote both literacy and an interest in the arts among high school students. The graphic novel features pages with behind-the-scenes diagrams of the making of a panel, which can show students an example of a practical application of an interest in the visual arts. 
While Black Lives Always Mattered! was intended to be an educational tool for young people from its conception, everyone can learn from the stories on its pages. Depictions of scenes in the lives of African Americans of the past can prompt adults to engage with not just the history of race in America but America itself. "The thing that we say all the time is that African American history is American history. Unfortunately, it's been lost, stolen and strayed often. But it is American history. And some of the oldest Americans are people of African descent," said Turner. 
African American history is always relevant, but especially so in the wake of the George Floyd protests of 2020. Black Lives Matter is the name of the movement behind the protests, but as the title of this graphic novel reminds us, Black lives have always mattered. Turner said, "We wanted [students] to know that Black lives always mattered and this struggle has been going on for a long time and that if you know your history, oftentimes you don't have to reinvent the wheel."
She encourages everyone—not just students and affiliates of Temple, but members of the community surrounding the university and throughout the city—to use the Blockson Collection as a resource for getting to know not just African American history specific to Philadelphia but American history in general. It's open to the public and, she stresses, completely free.
—Kiki Volkert