Temple honors the legacy of Joy Abbott with a special celebration
A special celebration will honor Temple University alumna Joy Abbott, who bequeathed her share of the rights to her husband George Abbott's Broadway musicals.
Late musical theater legend Joy Valderrama Abbott, EDU '52, has left a lasting impact on Temple's performing arts enterprise. To honor her legacy, Temple Theaters presents HEART—An Abbott Celebration on Feb. 21 at the Temple Performing Arts Center beginning at 6 p.m.
The event will feature food, drink and music from George Abbott's Broadway shows, with performances by various members of the Temple community including alumnus and singer and actor Sean Thompson, TFM '09; American Pops Orchestra's NextGen winner Rita Castagna, TFM '19; Associate Professor of Theater and Head of the Abbott MFA in Musical Theater Collaboration Steven Gross; recent graduate of the Abbott MFA program Patrick Tice-Carroll; and current musical theater students.
"The most important thing for a young performer is to have people who encourage and support you, and Joy was that for me in so many ways," said Thompson. "I'm overjoyed I get to perform in honor of her. I only wish she could be with us, but I know she'll be there in spirit."
Joy Abbott married George Abbott—known as "Mr. Broadway"—who produced, directed and wrote more than 100 Broadway shows, including classics such as Damn Yankees and The Pajama Game. He also helped launch the careers of numerous musical theater legends like Carol Burnett, Liza Minnelli, Gene Kelly and Shirley MacLaine.
To preserve the legacy of her husband, who passed away in 1995, Joy Abbott bequeathed her share of rights and future royalties of his musicals in 2007 to Temple.
"It's like owning The Beatles' catalog or Beethoven's," said Dean and Vice Provost for the Arts Robert T. Stroker about Joy Abbott's gift. "She wanted to ensure these works went somewhere where not only the profits would go to good use but where the craft and artistry would be respected and treated with high regard, which is what we're doing at Temple."
"It's like owning The Beatles' catalog or Beethoven's."
-- Dean and Vice Provost for the Arts Robert T. Stroker
Joy Abbott's gift also includes historical memorabilia from George Abbott. "We have all of Mr. Abbott's Tony awards, his Pulitzer Prize and his Kennedy Center Medal in the library, and they're going to special archives," added Stroker. "People studying musical theater 300 years from now will go to those archives to look at this material."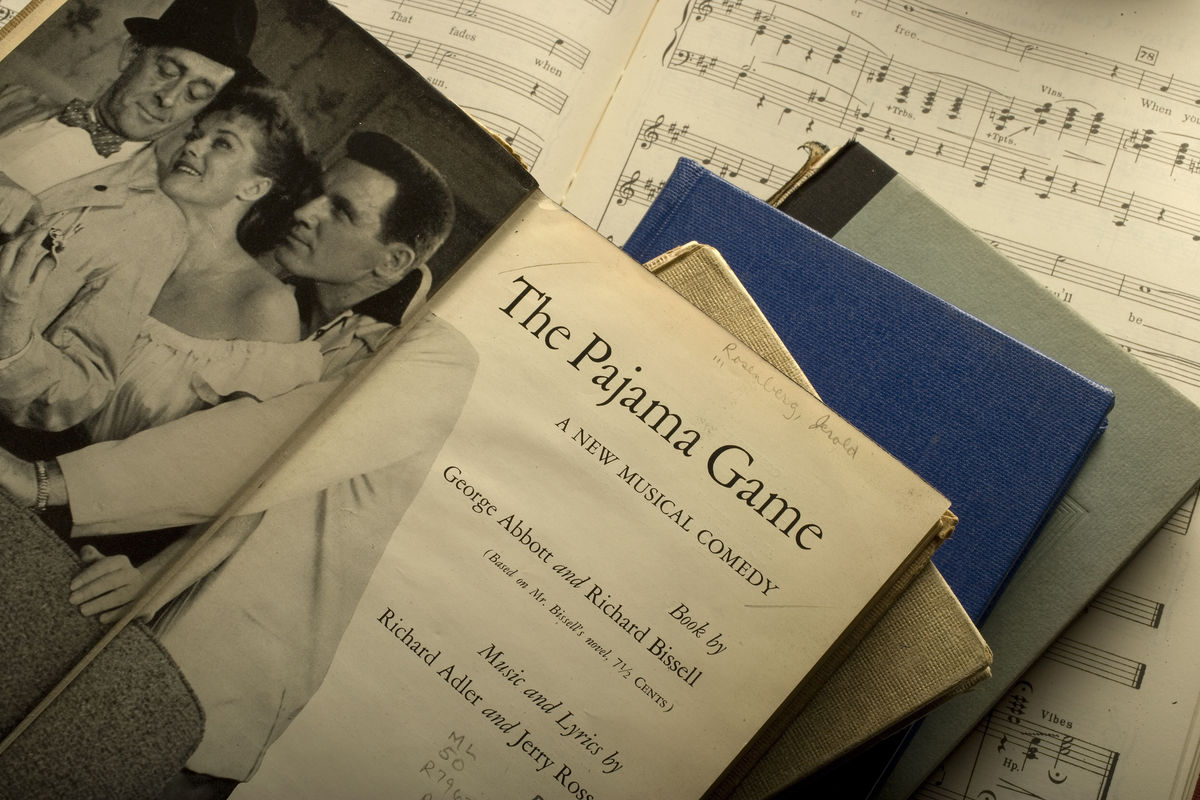 Joy Abbott's gift of husband George Abbott's musicals and memorabilia transformed the arts at Temple. (Photography by Joseph V. Labolito)
Her significant gift led to the establishment of the George and Joy Abbott Center for Musical Theater, in which students have been given the opportunity to interact with Broadway stars. The center has supported productions of not only George Abbott's shows but also others such as Oklahoma! and Hairspray.
Along with student scholarships, additional programs have resulted from Joy Abbott's gift—the BFA in musical theater, which offers rigorous training in acting, singing and dancing to immediately launch students into stage careers and the Abbott MFA in musical theater collaboration, which is the only one of its kind and honors George Abbott by focusing on the rich collaborations that helped define his career.
The first cohort of the Abbott MFA program, which began in fall 2018, graduated in May 2021. These artists are continuing the legacy, working as directors, book writers, lyricists and composers. "They're propelling the next generation of what musical theater looks like in 2022," said Gross. "It's a bit of honoring the old and discovering the new."
"Joy's gift to Temple for the development of musical theater was game-changing," said Head of Musical Theater and Assistant Chair of Theater Peter Reynolds. "We are forever grateful for her generosity to Temple and for the way her gift also brought the Boyer College of Music and Dance and the School of Theater, Film and Media Arts closer as sister organizations under the umbrella of the Center for the Performing and Cinematic Arts."
Joy Abbott, who passed away in February 2020, is beloved by Temple not only for her generous gift but also for her passion for life and the arts. After graduating from Temple with a BS in physical education in 1952 and launching her career as a performer, businesswoman and coordinator-director of musical fashion productions, she visited campus to mentor other Owls and share her passion.
"Joy liked to take young performers under her wing and get them associated with the right people," said Thompson. "When I first moved to New York when I was 23, Joy insisted I meet [Harold] 'Hal' Prince, the director of Phantom of the Opera and many other shows. It led to me playing Raoul in Love Never Dies, the sequel to Phantom. It was all because of Joy introducing us."
It's bittersweet for Owls to have a concert in her memory.
"Joy was a wonderful woman—so funny, so talented and so full of light," said Stroker. "She loved Temple. She was thrilled to give her gift."