Jazz trumpeter Terell Stafford is focused on mentoring the next generation of musicians
The director of jazz studies at Boyer College of Music and Dance discusses his award-winning career and commitment to mentoring the musicians who will come after him.
When Terell Stafford was a young and budding trumpet player, he was told he might have a problem. The way in which he applies his mouth to his mouthpiece—what is referred to as his embouchure by those in the profession—is crooked.
"One teacher said, 'If you can't play right in the center you won't be able to play past the age of 25,'" Stafford said. Still, his love for the trumpet never faded, and he continued to frequent clubs, taking in as much music as possible.
Then he received guidance and encouragement from jazz greats like Wynton Marsalis and Clark Terry, and Stafford knew he belonged in the jazz scene.
His three decade-long career includes a Grammy award and multiple nominations; chart-topping albums and collaborations; and performances with jazz giants like Shirley Scott, Benny Golson and Jimmy Heath.
Stafford is also dedicated to mentoring the next generation of jazz musicians, which he does as director of jazz studies and chair of instrumental studies at the Boyer College of Music and Dance, managing and artistic director of the Jazz Orchestra of Philadelphia, and his roles with Philly POPS and Boyer's Community Music Scholars Program.
In recognition of Jazz Appreciation Month, we sat down with Stafford to discuss his celebrated jazz career and his commitment to keeping jazz music alive by passing along knowledge to up-and-coming musicians.
Temple Now: You've played in jazz scenes all around the world, but you've put down your roots here in Philadelphia. Can you describe the importance of Philly's jazz scene to you, and what it means to carry on the city's jazz legacy?
Terell Stafford: I didn't get into jazz until late, so when I came to Philadelphia I didn't know what I should have known. One night one of my best friends, Tim Warfield, took me to this club called Ortlieb's to see him play with the legendary organist Shirley Scott. So we go in this club and on drums was a guy named Mickey Roker from Philadelphia, and Arthur Harper on bass, and the great Shirley Scott was on piano. All of the sudden she's like, 'There's this trumpet player in the house and I want to get him up on stage.' So I got on stage and we played, and it was an incredible experience. From that point on it was like Shirley and I played together until the day she passed. She's the one that started to educate me about Philadelphia. You know, people like John Coltrane, Lee Morgan, Jimmy Heath and so many other musicians that came from this rich, rich culture in Philadelphia.
So thinking about the Benny Golsons and the Jimmy Heaths and the Shirley Scotts, it was really inspiring. I feel blessed to have played with all of them in my younger age. The thing that was so special was that all of them pulled me in like I was part of their family, and they taught me so much. And that's what I want to do now. I don't see myself as any kind of giant like them. I see myself as someone who was lucky to be around them, and I feel lucky that I can pass along knowledge to people that were in the same boat that I was in years ago.
TN: What are some of the most memorable pieces of music you've had the chance to be involved with throughout your career?
TS: When I got to New York and I started to play jazz, I joined this group called the Vanguard Jazz Orchestra. It was the most intimidating experience of my life, because, first of all, they play at the Village Vanguard—one of the most historic clubs ever. It's this big band crammed into this teeny stage. The music is very challenging and I was really green to the scene, but these guys gave me a chance. We recorded this CD called Monday Night Live at the Village Vanguard. I didn't think anything of it, but lo and behold this CD wins a Grammy. There are so many people that try to go about winning a Grammy by planning it out, and they record the CD and never win it. But when you just make music on a high level, and just let it go, then good things happen. So that was huge for me.
I'm also proud of my CDs Brotherlee Love and This Side of Strayhorn. They were both number one on the charts for weeks and weeks and weeks. That made me really proud that people were out and listening and supporting.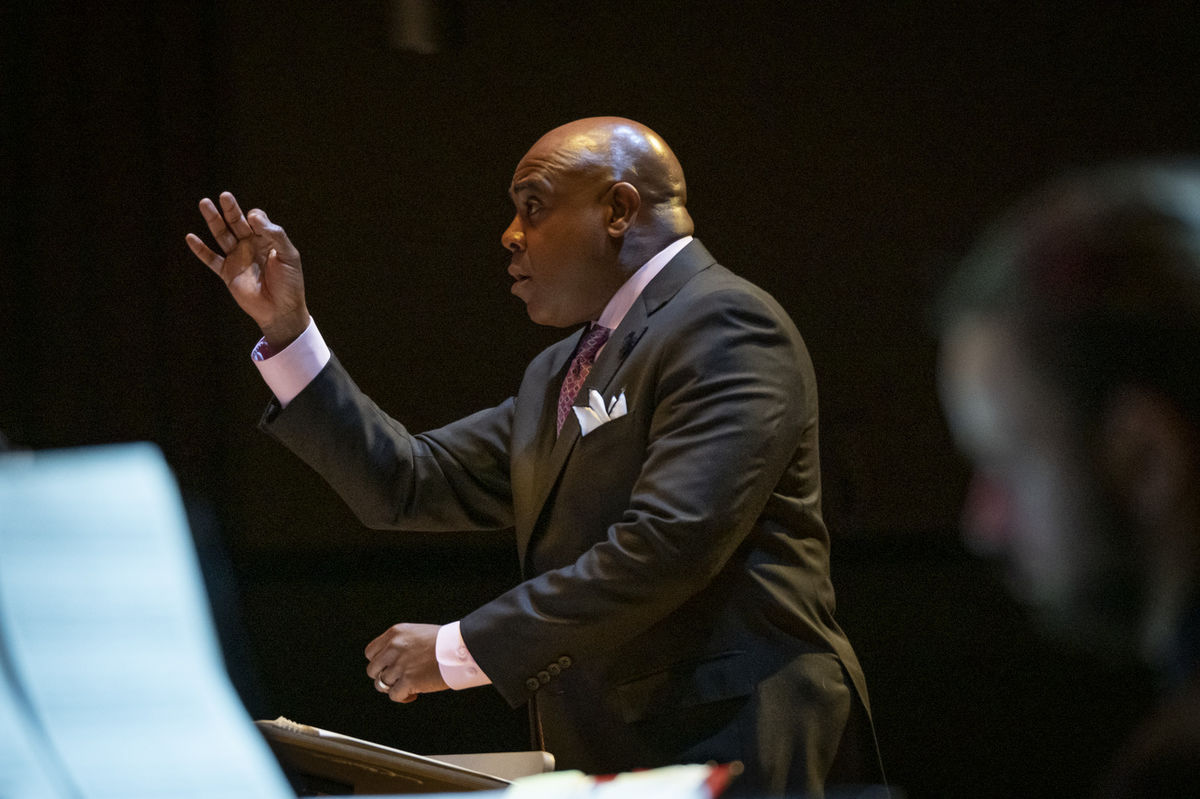 "I was most fascinated with the trumpet, mainly because of its sound. I was fascinated that three valves could produce so much music. How do you make so much sound with just three valves?" (Photography by Joseph V. Labolito)
TN: A major component of jazz music is improvisation and musicians reacting to what each other are doing—something that was made difficult recently by COVID-19 protocols. How did the pandemic force you to change how you write, record and perform music?
TS: During COVID I turned this room into my recording studio, and people would send me tracks saying, 'Hey, can you be a guest on this record?' Or, 'Can we do this virtual concert together?' So I did a lot of recording here. It was hard not playing with people. But it was rejuvenating playing with the recording, because I knew people put a lot of love into those recordings even though they weren't next to me in person.
So there were some things that came out of COVID that were really special. Musicians, in general, are very creative people. We're not going to let this pandemic get in the way of us being creative.
And that's what happened with the two Temple University Jazz Band CDs that came out during the pandemic. There was a really beautiful moment when we were finishing up the second of those CDs, Without You, No Me. To record the CD we had to use these plexiglass filters and bell covers, which reduce the sound immensely and make it really difficult to play. But the students still did it. The CD also features two guest musicians; bassist Christian McBride and organist Joey DeFrancesco. I was part of Joey and Christian's remote recording sessions, and then they put it all together, which the students hadn't heard yet. So when they finally heard the finished product with the two guests on it, they were like 'Ahhh!' They were screaming. They were wigging out.
So, yeah, we had this pandemic. And yeah, we were separated for a year or two, but we have an appreciation for who we are and what we are now. We took so much for granted prior to the pandemic, and we won't do that again.
TN: Why is mentoring the next generation of jazz musicians so important to you?
TS: I do an all-city program here through Philly POPS, and this year is a really tough year coming back from the pandemic. I have like a quarter of a band, and they were like, 'Well, maybe we should skip a year.' I said nope. I'm just going to teach harder. I'm going to encourage the kids, and we're going to do a concert. We're going to keep building, and nurturing, and that's going to be it.
So through Philly POPS, or the work I do at Temple, or with the Community Scholars Group, I want to be there to lift the spirits and to provide knowledge for the next generation, because people did that for me. And the only way this music will stay alive is if kids start to know about it. I love what I do. I wake up and I'm like, how am I going to teach this concept today? You know, there are a few students in particular who are on my mind a lot, who are harder nuts to crack, but I'm just going to get a pair of pliers and crack that nut. I'm going to figure out a way.