The Temple alumnus bringing history to life at the Museum of the American Revolution
As the African American Interpretive Fellow at Philadelphia's Museum of the American Revolution, Michael Idriss is telling stories about the American Revolution in a whole new light.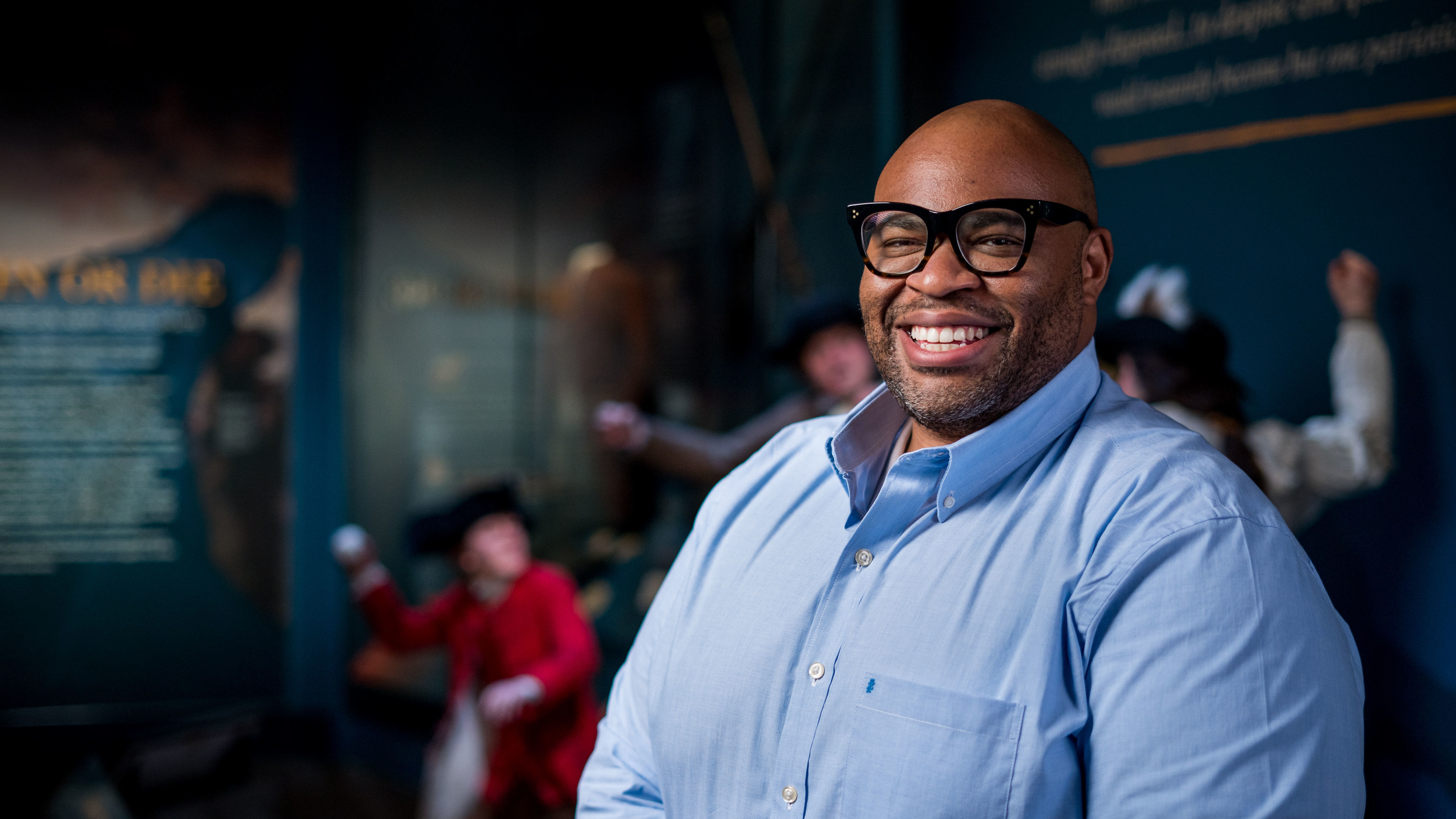 When Michael Idriss, CLA '19, sat down in the summer of 2016 with Professor Jay Lockenour, then the director of Temple's History Department, he discussed a noble vision for his career path.
"I told him I want to serve my country through history," said Idriss.
Nearly six years later, Idriss has graduated with a degree in history and a minor in Africology and African American studies from the College of Liberal Arts, and is currently serving as the African American Interpretive Fellow at Philadelphia's Museum of the American Revolution. In his role he oversees a variety of programs focused on the contributions of African Americans during the American Revolution.
"As a student growing up I didn't always see a direct correlation between people of African descent and the founding of our country. How wrong was I?" he said.
Idriss, who was born and raised in Philadelphia, has always been passionate about history. He saw the field as a way to connect people with their past, but he also recognized the significance that an historical perspective can have in a variety of other fields.
"People would ask me, 'What are you going to do with a history degree?' and I always used to say, 'A lot!'" Idriss said. "There's a lot you can do, especially when you understand that we need historical scholars who have that understanding to help in so many different paths, whether it's the legal system, medicine, sports, arts, culture or civics. They all need to have that historical lens."
Idriss credits Temple faculty members like Teshale Tibebu, Stephen Nepa, Bryant Simon, Benjamin Talton and Gregory Urwin from the History Department, and Molefi Kete Asante, Kimani Nehusi and Aaron Smith from the Department of Africology and African American Studies with inspiring him to pursue his passion.
In fact, it was Talton who urged Idriss to take the position at the Museum of the American Revolution over another offer he was considering. Idriss started the position in January 2020, shortly before the museum's operations were shut down due to the pandemic. He played an important role in helping the museum reopen its doors to the public.
More recently, Idriss has been working to develop groundbreaking programs at the museum, like Meet the Revolution, in which guests meet and interact with costumed interpreters of Revolutionary-era people of African descent.
"The Meet the Revolution program is a way to engage with our audience, and to tell some really strong stories through costumed interpretation," he said. "That becomes a whole other layer of communicating the past, because when you are in a costume you are essentially a representation of that past in everything you do."
The museum has also committed to inspiring the next generation of costumed interpreters and historians through its Living History Youth Summer Institute, a five-and-a-half week paid summer program for high school and college students. The program will provide a comprehensive introduction to the museum field, and students will learn directly from the museum's departments for costumed historical interpretation, curation, education, marketing, communication and development.
"The students will get a total view of career paths at our museum, but also other spaces that they might be interested in at other historical sites or cultural institutions," Idriss said. "So it's not just about us here at the museum per se, but it's really about planting the seeds for future individuals to get into the museum field."
An important function of Idriss' role as African American Interpretive Fellow is to broaden the museum's programming to be thoughtful, inclusive and accurate in its portrayal of African Americans and their involvement in the Revolutionary War. He says the museum intends to add fellowship positions for other historically marginalized groups such as Native Americans, Asian Americans, and members of the LGBTQ+ and Latinx community.
"We want to ensure that we don't whitewash American history to the extent that people only believe that all Revolutionary-era people of African descent were enslaved, or that there were no Latin Americans, or there were no Asian people," Idriss said. "That's simply not true. They were here. They made contributions, and many of them were sort of written out of history."
Above all else, Idriss hopes to get museum guests to stop, think and engage with history in ways they haven't before.
"I really want people to pause. If I can see them and give them that space, then when they finally do circle back and ask that question, it's usually a powerful question," he said. "That, to me, is everything. When you leave here and you want to know more, we have done our job here at the Museum of the American Revolution."