Posted
September 21, 2022
First edition of Talks@Temple brings bold, provocative discourse
Renowned filmmaker M. Night Shyamalan and chief diversity officers from Meta, McDonalds and CITI engage in the first edition of Talks, a program slated annually during Homecoming and Family Weekend.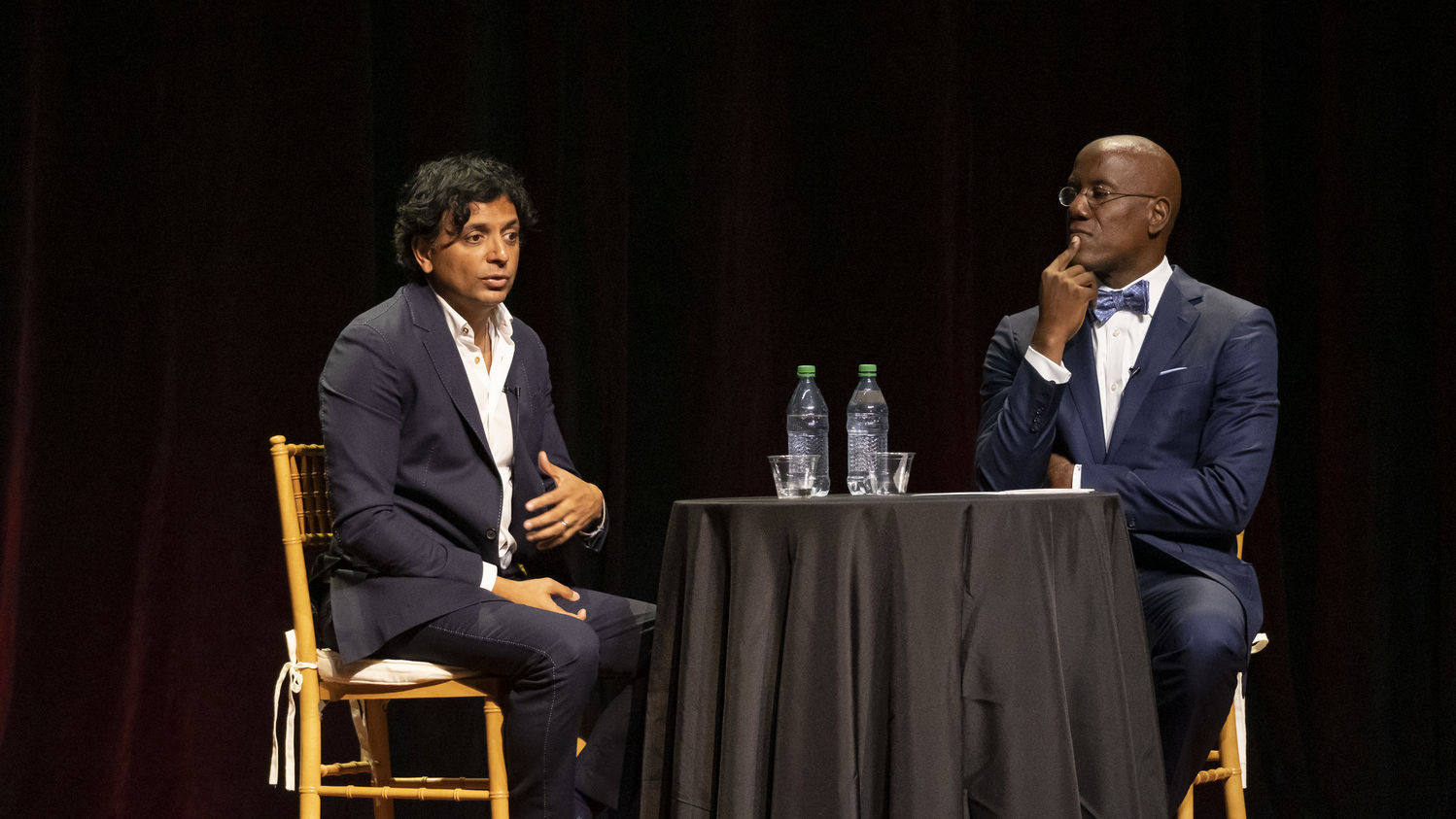 As part of the presidential inauguration of Temple University President Jason Wingard, the university hosted its first-ever Talks@Temple on Sept. 15. The new global thought leadership series invites bold discourse about pressing topics at the intersection of learning and work. The series highlights the most knowledgeable figures from academia, the corporate sector, the arts, entertainment and more to tackle challenging subjects and share perspectives.
If the initial edition of Talks@Temple offers any indication, the series will come as advertised. 
During the first talk, renowned filmmaker and Philadelphia-area resident M. Night Shyamalan offered a bold, contrarian view when discussing the rise of streaming and digital media with President Wingard.
"When I talk to the heads of studios, I say, 'I don't buy your streaming thing.' I don't buy it. I don't buy that it's profitable. I don't buy that you can do it without us, in the way you think, and you can't get that zeitgeist. It's just very, very hard. I've seen it done now many times with TV shows, Stranger Things, and things like that. But, very rarely, if not never, with a movie."
President Wingard, who hosted the Talks with Shyamalan, responded, "So you're bullish on the old school model?"
"Yeah, and what you're seeing right now in the industry, which is run by these big corporations, is that they want that big subscription thing. They all want their own Netflix underneath them, right? So let's say Netflix is the only streamer that's actually making money now day to day, that doesn't mean they're profitable because we don't know their debt," Shyamalan said.
As the talk progressed, Shyamalan pointed out that he does believe the streaming model works for television shows. He himself has a series, Servant, which streams on Apple TV+, and it was intentional that he developed that show specifically for Apple.
"For me, in particular, it was important to be at Apple," Shyamalan said. "I wanted to start with them, and I wanted to help define them. And Servant now is their second-most successful show underneath Ted Lasso and I wanted to be a part of that, defining who they are."
During the talk, the two also discussed the streaming wars and the future of the television and film industry. In particular, Shyamalan advocated for students, like those at Temple, to take the leap and pursue careers in this industry.
"There's not enough people in the world that have trained, and are willing to iterate and take risks. There's no way to play it safe. I can't even (play it safe) sitting here in front of you. I'm getting ready to do the next movie, and it hurts, and it's scary, and I try to protect myself; I won't grow and I won't be validated," he said.
The second session of Talks@Temple immediately followed the one with Wingard and Shyamalan. Moderated by Valerie Harrison, vice president for diversity, equity and inclusion, the talk was a roundtable discussion between several prominent chief diversity officers, including Maxine Williams (Meta, formerly known as Facebook), Reginald Miller (McDonald's) and Erika Irish Brown (Citi). 
The second Talks@Temple was a roundtable discussion between several prominent chief diversity officers, including Maxine Williams (Meta, formerly known as Facebook), Reginald Miller (McDonald's) and Erika Irish Brown (Citi). 
Throughout the talk, Harrison asked the panelists key questions about DEI's importance in 2022.
"How do we help our young people, our students to find their power, right? To find their voice in a way that leads to professional success?" Harrison asked the trio of guests.
Brown talked about the importance of educational preparation setting the stage for graduates.  
"Silence is an endorsement [of the status quo]. You have to have that confidence [to speak up]. And in order to have that confidence you have to have competence, right? So, you want them to be equally matched, and you don't want your confidence to outstrip your competence and vice versa," Brown said.
The second Talk ended with questions from the audience, including a pair of questions from Temple students who wanted feedback on how they can make a change, even at such a young age.
"I would say that a boy named Mark Zuckerberg, at 19, was a student at a college and thought of something that didn't exist and started building that. And we now know what it has become, Williams said. "If you are constrained by where you are, by who you are, you limit yourself from taking the steps to start building and doing."
Moving forward, Talks@Temple will regularly feature bold discourse with industry thought leaders.