Temple University's Urban Bike Team receives a $100,000 donation
The gift from a generous anonymous donor will support the efforts to teach North Philadelphia youth bike safety education and essential life skills.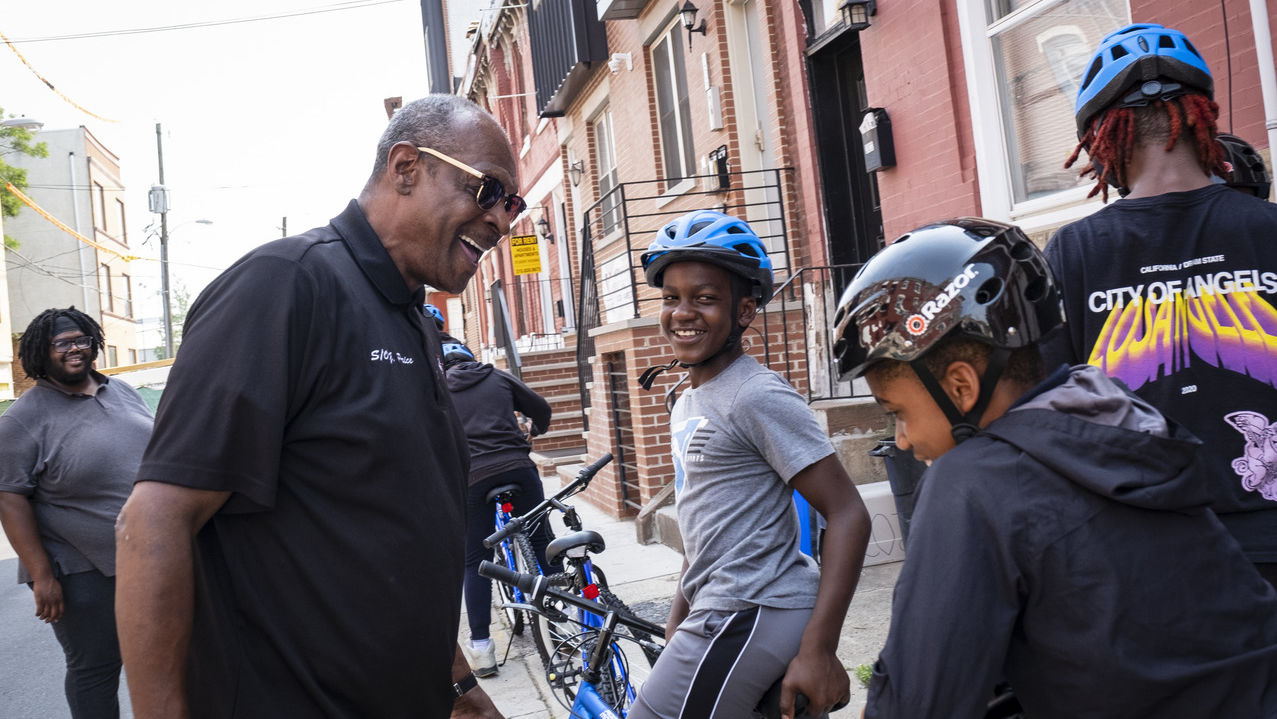 Temple University's Urban Bike Team recently received a $100,000 donation to continue and expand its program that coaches urban youth in North Philadelphia through bike safety training, community bike rides and mentorship. 
The support is made possible by an anonymous donor and will be distributed in annual increments of $20,000 over the next five years. The funds will be used to donate 400 bikes each year to kids ages 7 to 13 years old who live in the neighboring ZIP codes that surround Temple's campus.
"It allows us to expand our program to include more cyclists each year and ensure that every child not only receives a bike but learns bike safety and how to build the bike as well as life skills from the classes we teach," said Monica Hankins-Padilla, the director of external relations for Campus Safety Services, who helped found the Urban Bike Team in 2021. 
"I am excited because this opens up a whole new world to expand beyond the local schools where we teach bike safety classes. We'll be able to reach out to kids at Temple Hospital and in our community groups," she said.  
Temple's Urban Bike Team's supervisors include Temple police officers from the Office of Campus Safety Services, who specifically work on the educational component of the program. The mission of Temple's Urban Bike Team is to build stronger relationships between the youth and police, help keep kids in school, and reduce violence in North Philadelphia. 
"We have had strong partnerships in the community, whether it is a community recreational center or community development corporation to help us grow, so now we can partner with more groups that are going to help us with identifying the kids and have a place for us to teach our programming," said Hankins-Padilla. 
The Urban Bike Team leaders have mostly taught bike safety classes through the Gang Resistance Education and Training (GREAT) program to kids in nearby Philadelphia schools, including Paul L. Dunbar Elementary School, Tanner Duckrey School, Carver High School and St. Malachy Catholic School. The program plans to expand its bike safety courses through a partnership with other local schools in the future. 
As part of the donation, the kids will receive bike-related equipment, including clothing and helmets. The donation will also allow the Urban Bike Team to finance transportation of the bikes, so kids on the team can ride in other communities outside of North Philadelphia, such as Cape May and Atlantic City. 
Funds from the donation will be used to purchase bikes from Kent Bicycle Company. After the kids complete the 18-week bike safety program that starts in November and ends in August they will get to keep the bike.